'Eddie The Eagle's Coach May Be Unfamiliar To Fans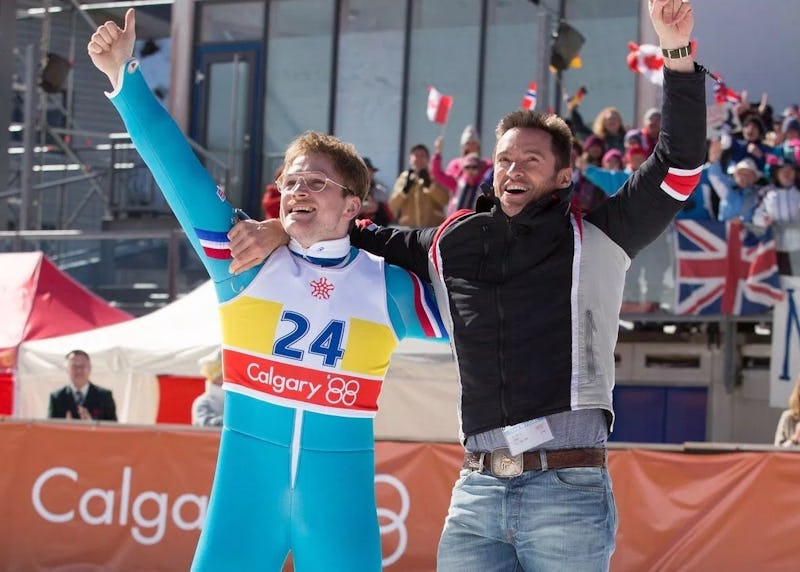 They're almost never box office behemoths, but it seems there will always be a place for inspirational real life sports movies. Last year there was McFarland, U.S.A. The year before that it was Miracle Arm. And the year before that saw 42. This year, the new film Eddie the Eagle looks to fill the role of allowing viewers to believe in the impossible. The movie tells the story of Michael Edwards, AKA Eddie the Eagle, who became Great Britain's first Olympic competitor in the ski jump in 1988 and finished dead last in every event in which he competed. Despite his poor performance, he became an icon for embodying the Olympic spirit by having a dream and giving it his all. In the film, he's trained by his coach Bronson Peary, played by Hugh Jackman. Eddie the Eagle is a real person, but is his coach Bronson Peary a real person as well?
In real life, Edwards moved from the U.K. to Lake Placid, New York to prepare for the 1988 Olympics in Calgary, Canada. While there, he was actually coached by two men: Chuck Berghorn and John Viscome, with Berghorn emerging as the one most associated with Edwards. Bronson Peary is entirely fictional, though he was at least somewhat inspired by Berghorn since he is depicted as being an American in the film. However, he does not meet Edwards in Lake Placid in the movie, and instead trains the novice jumper in Europe.
Initially, some media outlets were reporting that Jackman had been cast as Berghorn. However, the film's screenwriter Sean Macaulay cleared up the confusion last year by speaking to the Lake Placid region-based Adirondack Daily Enterprise. "Jackman is indeed playing a coach," Macaulay told the paper. "But he's a fictional character called Bronson Peary." And, at a recent New York screening of the film, Edwards told reporters that Jackman's character is simply "an amalgamation of all my coaches."
Speaking to the paper, Macauley went on to say that Peary is a "hard-nosed purist about skiing" and "a former golden-boy skier and a burnout". These qualities should make for an interesting dynamic between Peary and Edwards in the movie, but they do not appear to have much of a basis in reality.
As for Berghorn himself, he doesn't seem to mind that he won't be in the film. "I was worried if they were going to use my name," the ski coach told the Adirondack Daily Enterprise. "It's no big deal one way or the other. It just doesn't matter. Yeah, I would've liked to have had my name up in lights, more or less, but if I don't, I don't. That will just be the way the ball bounces."
So Bronson Peary is a fictional character who didn't actually coach Eddie the Eagle. But as long as the movie gets across the true spirit of Edwards' inspirational story, most fans will probably be totally fine with that.
Images: 20th Century Fox; hughxjackman/Tumblr