Meet JoJo's Parents On 'The Bachelor'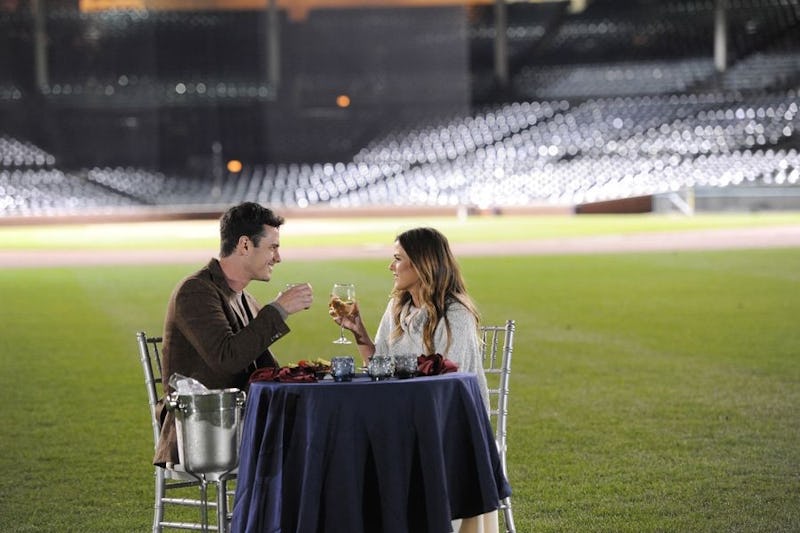 Joelle "JoJo" Fletcher is one of the last four ladies standing on Season 20 of The Bachelor. On Monday Ben is hitting the road to visit his final four's hometowns and meet their families. Once the show takes things back home, things always seem to get interesting. Well, JoJo's family promises to kick up The Bachelor drama a few notches. She comes from a big, tight-knit blended family and according to previews for this week, they give Ben a run for his money. So, who are JoJo's parents? They have raised some fiercely loyal siblings.
This family is definitely a successful group of humans. According to OKHereIsTheSituation, they are headed up by JoJo's parents, who are both doctors. Not too shabby. OKHereIsTheSituation reported that she also has four half-brothers — Martin and Ben Patton and Peter and Rachel Fletcher. All of the collective members of the Fletcher/Patton clan seem to get along, which is rare for such a giant, blended family. Ben can at least look forward to the fact that if he chose JoJo, he would be getting a handful of siblings too. As an only child, that might be something he is looking for.
Looking through her Instagram shows that JoJo is extremely close to her half brothers Ben and Martin. There are several photos of them together, and she gushes constantly about how proud of them she is. It's nice to see a family that is so close. That would seem to be a testament to good parenting, in my opinion.
OKHereIsTheSituation reported in the above article that JoJo's father's name is Joseph Fletcher, and he's a gastroenterologist, which means he is the brave guy who does your colonoscopy. According to U.S. News & World Report, his medical degree comes from the University Of Tennessee School Of Medicine.
JoJo's mother is also boasting the D and R in front of her name. Soraya Fletcher is a PhD and works as a nurse practitioner, according to OKHereIsTheSituation, and she is Persian and hails from Iran. JoJo spoke in her Bachelor profile about her mom's heritage saying, "I'm proud of my mother's background despite what social opinions are. It's important for me to stand up to people stereotyping Iranians."
Now that we have reached the "meet the family" stage of the game, it will be interesting to see how Ben fares against this close family. JoJo definitely would bring loyalty and love to a marriage, given the happy environment she seems to hail from.
Image: Jean Whiteside/ABC