'Crouching Tiger' Might've Reached Its End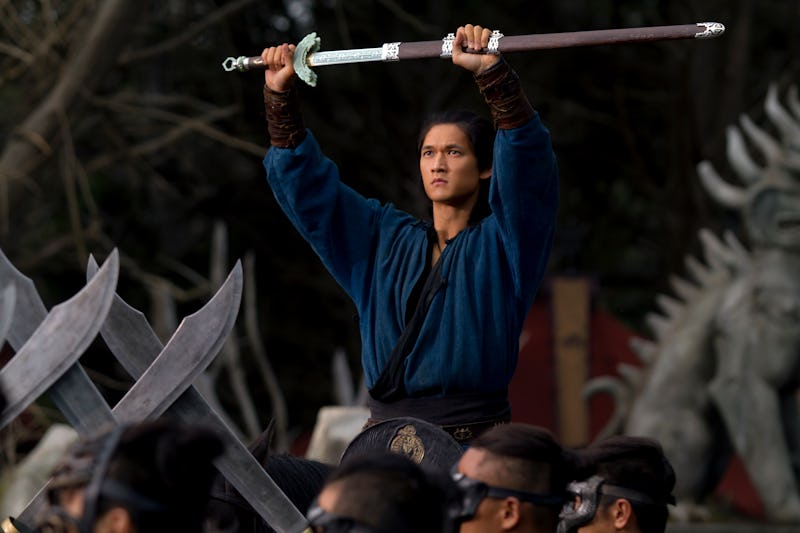 It's been 16 years since Crouching Tiger, Hidden Dragon became an international phenomenon. The martial arts movie starring Chow Yun-Fat and Michelle Yeoh was everywhere — if you didn't watch it, you heard about it, as Ang Lee's instant classic was nominated for 10 Oscars and won four. For a movie that was so successful, it seems surprising that over a decade later, we're finally getting a sequel. Crouching Tiger, Hidden Dragon: Sword of Destiny will hit IMAX theaters and Netflix streaming on Feb. 26. Not only is the movie breathing new life to Crouching Tiger, it's also one of Netflix's first original movies, produced in collaboration with The Weinstein Co. No doubt the new Crouching Tiger, Hidden Dragon film is meant to kick start the website's introduction to original films, but the real question lies in whether or not the movie is meant to inspire a brand new Crouching Tiger franchise. Will there be a third Crouching Tiger movie?
If filmmakers decide to stick to the original book series that inspired Crouching Tiger, Hidden Dragon, then it's unlikely that fans will see another Crouching Tiger sequel. They could, however, see some prequels. Crouching Tiger, Hidden Dragon was adapted from the forth book in a series by Wang Dulu, called The Crane Iron Series . And the new sequel, Sword of Destiny, is adapted from the fifth book, titled Iron Knight, Silver Vase. So this Crouching Tiger, Hidden Dragon sequel didn't come from thin air.
It's possible, then, that if Sword of Destiny is a success, Netflix might invest in adaptations of the first three books in the series. However, prequels, as we all know, can be tricky. For example, if returning Crouching Tiger star Michelle Yeoh's character, Yu Shu Lien, is in the first three books as a younger version of herself, then filmmakers will be forced to consider re-casting the role. Considering Yeoh is the only star returning for the sequel, perhaps ditching her for a possible third film isn't the best way to go. (Also, fans of Crouching Tiger, Hidden Dragon know that Yeoh is a badass who deserves all the screen time she can get.)
It's unclear whether or not Sword of Destiny director Woo-Ping Yuen, a prolific martial arts director and stunt choreographer, or screenwriter John Fusco (Marco Polo) have signed contracts that include the potential for a sequel — same goes for stars Yeoh, Donnie Yen, Harry Shum Jr., and Juju Chan. If a third Crouching Tiger movie is in the works, it might feature an entirely new cast and story.
With the future of Crouching Tiger, Hidden Dragon up in the air, fans should probably just focus on enjoying this surprise sequel. So, grab your friend or parent's Netflix password, and enjoy watching martial artists fly through the air while you still can.
Images: Rico Torres/Netflix; Giphy (2)