'Fuller House' Needs A Viper Cameo ASAP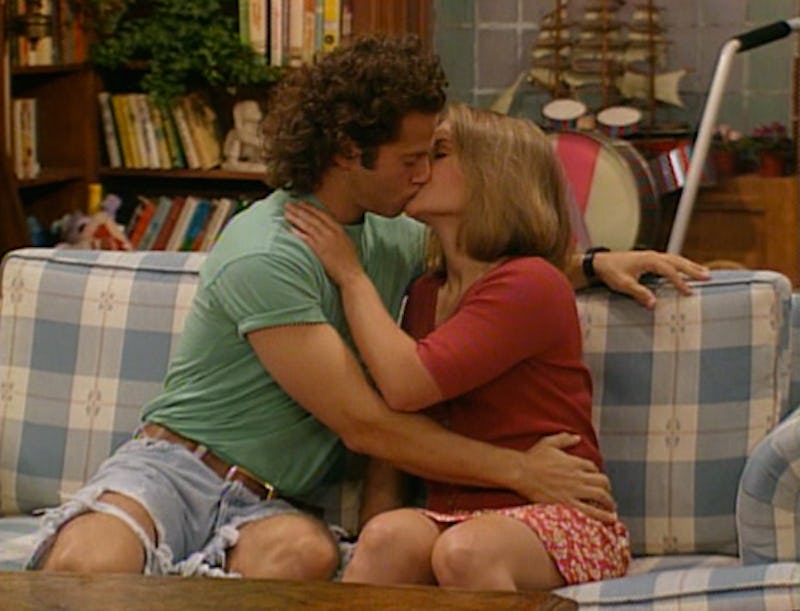 All teenage girls are attracted to a bad boy musician at one point or another, and DJ Tanner proved to be no exception to that rebellious rule. Because while Steve (and his adorable appetite) managed to captivate our hearts in the long run, it's important not to forget some of DJ's other boyfriends from Full House , particularly in regards to Viper. Played by actor David Lipper, Viper made himself instantly memorable, not just because he had tattoos and was insanely skilled at playing the guitar (though those things certainly didn't hurt), but also because underneath that rocker demeanor, he truly cared about DJ. They may not have had a lot in common, but the feelings were genuine, which makes me curious about whether or not we can expect to see Viper appear on Fuller House at some point throughout the series.
With a majority of the gang set to return, it's only logical to wonder what other surprise cameos could pop up when the beloved revival makes its way to Netflix. And since DJ will once again find herself single, there's a chance that a few of her old beaus (aside from Steve) decide to make an appearance. Unfortunately, though, it looks like Viper won't be making a return in Season 1. After super-stalking the actor's social media accounts, it looks like no one has asked him to revive his bad boy character. Or at least that's what he told a fan who asked about it on Twitter back in November.
But that doesn't mean it won't ever happen. Odds are the series will get picked up for a second season (because why wouldn't it?) and could mark Viper's return in one of those episodes. The actor seems more than willing to revitalize the character. But just in case the writers need a little extra incentive on the matter, here are a few ideas of how Viper could eventually be incorporated into the plot...
Jesse & The Rippers Have A Reunion
Though his time with the band was short-lived, he could still be trying to make it as a struggling musician and jump at the chance of performing with the Rippers once more. If memory serves, he was pretty amazing with a guitar.
Her Kids Become Friends With His Kids
It's been a long time since we last saw Viper. For all we know, he also has kids and is struggling to cope with the stress of being a single parent. Something tells me he'd be an amazing dad and could show DJ a different, more mature, side of him that she never had the chance to see in their youth.
He Moves In Next Door
With Kimmy living in the Tanner house, they need a new next door neighbor who will burst in without invitation. That could be Viper!
They Just Randomly Bump Into Each Other
Now that so much time has gone by, Viper's profession could be pretty much anything. He could be a doctor or lawyer or finance extraordinaire at this point in his life, which makes it easy to bump into each other under the right circumstances.
Honestly, it doesn't really matter how he pops up, but I think we can all agree that our lives would all be a little more fuller with Viper in it. Your move, writers!
Images: ABC (2); fullhouse-gifs/Tumblr (2)