18 Unique Risotto Recipes To Try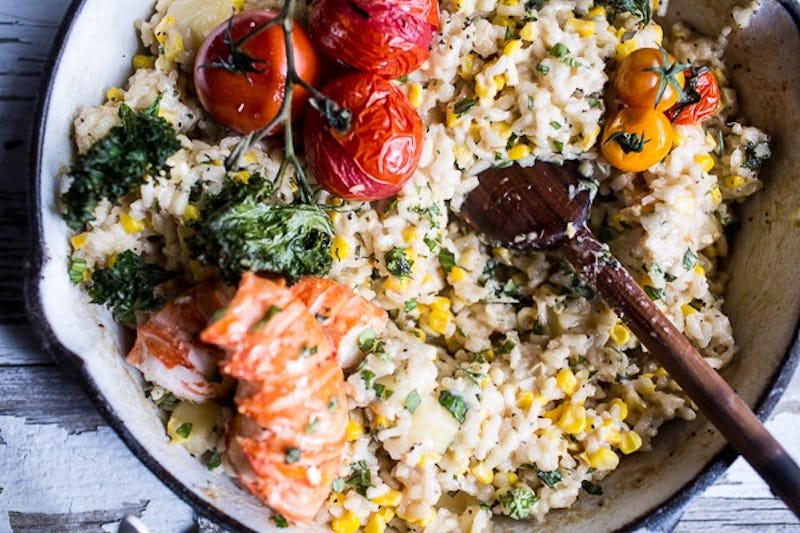 They say that good things take time, and while that old adage may seem dated in certain situations, it still holds true for some things — including risotto. This traditional Italian dish is one of the creamiest, most indulgent dishes you can enjoy, and with so many unique risotto recipes to choose from, there is really no reason why you shouldn't grab some rice and start whipping up a delectable meal. All you need is a little bit of patience and that time spent stirring will be totally worth it.
Although typical ingredients include arborio rice, butter, and parmesan, there is no limit to the number of ways you can flavor your risotto. Indian spices make a fragrant change, while shrimp always adds a welcome salty touch. These creative rice recipes will truly inspire you to think outside of the box, and will help you take a break from your favorite pasta recipes. Why not switch up your go-to grain?
From fancy lobster-centric dishes to tasty risotto recipes that include all your favorite vegetables, these meals are sure to please even a risotto skeptic. Get ready to start stirring — the end result will most definitely be worth the wait.
1. Risotto Primavera
Plenty of vegetables prevent you from feeling too bogged down by this comfort food. A Beautiful Mess adds shrimp too for a protein boost.
2. Asparagus And Goat Cheese Risotto
This green dish makes for a classic dinner any time of the year. A Cozy Kitchen shows that with the right tips, risotto isn't too difficult to master.
3. Red Berry Risotto Oatmeal
Risotto isn't just for the dinner table. Mel's Kitchen Cafe makes a sweet dish for a breakfast that will power you through your day.
4. Shrimp Risotto Balls
This take on traditional arancini by I Am A Food Blog makes a tasty appetizer. Plus, it's the perfect use for leftover risotto.
5. Risotto With Radishes, Kale, And Lemon
You might not think radishes and risotto would be a match, but Five and Spice proves otherwise. This traditionally comforting dish is lightened up with vegetables.
6. Easy Brown Rice Risotto
Mushrooms and oregano make this risotto anything but boring. Trust Cookie and Kate on this one: brown rice results in a more flavorful dish.
7. Brown Butter Lobster, Sweet Corn, And Fontina Risotto
Just when you thought risotto couldn't get any fancier, Half Baked Harvest makes a decadent dinner with this dish.
8. Onion, Leek, And Parm Risotto
This is the risotto for the traditionalist. Naturally Ella adds just enough crunch to the creamy meal with leeks and onions.
9. 15-Minute Risotto
Sure, risotto is notorious for being an incredibly hands-on dish, but The Kitchn shows a pressure cooker can help you get this meal on the table in no time.
10. Butternut Squash Risotto
Tender cooked butternut squash makes Mel's Kitchen Cafe's risotto even more creamy. Crumbled bacon makes it a real treat.
11. Mushroom And Pea Orzo Risotto
Mushrooms and peas make I Am A Food Blog's risotto totally substantial, while orzo brings an unexpected touch.
12. Baked Risotto With Indian Spices
Something incredible happens when you take an Italian dish and fuse it with Indian flavors. Five and Spice has reimagined risotto for the better with this aromatic dish.
13. Baked Risotto
Risotto isn't just a stovetop meal. A Beautiful Mess shows that some time in the oven is a very, very good thing.
14. Lemony Roasted Cauliflower Risotto
Caramelized roasted cauliflower is the hero of this risotto recipe by Cookie and Kate.
15. Risotto Lasagna
If there's anything that Half Baked Harvest's quinoa risotto lasagna proves, it's that you can, in fact, have it all — with truffle oil.
16. Sweet Potato Risotto With Gorgonzola And Farro
Naturally Ella's vibrant risotto is just the right combination of comforting, nutty, and wholly satisfying. With no complicated ingredients, it just takes patience to make it to perfection.
17. French Onion Risotto
Ever wish you could replicate the intense, caramelized onion flavor of French onion soup in a wholly different dish? Now you can, with The Crepes of Wrath's velvety risotto.
18. Caramel Risotto
Dessert risotto? Please and thank you, The Kitchn.
For more ideas, check out Bustle on YouTube.
Images: A Beautiful Mess (2); A Cozy Kitchen; Mel's Kitchen Cafe (2); I Am A Food Blog (2); Five and Spice (2); Cookie and Kate (2); Half Baked Harvest (2); Naturally Ella (2); The Kitchn (2); The Crepes of Wrath