Caila's Dad Is So Cute On 'The Bachelor'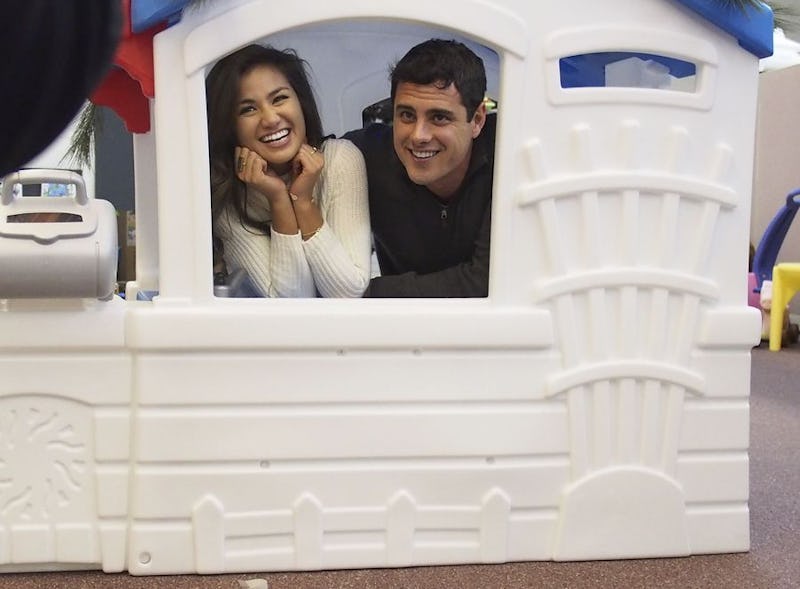 It's the time in Ben Higgins' season of The Bachelor for hometown dates, and that means that we get to see where all of these glorious ladies come from — it's time to meet the families. While most families are hesitant but pretty nice, I just met my favorite Bachelor parent of all time — Caila Quinn's dad who is just the cutest Bachelor dad of all time, equal parts adorable, caring, protective, and awesome. Caila should be the next Bachelorette if only because we would get to see her dad more.
Caila's date with Ben started out in the toy store in which her dad is the CEO. Needless to say, it was awesome, and they got to build toys and be kids and it was totally cool. At Caila's parents house, her mom prepared a Filipino feast (she is Filipino and Caila is half Filipino) and talked about the experience of being on The Bachelor. Caila's dad asked many thoughtful questions, not grilling Ben but not letting him off the hook, either. He obviously cares very much for his darling daughter, and he did his due diligence in talking to Ben and assessing whether or not Ben was the right match for his little girl.
My favorite part was when Caila and her father had a quiet talk on their sofa. Caila's dad sipped a nice glass of red wine while his daughter gushed about Ben, and he lovingly reassured her that all the crazy feelings you have as you fall in love are both normal and wonderful. He even told a story about what it was like when he was falling in love with Caila's mother. I basically just sat there with my cheeks in my hands and watched his father/daughter duo chat about love, life, and Ben Higgins. Ultimately, Caila's dad gave her his blessing to do as her heart feels, and he gave me the feeling that I'd want to be adopted into Caila's family, if only for a day. Here's hoping we see more of Papa Quinn soon!
Images: Scott Evans/ABC