Here's How To Shop The Glossier Sweatshirt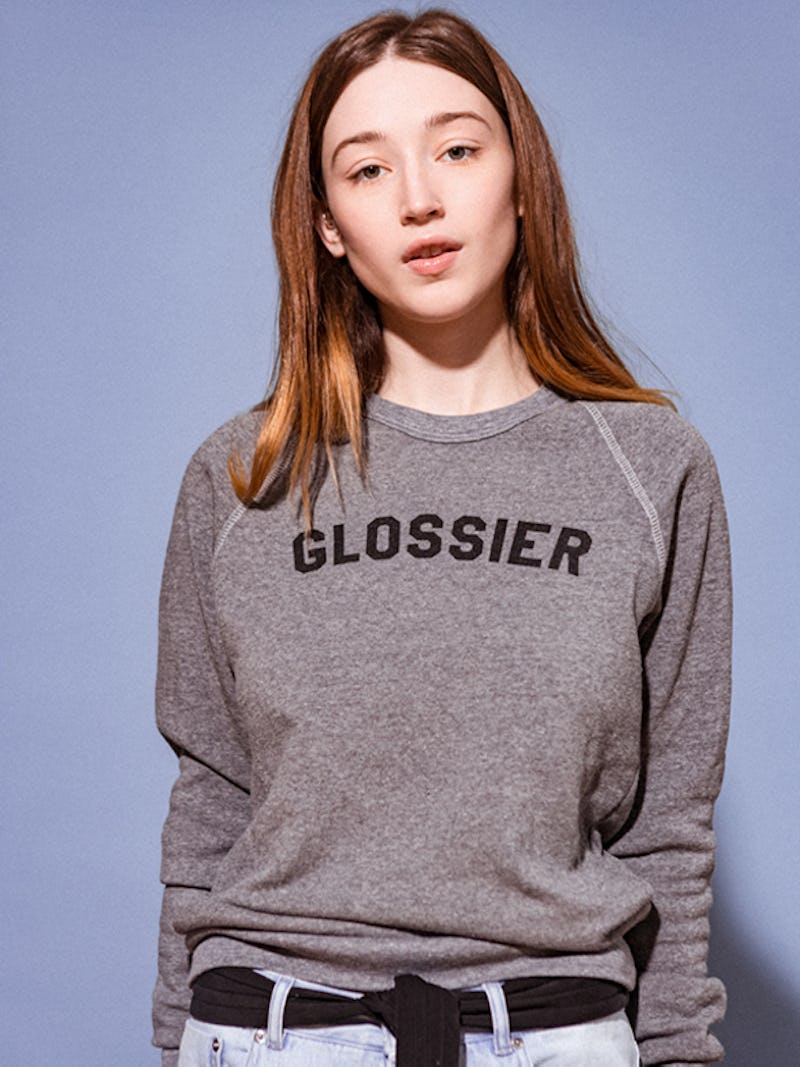 This Instagram-friendly beauty company just took a leap into fashion. According to the brand's site, there's a Glossier sweatshirt for sale that's just as trendy as the brand's makeup wares — but these tops are in limited supply. That means you'll want to hop online and snag the look soon to make sure you get your pretty little hands on one. If you're wondering how to shop the Glossier sweatshirt, it's just a few clicks away.
The grey crewneck sweatshirt with the company name printed in black letters is simple, but you have to admit it is pretty chic. To get your hands on one, all you have to do is head over to Glossier's website, click the link and get to shopping. It's that easy! You'll want to hurry, though — according to the company's Instagram, the sweatshirts are selling fast but the company plans to make more.
Glossier is a stand-out relative newcomer to the beauty industry, so it only makes sense that fans would want to rep their devotion to the brand in their wardrobes as well as their #ITGTopShelfies. According to the site, the sweatshirt was first created for the in-house staff to keep warm in their chilly offices, but when fans started seeing them on social media, they began requesting shoppable versions too. That's where this surprise sale comes in. "Here by popular demand. We originally made these for team Glossier because our offices can get pretty chilly. Then everyone started asking for them so, we made more."
Glossier Sweatshirt, $60, Glossier.com
How thoughtful of them, right? If you couldn't get your hands on one via website, you can enter their Instagram giveaway for a chance to win one too. Because the look so minimalist, you can dress this up or down any way you'd like.
The shirt is available in sizes small to 2x, but, with the largest size already sold out, you'll want to act fast to get the one you need!
Image: Glossier