11 Best Tricks for Nailing the No-Makeup Look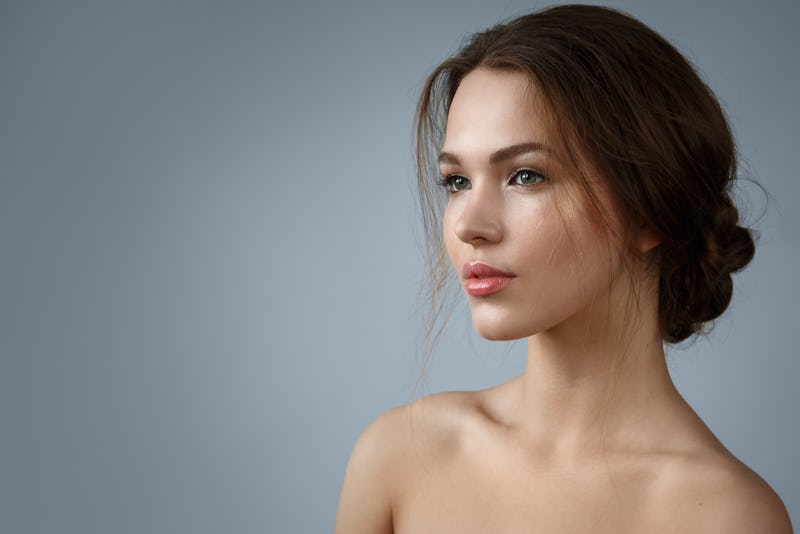 As a self-proclaimed beauty junkie, I tend to wear a ton of makeup. But sometimes, I don't want to look like I'm wearing anything at all. The natural makeup look is the easiest way to look flawless and effortless. When you want to soften up your beauty look (and shorten your morning routine), go for a natural look with lightweight, easily blended products that highlight your natural beauty, instead of cover it all up.
A dewy finish foundation is perfect for a glowing, well-rested look, and a creamy blush gives your skin some healthy color without going overboard. Finish it all off with the lash-saving brown mascara that won't look too dramatic when compared to the rest of your look.
Nights out are great for dark smokey eyes and Kylie-level lined lips, but when you want to take a day off from looking like a Kardashian, it's great to mix things up and opt for something a little more toned down. Plus, so many of the products you can use for a "no makeup" makeup look have amazing ingredients that improve your skin, instead of clogging it up. So take a beauty detox vacation from your full-coverage foundations and false eyelashes, and give your skin a little love by showing it off.
Pick The Base With The Vitamin-Packed, Dewy Finish
Perricone MD No Foundation Foundation, $60, Amazon
The first thing you want in a natural makeup look is this Vitamin C Ester foundation's natural finish. The Ester ingredient is worth every cent: Using optical diffusers to even out yellow, red, and blue skin undertones, the 'No Foundation' foundation forms a soft-as-silk second skin, which means high-moisturizing, moderate coverage that won't cake off later. Its neuropeptides infuse skin to make it more supple, too, and mineral-based SPF 30 means your face is protected from the sun's damaging rays.
Or Seek More Coverage in Photo-Ready HD BB Cream
Stila Stay All Day HD Beauty Balm, $38, Amazon
The Stila Stay All Day Illuminating Beauty Balm is formulated with full-coverage micro spheres, which erase blemishes and all signs of redness from trouble spots with just one tiny pearl-size application. BB creams have always had a special place in my heart, but this one does it all: Users love how hydrating it is, as well as the natural radiance it gives their skin. There's no need for heavy concealers and foundations when you have a good BB cream like this one.
Do Double Duty with a Concealer and Foundation In One
Cargo OneBase Concealer + Foundation in One , $28, Amazon
Cargo's best seller, the Cargo OneBase Concealer + Foundation in One, is your one-stop shop for flawless natural coverage. It has vitamin E, avocado extract, and chamomile extract to keep your skin feeling hydrated while protecting it from possible irritation. It's the perfect option for when you don't want to wear a foundation all over your face, but you have a few places you want to add some coverage.
Use Hydrating Seaweed Extract Blush That Blends Seamlessly
Vincent Longo Water Canvas Blush, $44, Amazon
Cream products melt into your skin to make it look like you have a natural glow from within, and this Vincent Longo Water Canvas Blush will give your cheeks that healthy, fresh faced look you've been trying to achieve for weeks. Its botanical seaweed extract and Vitamin E protect your skin and keep it hydrated all day long. Apply it right after your base, so that the two products blend together.
For Even Less Maintenance, Try a Two-in-One Cheek & Lip Stain
The Balm Stainiac , $15, Amazon
The best part of rocking natural, no makeup looks is toting less for touch-ups: This two-in-one cheek and lip stain has a gel based formula, so it won't streak, fade, or rub off as the day goes on. Because it's formulated with soothing aloe vera, you also have more time to blend to your desired tint before the color sets. (Bonus: No need to match cheeks to your lip tint when you're wearing the same radiant hue in both places!)
Swipe on The Luminous Cream Eyeshadow
Laura Mercier Caviar Stick Eye Colour, $25, Amazon
The Laura Mercier Caviar Stick is the most natural way to apply eyeshadow while looking like you haven't done anything at all. It's long-wearing, transfer-proof, and crease-resistant, so your makeup will never look dull. Apply some of this creamy shadow to your lid, and blend well with your finger for a glint of color that highlights your eyes.
Use The Right Tool To Create a Smooth Finish
Real Techniques Miracle Complexion Sponge, $8, Amazon
When you're applying makeup, great tools are always crucial, but they're especially important when you're going for a natural look. The Real Techniques Miracle Complexion Sponge is perfect for blending your cream products: Run it under some water, and start dabbing the products into your skin. It's easy to use and a fraction of the price of other beauty sponges. After all, you never want streaks or cakey patches — or else it'll be obvious that you're wearing makeup.
Leave No Lines With The Antibacterial Brush Safe for Powder and Cream
Party Queen Tapered Highlighter Face Brush, $8, Amazon
This top-rated multipurpose face brush is an important step in applying natural-looking makeup. The Party Queen Face Brush's hypoallergenic bristles are antibacterial, and they're arranged with such versatile density that you can use the tool for evenly applying both creams and powders — whichever you prefer. Use the brush to set your makeup, add some color with blush, or create a light contour under cheek bones for more beauty drama.
Brighten Your Eyes With Ophthalmologist-Tested Nude Liner
LORAC Front of the Line Pro Eye Pencil, $20, Amazon
When it comes to "no makeup" makeup, stay away from heavy liners. The Front of the Line Pro Eye Pencil in Nude makes your eyes look wide awake by lining your water line, which cancels out redness. (It'll make you look like you got a full eight hours of sleep — even if you didn't). Its ophthalmologist-tested formula is waterproof, too, so it will continue to brighten eyes, despite sitting on the waterline.
Moisturize Dry Lips With Mango & Shea Butter Balm
Korres Lip Butter, $12, Amazon
The Korres Lip Butter in Mango is packed with shea butter and rice wax for pillowy-soft hydration, as well as natural oils that soothe and condition lips. Blend its light wash of color into your lips for a flushed tint that will make the rest of your skin look glowy and warm. Users love how this balm treats their dried-out lips, without sacrificing that subtle pop of color.
Keep It Natural With Water-Resistant Brown Mascara
Blinc Mascara in Medium, $26, Amazon
If you've ever had trouble with flakey or runny mascara, the Blinc Mascara in Medium Brown's water-resistant formula will be a big beauty upgrade: Its formula creates tiny, smudge-proof tubes that protect and define each lash, so your mascara will lengthen and pump up your eye game without wearing off. The brown color is perfect for your natural look, as black mascara can seem too harsh when compared to the rest of your fresh-faced look.
Bustle may receive a portion of sales from products purchased from this article, which was created independently from Bustle's editorial and sales departments.
Images: Fotolia (1); Amazon (11)