11 '80s Hits To Prepare You For 'Eddie The Eagle'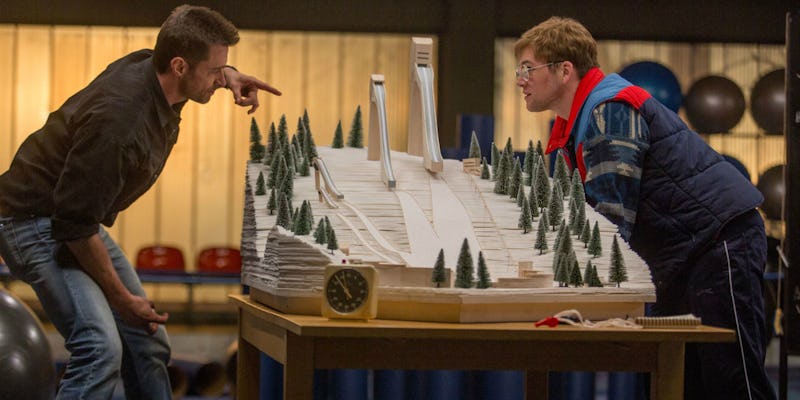 The new sports movie Eddie the Eagle is meant to be inspiring, and that inspiration extends to the Eddie the Eagle soundtrack. The film tells the true story of Michael "Eddie the Eagle" Edwards, a ski lover with the dream of competing in the Olympics for his home country of Great Britain. Edwards learned how to ski jump in an effort to qualify for the 1988 Games in Calgary, Canada, and since there were no other British athletes competing in the sport, he made it, becoming the first ever British ski jump Olympic competitor. He came in dead last in every event in which he competed, but his resilience and effort, coupled with his apparent clumsiness and thick glasses, endeared him to fans and he became a symbol of the Olympic dream. And now Edwards' story has inspired a number of '80s musicians to compose some uplifting new tracks.
Since the film takes place in the 1980s, producer Matthew Vaughn enlisted the help of Take That lead singer Gary Barlow in putting together the soundtrack. Barlow sought out a number of pop acts who were big in the '80s, especially British acts, and got them to pen all new songs that were inspired by the film. The bulk of these songs won't be released until the soundtrack is available to buy on March 18, but you can listen to the already released track "Ascension" by Holly Johnson below.
Pretty inspiring stuff, right? Here's the full track list:
1. Holly Johnson - "Ascension"
2. Howard Jones - "Eagle Will Fly Again"
3. Marc Almond - "Out Of The Sky"
4. Tony Hadley - "Moment"
5. Midge Ure - "Touching Hearts and Skies"
6. Nik Kershaw - "The Sky's The Limit"
7. ABC - "Living Inside My Heart"
8. Kim Wilde - "Without Your Love"
9. Andy Bell - "Fly"
10. Go West - "Determination"
11. Heaven 17 - "Pray"
12. Paul Young - "People Like You"
13. Taron Egerton & Hugh Jackman - "Thrill Me"
14. Matthew Margeson - "Eddie The Eagle Theme"
Not only will the soundtrack likely do a great job of inspiring listeners to believe in their dreams, but it also transports the listener back to the '80s in a new and fresh way while giving these somewhat forgotten artists exposure to a new generation. Not familiar with the artists seen here? You will be after you listen to some of their hits below.
Howard Jones — "New Song"
This British artist was one of the pioneers of synthpop, AKA the sound of the '80s.
Soft Cell – "Tainted Love"
Marc Almond was the lead singer for this band, who had one of the biggest hits of the decade with this track.
Spandau Ballet — "True"
Tony Hadley's band was part of the New Romantic movement, along with acts like Boy George and Duran Duran.
Midge Ure — "Vienna"
Ure was extremely prolific throughout the '70s and '80s, playing with the bands Silk, Rich Kids, Thin Lizzy, and Ultra Vox. He also co-wrote and produced one of the U.K.'s all-time biggest hits as a member of the supergroup, Band-Aid: "Do They Know It's Christmas?".
Nik Kershaw — "The Riddle"
Considered a top songwriter, Kershaw has collaborated with the likes of Elton John.
ABC — "The Look of Love"
This new wave synthpop band has seen its membership decrease over time, and now essentially only consists of one member: Lead singer Martin Fry.
Kim Wilde — "You Keep Me Hanging On"
You know this song.
Erasure — "A Little Respect"
Singer/songwriter Andy Bell was one half of this duo with keyboardist Vince Clarke. Their specialty? You guessed it, synthpop.
Go West — "The King of Wishful Thinking"
Go West has some pretty notable soundtrack experience, as this memorable tune was featured on the Pretty Woman soundtrack in 1990.
Heaven 17 — "Temptation"
This just in: England was really into new wave synthpop in the '80s.
Paul Young — "Every Time You Go Away"
Another soundtrack hit, it's impossible for me to hear this song without picturing the final scene of 1987's Planes, Trains, and Automobiles.
I'm anxious to see what these artists, most of whom don't get a ton of press these days, have put together for the Eddie the Eagle soundtrack. I'm hoping for synthpop, but I'm sure whatever they come up with is going to be fantastic.
Images: 20th Century Fox