12 Celeb Pairs Who Dated The Same Person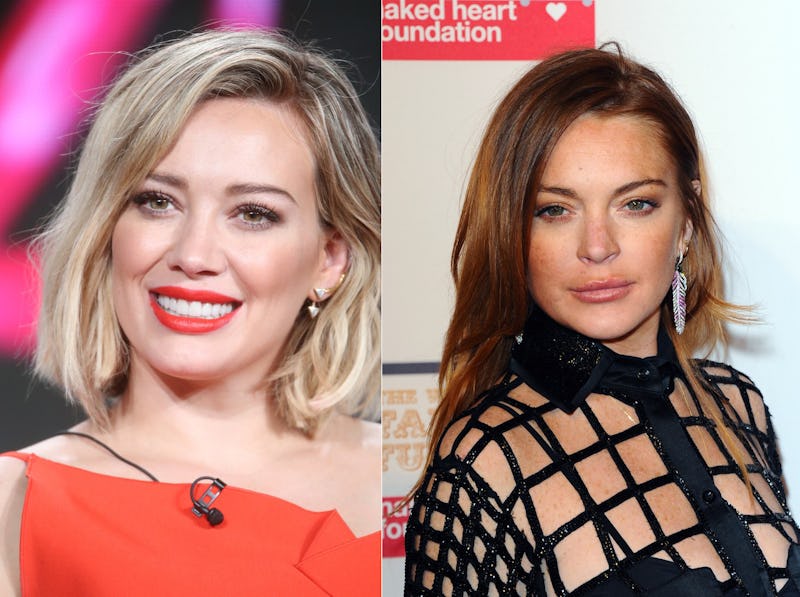 Just as you might think your city or college has too small of a dating pool, Hollywood seems to be a small dating world of its own. Sometimes, you have the distinct pleasure of dating one of your friends' exes — and by pleasure I mean it's usually a complete horror show. Maybe I am just speaking from experience, but it could either go very well or very, very badly. We often think we know most of our favorite celebs' dating histories, but that's not always the case. Proving even further they are just like us, here is a list of celebs that you never realized dated the same person — and lived to tell the tale.
I know that these celebrities are not necessarily all friends, but many of their mutual exes did strike me as a surprise. These relationships prove to me that love is a weird thing and some people truly do not have a type... at all.
On a personal note, I ended up becoming BFFs with a girl who dated my ex, and it was great to mutually agree that he was not all that. He did, however, bring us together. This may or may not be the case for these famous exes, but they did date the same person. Take a look:
1. Cameron Diaz & Kate Hudson
Kate Hudson dated relationship with Yankees star Alex Rodriguez from May-December 2009. Then, in May 2010, Cameron Diaz was spotted leaving Rodriguez's penthouse, and although longer than Hudson's relationship, Diaz and Rodriguez dated on and off until the fall of 2011.
2. Hilary Duff & Lindsay Lohan
Ah, yes, the Disney couples for the ages. Hilary Duff and Aaron Carter were embroiled in a young love that ended abruptly when he allegedly dumped Duff for Lindsay Lohan. The girls apparently had a long running feud, until they probably came to their senses and realized they were both better off anyway.
3. Drew Barrymore & Kristen Wiig
I had a hard time coming to terms with both of these relationships. You see, I was a huge Strokes fan, especially of drummer Fabrizio Moretti, and was surprised to find out he dated two of my favorite actors, Drew Barrymore and Kristen Wiig. I don't know who I was more jealous of: him or them.
4. Owen Wilson & Lance Armstrong
From 1999 to 2001, Owen Wilson dated Sheryl Crow, who also was in a long term relationship with Lance Armstrong from 2003 until 2006, when they called off their engagement. Of her past relationships she told Good Housekeeping in 2014, "I had always gone out with guys who were highly successful, which would seem like it would put me at an equal level... But what ends up happening is that one of you becomes smaller — and it was always me. It's always the woman."
5. Nikki Reed & Ashley Greene
The Twilight co-stars have shared a lot more than just a popular film series. Reed was spotted with Ryan Phillippe way back in 2007 when she was only 18, and Ashley Greene dated Phillippe in 2013.
6. Courteney Cox & Jennifer Aniston
Jennifer Aniston famously dated Counting Crows frontman Adam Duritz during the '90s, and he allegedly went on to date her Friends co-star and real life BFF Courteney Cox right after her!
7. Chris Evans & Derek Jeter
Which lucky girl dated a baseball star and Captain America? Minka Kelly. Kelly allegedly dated Evans first in 2007, until she allegedly began a three-year relationship with Jeter from 2008 until 2011. She has since been linked to Evans again, but it seems to me the two are just friends.
8. Julia Roberts & Lizzy Caplan
Roberts was a guest star on Friends in 1996, and she and Matthew Perry hit it off and were spotted on a string of dates. People reported on the news, but the pairing was short lived. The private star also dated Lizzy Caplan for six years, and they both kept their relationship very private.
9. Katy Perry & January Jones
Way back when, January Jones had a very serious three-year relationship with Josh Groban from 2003 until 2006. Groban opened up about their relationship to GQ in 2013, "We were madly in love... It was definitely my longest relationship."He also opened up that he had a brief fling with Katy Perry and they "skated on the line of dating."
10. Juliette Lewis & Gwyneth Paltrow
They might seem like polar opposites, but Juliette Lewis and Gwyneth Paltrow share a very dreamy ex. Lewis dated Brad Pitt from 1990 through 1993, and Paltrow famously dated Pitt from 1995 until 1997.
11. Alanis Morissette & Scarlett Johansson
Ryan Reynolds sure seems like a man that doesn't waste any time in committing. Reynolds reportedly met Alanis Morissette in 2002 and they were engaged by 2004, ending their relationship in 2007. By May of 2008, Reynolds was engaged to Scarlett Johansson, but they split in December 2010. He's now married to Blake Lively.
12. Vanessa Hudgens & Victoria Justice
Vanessa Hudgens and Victoria Justice both dated Josh Hutcherson before he properly blew up after his role on The Hunger Games. Justice and Hutcherson were rumored to have started dating in 2009, attending the 2009 Teen Choice Awards together. The romance fizzled a year after and he was then allegedly linked to his Journey 2: The Mysterious Island co-star, Hudgens. During their promotional tour, Hutcherson said of them dating, "We were at one point, but she broke my heart. No, I'm just kidding, that was a while ago, we're really good friends now."
Hollywood's dating pool is apparently pretty shallow, but it's cool to know that they have to deal with the same awkward encounters as all of us.
Images: Getty Images