Facebook Reactions Are Officially Here!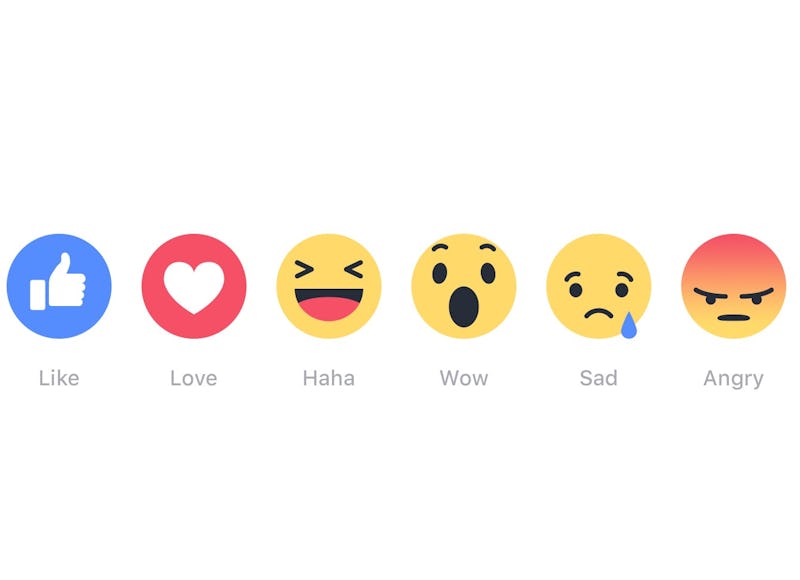 Notice anything different about one of the most popular social media platforms today? Good news: Facebook Reactions have launched globally, offering users more ways to express their responses to their friends' posts. It's essentially an extension of the "Like" button, giving Facebookers the opportunity to choose from the additional responses of "Love," "Haha," "Wow," "Sad," and "Angry." Some might say that the new addition is long overdue, as users have been expressing for quite some time their desire for a "dislike" button. Well, we didn't get that; but we did get five other emotions to choose from, so hey, at least we don't have to "like" everything anymore, right?
Using this new feature is super simple. Just hover over (or click and hold down on) the "like" button, and the window with the new reactions will pop up. Then just click on the one you want to use, and you're done. In addition to people who have "liked" a post, Facebook will now also display any other reactions that were chosen for it. The change is rolling out today across desktop, iOS, Android, and all mobile web, as well. In fact, there's a good chance you're already seeing it on your account.
I played around with Facebook Reactions a bit this morning, so here's a look at what you can expect from the new feature.
Your Options
This is what I see when I hover over the like button. Look at all those options!
Decisions, Decisions
I'm full of love today, so I clicked on the heart button. Now that icon is also displayed where the likes are.
Everyone Else At The Party
And when you hover over the heart, you can see the list of people under "Love." Just me, so far!
Facebook Reactions entered the testing face back in October; however, they've been conducting global research for over a year, Product Manager Sammi Krug explained in a release posted to Facebook's newsroom. Using focus groups and surveys, as well as examining the stickers that people use the most, they narrowed down the list of responses people were expressing more frequently — and voila! Facebook Reactions.
I like the new feature! It personalizes the Facebook experience even more. And just think of all the ways we'll be able to use them!
Images: Facebook; Megan Grant/Bustle (4)