Gigi Hadid & Zayn Malik Are Basically Style Twins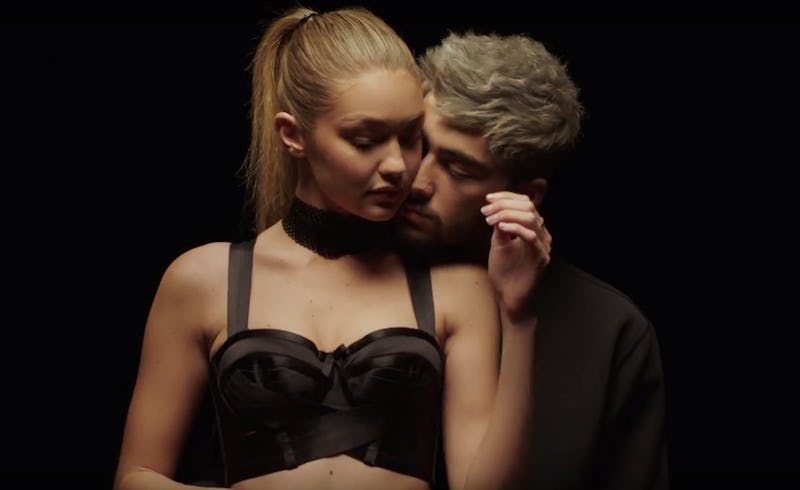 After months of rumors and speculation, this famous couple finally confirmed they are dating after months of speculation, and they went even further by posting the cutest photo ever on Instagram. In Hollywood, it seems the more we get used to seeing a new couple together, the more that couple starts to look alike. Take Kim Kardashian and Kanye West, for example. Ever since Kim K officially became Mrs. Kardashian West, she has been color-coordinating her outfits to her hubby's, from matching Yeezy sneaks to monochrome camel ensembles. Now, another hot young couple seems to be drawing fashion inspiration from one another, because Gigi Hadid and Zayn Malik are basically style twins.
Some people may think it's cheesy to be rocking your boyfriend's tee shirt for all the world to see, but when you style it as well as Hadid does with a thin black choker, it's adorably chic, at least IMO.
The supermodel and the singer each have their own sense of badass individual style. Hadid is notorious for her sexy sporty style which combines feminine silhouettes with on-trend athleisue-type pieces. Malik, on the other hand, is all about black, leather, and edgy threads. They are both killer on their own, but when their style is combined together, it's especially beautiful.
Let's take a look at seven times Zigi basically had matching style.
1. Black & Red
Color-coordinated perfection.
2. Gray Denim & Black
They look like a walking ad for a denim company, don't they?
3. Black & White
She's the ying to his yang.
4. Laid-Back Bomber Jackets
Couples who dress together, stay together.
5. Matching Hats
They both look so fabulous in hats.
6. Monochromatic
I can't handle the chic.
7. Rock & Roll Vibes
It looks like some of Malik's edgy rocker style has rubbed off on Hadid.
Image: Screenshot/Youtube.com