See 'Fuller House' Stephanie Singing IRL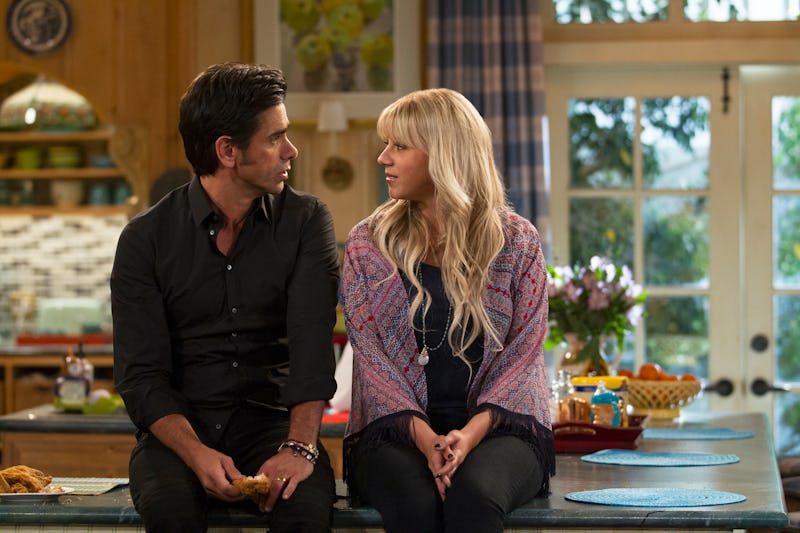 Time for '90s kids to rejoice! Full House is returning as Netflix's Fuller House on Friday, Feb. 26, and the Tanner clan is all grown up! Much like Joey and Jesse came to Danny's aid after his wife died, Stephanie and Kimmy are stepping up to help D.J. in her time of need to help her raise her kids. The reboot promises to bring back everything we loved about the original series — the characters, the catchphrases, and the music. No, I don't mean a Jesse and the Rippers reunion (but that would be cool!). Stephanie Tanner is a musician in her own right in the spinoff. But, can Jodie Sweetin sing in real life?
On the show, Stephanie seems to pick up where Jesse did on the original show, as an aspiring musician and performer. Which isn't surprising considering how musical the family was throughout Full House's initial run and how Stephanie proved herself as a triple threat. Stephanie Tanner was dramatic, a fly dancer, and part of the sitcom band with the greatest name of all time: Girl Talk. Kimmy happened to play keyboard in Girl Talk, so fingers crossed for a reunion.
Since Stephanie is a performer extraordinaire, that means that actor Jodie Sweetin is too. She has been singing and performing her entire life as Stephanie Tanner and other roles. Here are clips of some of Sweetin's most memorable performances over the past 30 years. Watch how Sweetin's talents have evolved and be sure to tune in for more musical moments on Fuller House!
Oscar Mayer Commercial
Yep, that's Jodie Sweetin in this pre-Full House, '80s-tastic commercial.
Singing With The Beach Boys
She gained musical street cred at an early age when the Tanner family jammed with The Beach Boys.
Busting A Move On Full House
On more than one occasion did Stephanie bust out some fly '90s moves on the show. Remember this Love Shack routine?
Girl Talk
I so badly want this to be a real girl group.
Jodie Jammed With John IRL
John Stamos (who portrayed musician Uncle Jesse) recently teamed up with Sweetin for charity.
The Cast Reunited With A Song
Sweetin and the rest of the cast recently sang the Full House theme song on The Tonight Show With Jimmy Fallon, in order to promote the Netflix revival.
The Girls Have Still Got It
So, the cast can still sing ... And apparently they can still dance, too!
We can't wait to see the family new musical adventures on Fuller House, with Stephanie Tanner at the helm!
Image: Saeed Adyani/Netflix