The New 'Fuller House' Theme Song Is Here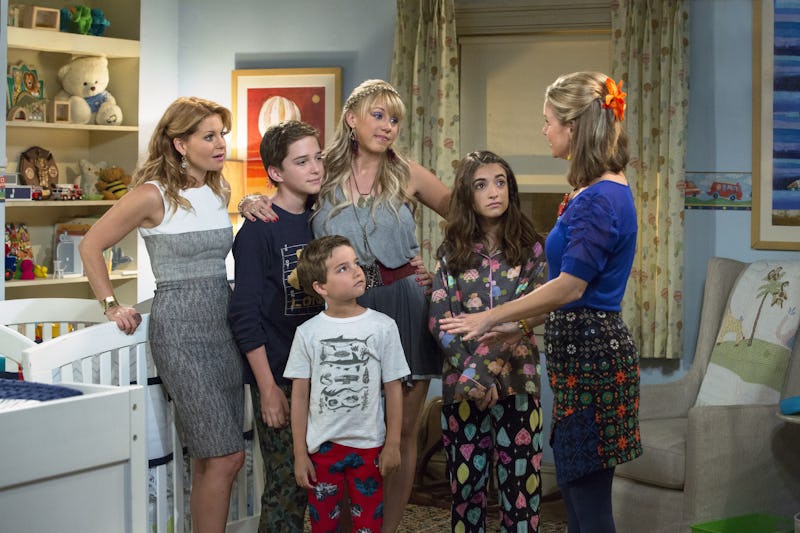 It almost seems to good to be true. We are hours away from living in a world where Fuller House can be marathoned on Netflix with reckless abandon. What a time to be alive, huh? The Full House reboot is sure to be brimming with nostalgia, with almost all of the original cast returning to the original location to bless us with wholesome dramady once again (except for Michelle, everyone from the core original cast will be in attendance). That's not all that the revival brings to the table, though. The sugary sweet theme song will return albeit with a revived sound as well. So, who sings the Fuller House theme song?
Well, none other than the woman who spawned a thousand viral lip synching videos, Carly Rae Jepsen. That's right. The "Call Me Maybe" singer was tapped to record an updated version of the original theme song for the reboot. She got to make it happen with the song's original writer/performer, Jesse Frederick and producer, Butch Walker, according to Rolling Stone. It's a tough role to take on, that's for sure. Everyone remembers the familiar catchiness of "Everywhere You Look" and, after hearing her rendition, I think the singer lived up to the task. You can check it out on iTunes, now.
And, while we're at it with the nostalgia, let's take a listen to some of the most iconic television theme songs of the '90s.
Family Matters
The Family Matters theme song is a classic. It also happens to be written and performed by Jesse Frederick, according to IMDb, who is the man behind the Full House theme.
Step By Step
Another jam by Jesse Frederick! One look at his IMDb page and you'll see that guy slayed the 90s. Also, who didn't love Cody? Who cares if he lived in a van. #90sCrush
Fresh Prince Of Bel-Air
If you can't rap the entire theme without the aid of Will Smith's background vocals, you need to turn in your '90s card.
Saved By The Bell
Every '90s kid can relate to these lyrics, and just hearing it brings back memories of getting ready for school.
Sister Sister
Yes. GO HOME, ROGER!
Buffy The Vampire Slayer
This theme song is a straight jam. It makes you want to slay some beasts and wear leather pants with chunky shoes. Yes, it's half '90s and half '00s but it's still representing.
Charmed
Another show that made its way into the '00s. This song is currently in my music library. I listen to it and pretend that I am a witch with good bangs and trendy boots. You do too, come on.
Basically, the '90s was the greatest time for television theme songs. Carly Rae Jepsen had her work cut out for her when she recreated the classic Full House theme song. But I think she made all of us '90s kids proud.
Images: Michael Yarish/Netflix