18 Vegan Soup Recipes To Make For Dinner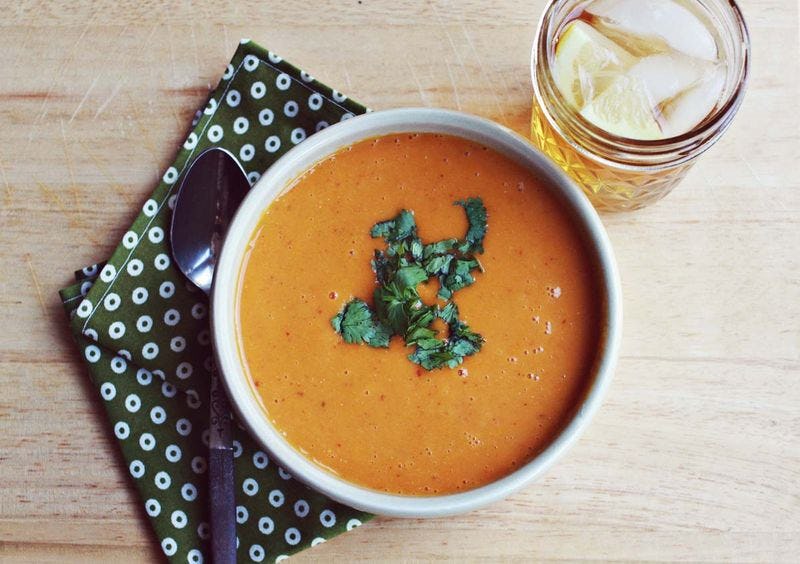 Winter was coming, it came, and now cooler temperatures remain until springtime. So what better way to enjoy brisk weather than with a bowl of soup — particularly, with some vegan soup recipes? Sometimes you just need something warm, and a bowl of soup will always be a wintertime favorite.
But, if you thought that heavy cream and butter were necessary to make the creamiest bowl of soup, think again. It's totally possible to make delicious vegan recipes that even carnivores could love. Sure, the possibility may seem slightly outlandish, but have hope, because these healthy soup recipes make for comfort food recipes that everyone will love, even if you're a cheese addict or you love putting bacon on top of everything. Have an open mind, and these vegan recipes very well may change your life — or at the very least, your dinner menu.
Whether you're seeking a classic tomato soup recipe without the milk or you just want a veggie-filled soup that doesn't come from a can, these 18 recipes are tasty and easy enough to make that they're sure to please. Serve them up with some crusty bread and get cozy. Winter is (still) here — and that means soup season is in full effect.
1. Black Bean Tortilla Soup
Not only is this black bean soup totally easy to make, but it's also vegan! You just need a couple ingredients to make A Beautiful Mess' warming soup.
2. Creamy Vegan Corn And Red Pepper Soup
A touch of nutritional yeast gives Averie Cooks' vegan soup a cheesy taste without any dairy required.
3. Harissa Chickpea Stew
The spices are the real star of A Cozy Kitchen's chickpea stew. Add plenty of harissa to make it super spicy.
4. Roasted Squash, Potato, And Apple Soup
Pureed butternut squash, fingerling potatoes, and apple make for a creamy soup. The Crepes of Wrath's savory-sweet combo is perfect for cool nights.
5. Broccoli Soup With Ginger And Lemon
This isn't your typical cream of broccoli soup. Ginger and lemon make Naturally Ella's recipe surprisingly refreshing.
6. Seven-Vegetable And "Cheese" Soup
Oh She Glows has completely mastered the art of making vegan "cheesy" dishes. Consider this the healthy version of broccoli cheddar soup.
7. Curried Cauliflower Soup
Coconut milk gives The Kitchn's soup its velvety texture, while turmeric makes its vibrant color.
8. Pea Soup With Coconut And Ginger
Pea soup gets an unexpected tropical update in Five and Spice's recipe. Rhubarb sauce makes a sweet topping.
9. Creamy Asparagus And Walnut Soup
This unique soup by Cara's Cravings get its creamy texture from white beans and miso. Nutmeg and asparagus make a winning flavor combo.
10. Spicy Chipotle Sweet Potato Soup
If you love creamy soup, it may be worth it to invest in an immersion blender. A Beautiful Mess' recipe blends together sweet potato, peppers, onion, and more for a spicy soup.
11. Creamy Tomato Soup
You just need to swap out milk and cheese for dairy-free options like coconut milk (the kind in a carton) and Daiya to make Averie Cooks' creamy recipe vegan.
12. Miso Corn Soup
The secret to I Am A Food Blog's creamy corn soup? Miso! Crispy tofu croutons also make a great topping.
13. Carrot, Potato, & Leek Soup
Plenty of roasted garlic makes The Crepes of Wrath's veggie-centric soup irresistibly aromatic.
14. Ginger Butternut Squash Soup
To make this soup a heartier meal, Naturally Ella likes serving it over rice.
15. Spiced Red Lentil, Tomato, & Kale Soup
You don't have to choose between lentil soup or vegetable soup — Oh She Glows proves you can have both at the same time.
16. Vegetarian Pho
This traditional Vietnamese noodle soup can actually be completely vegan. The Kitchn shows how it's done.
17. Roasted Carrot Soup With Citrus And Cumin
This orange soup by Five and Spice proves that carrots and citrus are an unlikely amazing combination. Ginger and mint boosts the flavor big time.
18. Gingery Shiitake Cabbage Soup
Forget everything you know about cabbage soup. Cara's Cravings' variation is so bursting with umami flavor that it'll become a new weeknight dinner favorite.
For more ideas, check out Bustle on YouTube.
Images: A Beautiful Mess (3); Averie Cooks (2); A Cozy Kitchen (2); The Crepes of Wrath (2); Oh She Glows (2); Five and Spice (2); Cara's Cravings (2)