These Makeup Hacks Will Keep You Cool In The Heat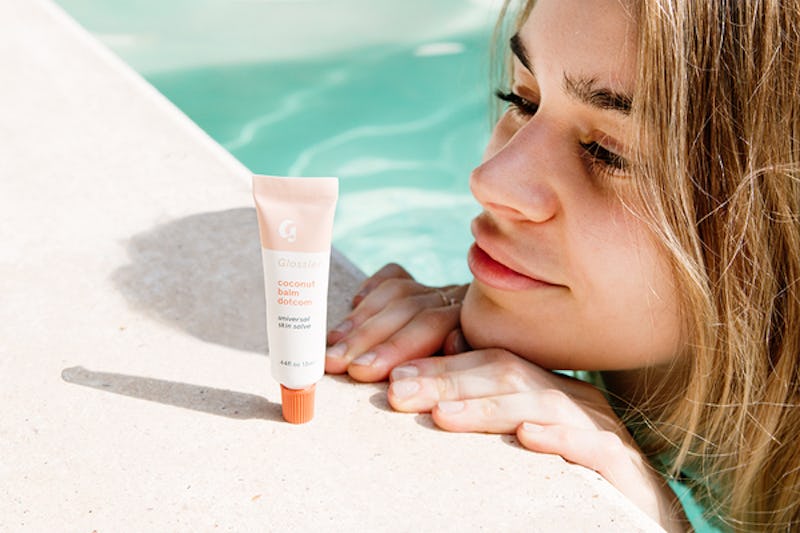 I know that it seems inconceivable if you live on the East Coast right now, but we are a lot closer to those hot summer days than we think. The groundhog said so! Therefore, I've brainstormed some makeup hacks to keep you feeling cool and refreshed even when temps begin to climb. You can grab these items in preparation for a heat wave, a trip to Cabo, and a day on down the Jersey Shore, or, if you live in California or another warm climate, a regular old trip to the grocery store.
Some of these ideas I've tested myself and others are on my to-do list for this coming spring and summer, but no matter what, they're all guaranteed to keep you refreshed and glowing. Hopefully, they can give you some respite from both dry and humid heat once the warm weather finally arrives, and hey, maybe they can even help with dry winter skin in the meantime!
Most of these hacks are not super well kept secrets. Many of the items listed below can be found at Sephora and Ulta and/or at your local drugstore. To keep your eyes, skin, hair, and lips cool as an ocean breeze this year, try some of these cool cat hacks!
1. Combine SPF & Moisturizer
Cetaphil Daily Facial Moisturizer, $17, Jet
I use the 50+ Cetaphil daily facial moisturizer and am in love with the softness and coolness I feel on my skin. It is also approved by the mom's dermatologist and can be found in most drugstores. Rocking a combination moisturizer/SPF is a great way to save your face from an extra layer of heavy product on hot days.
2. Carry A Cooling Stick
Milk Cooling Water Stick, $24, Sephora
This is the new "it" product from the new "it" makeup brand of 2016. As Byrdie describes it, "Fortified with caffeine and sea water, this stick cools on contact while it de-puffs and hydrates: the perfect hangover remedy for sure, but more notably, it's perfect for prepping before applying makeup." What's nice about this is that it's also super handy to carry around for an instant refresh throughout the day. This will be a music festival goers BFF this summer.
3. Rock A Hydrating Balm
Coconut Balm Dotcom, $12, Glossier
OK, maybe this won't literally keep you cool, but what's more summery than coconut? This is one of those all-in-one type products that can be used on the lips, cuticles, or anywhere else that needs a boost, and can also be used to highlight the cheekbones while also keeping your skin hydrated.
4. Use A Sheet Mask
I'm Real Aloe Mask Sheet Moisturizing, $4, U lta
I have used several Tony Moly products, including the Panda Eye Patches, Banana Hand Milk, and the Hydrating Coconut Face Mask Sheets. All of them are amazing! An aloe mask like this one is the perfect coolant and will give your skin that dewy but not sweaty natural glow.
5. Use A Hydrating Primer
Smashbox Photo Finish Hydrating Primer, $42, Sephora
You can feel your skin tighten and smooth when you put this incredibly cool and soothing primer on. As a bonus, it also smells like apples! If you're going to be wearing makeup on a hot summer day, you want to prep with a cooling base.
6. Or A Stick Primer
Benefit Stay Flawless 15-Hour Primer, $32, Sephora
This primer comes highly recommended from Phan and has great coverage while remaining light enough not to make your face feel like it's melting.
7. Opt For Light Coverage
Beyond Protected Daily Beauty Fluid Sheer Tint SPF 30, $28, Honest Beauty
Rather than layer on a heavy foundation, opt for something with very sheer coverage that will give your skin a boost while still allowing your face to breathe.
8. Rock A One-Color Eyeshadow Look
Maybelline Color Tattoo Concentrated Crayon, $5, Amazon
A complicated eyeshadow look with multiple powders layered together on the lid and loads of eyeliner is a recipe for disaster when it's super warm outside. Instead, opt for a long lasting cream shadow in a vibrant color. Just a few swipes and you're done!
Want more beauty tips? Check out the video below, and be sure to subscribe to Bustle's YouTube page for more hacks and tricks!
Images: Courtesy Brands