17 Perfect Snacks For Your Oscars Party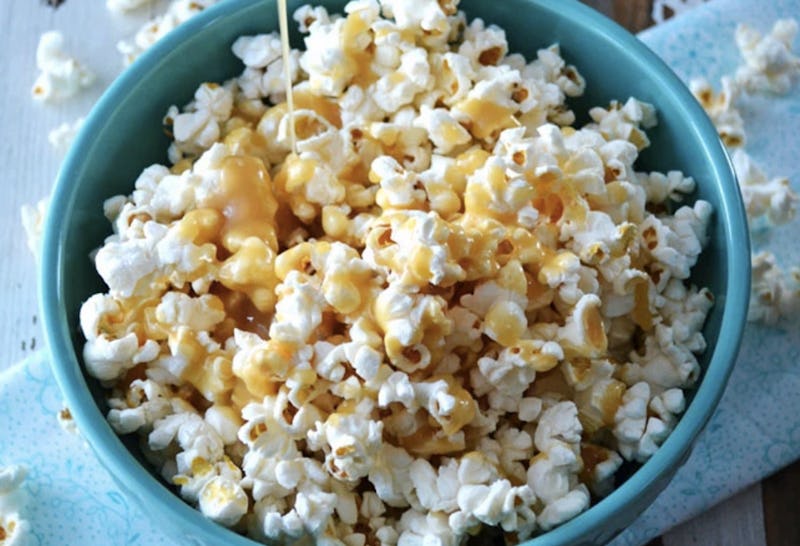 There are a lot of things about this weekend's Academy Awards show that are still unknown — like, who will take home the coveted Best Picture, or whether or not Jennifer Lawrence will face plant again. But, there is one thing I'm certain of: on Sunday, I will be stuffing my face with the perfect Oscars party snacks and sipping champagne, even if my favorite movies don't win.
Like the perfect movie, the perfect snack is different for everyone, so when you're planning your Oscars party menu, variety will be key. You will need something light, so people can munch from the red carpet through the after party without filling up. Something cheesy, so guests can comfort themselves if their favorite actor or actress loses, and, of course, you'll need something extravagant, so everyone watching from your living room feels like a star, too. Like Oscars swag bags, a good host pulls out all the stops for their guests.
The 88th Academy Awards are finally here, so it's time to pull out your finest dress (OK, sweat pants), pop the champagne, and get ready to throw the best party ever with the help of these 17 easy, perfect Oscars party snacks. Leonardo DiCaprio might not make it to your after party, but you can make sure some seriously delicious food does.
1. Avocado Hummus
Can't decide between chickpea dip or avocado dip? You don't have to with this amazing combo from A Cozy Kitchen.
2. Lemon-Thyme Bruschetta
Just because a snack is simple doesn't mean it isn't delicious. These bruschetta bites from The Kitchn may only have a few ingredients, but when they come together, they make a fantastic creamy, crunchy snack so good, it deserves an Oscar of its own.
3. Hawaiian BBQ Chicken Taquitos
Something magical happens when you combine the taste of sweet, juicy pineapples and warm, spicy BBQ, and if you don't believe me, you should try these Hawaiian BBQ chicken taquitos from Damn Delicious. Loaded with cheese and caramelized onions, these roll-ups will be at the top of everyone's Best Finger Food list.
4. Parmesan Wasabi Edamame
Best served warm, these delicious and surprisingly nutritious edamame from A Beautiful Mess are perfect for snacking on throughout the night. Cheesy, salty, and not too heavy, they keep you going back for more.
5. Bacon-Wrapped Sweet Potato Jalapeno Poppers
So many of my favorite ingredients come together in Whitney Bond's bacon-wrapped sweet potato jalapeno poppers that I don't even know where to begin. Sweet, salty, spicy, these things have it all. And the Academy Award for most addicting party food goes to...
6. Baked Coconut Shrimp With Spicy Honey Drizzle
If you want a classy Oscars party, shrimp is an absolute must on the menu. This baked coconut shrimp from A Cozy Kitchen is a dream come true. Sweet, flaky, and juicy, the only thing that makes this yummy snack better is the spicy honey sauce that it comes with.
7. Cheese Gougeres
Nothing is worse than filling up on snacks too early in the night so you can't fit dessert later. That's not a problem when it comes to these light and fluffy cheese gougeres from The Kitchn. Cheesy on the inside and crispy on the outside, these little bites have it all.
8. Bacon Ranch Cheese Ball
I don't consider it a party unless there's bacon on the menu, and this easy cheese ball from Damn Delicious fits the bill. Two of everyone's favorites, ranch and bacon, come together to make the ideal spread for snacking all ceremony long.
9. Baked Pizza Bites
It might not seem like the most elegant snack, but the truth is, you can never go wrong with pizza. These warm and gooey bites from A Beautiful Mess turn greasy slices into the perfect finger food.
10. Chipotle Honey Crispy Baked Boneless Wings
Get out the napkins before diving into Whitney Bond's chipotle honey crispy baked boneless wings, because you'll need plenty for these saucy little things. Sticky, crunchy, and perfectly sweet and spicy, these wings are worth making a mess for.
11. Baked Polenta Fries With Spicy Lime Mayo
Move over potatoes, there is a new fry in town. A Cozy Kitchen offers a rich and delicious alternative to everyone's favorite snack with these baked polenta fries, complete with creamy spicy lime mayo. These things are seriously finger-licking good.
12. Avodillas
No matter how many quesadillas you've had in your life, you've never had one like this from The Kitchn. Cooked in coconut oil, loaded with fresh, smooth avocado, and flavored with maple syrup, these crunchy, creamy avodillas will be gone faster than you can say "Academy Awards."
13. Italian Five-Layer Dip
You've had Mexican-inspired five-layer dip before, but once you try Whitney Bond's Italian version, you'll never look at it the same way again. Loaded with garlic, pesto, cheese, and tomatoes, it's like little bites of heaven on a cracker.
14. Soft Pretzel Tots
You've never had pretzels quite like these tots from A Cozy Kitchen. Soft and salty, they're an easy and delicious snack that will prove to be a crowd pleaser.
15. Grilled Zucchini Roll-Ups With Ricotta And Herbs
For a light, fresh snack for your guests to munch on, turn to The Kitchn's healthy and delicious zucchini roll-ups. Stuffed with creamy ricotta and fresh herbs, these bite sized snacks might find a permanent spot in your snack rotation post-Oscars.
16. Crab Cake Poppers
Foodie Crush takes the standard crab cake and kicks it up a notch with these delicious little bites. Be sure to make extra spicy aioli dip, because you're going to be licking the bowl clean.
17. Caramel Corn
The Oscars are all about the movies, and how can you have movies without popcorn? A Pretty Life offers a sweet and salty take on the snack staple with this caramel corn that makes the ideal addition to your food spread.
For more ideas, check out Bustle on YouTube.
Images: A Cozy Kitchen (4); The Kitchn (4); Damn Delicious (2); Foodie Crush; A Beautiful Mess (2); A Pretty Life; Whitney Bond (3)