This 'Arrow' Goodbye Will Break Your Heart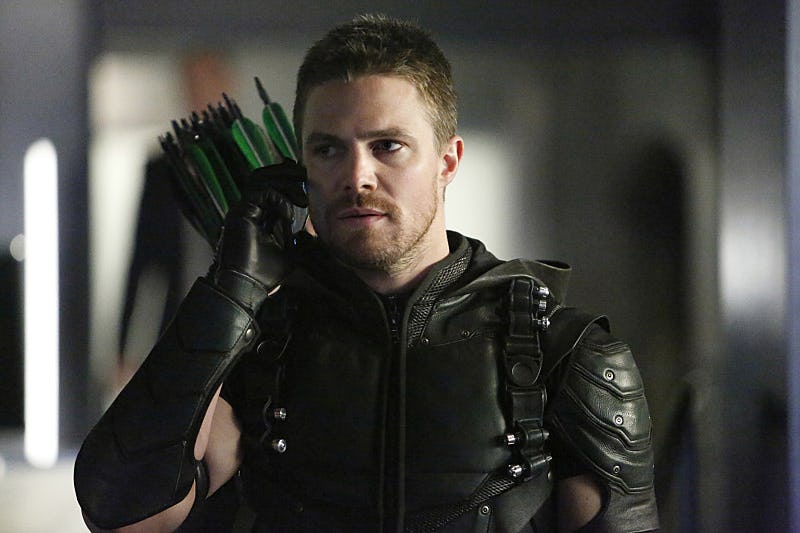 Being Oliver Queen has never looked like an easy task. Sure, he's got those brooding good looks and a 12-pack that won't quit, but on the whole this guy has had a pretty hard knock life. So when Felicity walked out on Oliver (quite literally) during Wednesday night's Arrow episode "Taken," you can imagine how devastating that felt for all involved. I mean, on the one hand, I'm thrilled that Felicity can walk again, but to have her first order of business be to walk away from Oliver instead of down the aisle toward him felt unnecessarily cruel, even for this show. I understand why she did it, of course. Finding out about Oliver's son felt like a betrayal of trust, but does mean that Oliver and Felicity won't get married on Arrow ? I'm still hesitant to jump to that conclusion.
As I mentioned in an earlier post, producer Marc Guggenheim recently tweeted a photo of Oliver and Felicity in their wedding attire, about to tie the knot. He promised that no dreams or hallucinations or alternate universes would come into play here, which means these two crazy kids are bound to work things out. I realize that she's not wearing a wedding ring in the Arrow flash forwards, which only adds more fuel to this breakup fire, but let's not forget what show we're talking about here. Arrow always keeps us on our toes and nothing is ever as straightforward as it seems.
Felicity made a good point, after all. Oliver has a nasty habit of not leaning on people for help, which is a big part of what marriage is all about. It's a partnership based on trust, honesty, and love. He may have the love part down, but the rest he still needs to work on. And that's the thing — she may just want him to work on it before they can pick things back up again. Felicity didn't say she wanted to break up. She said she needed space. There's a big difference there. So before you start throwing in the towel on Olicity, bear that in mind. These two are end game and I'm not about to give up on that dream just yet.
Image: Bettina Strauss/The CW