15 Ravioli Recipes To Update Your Pasta Dinner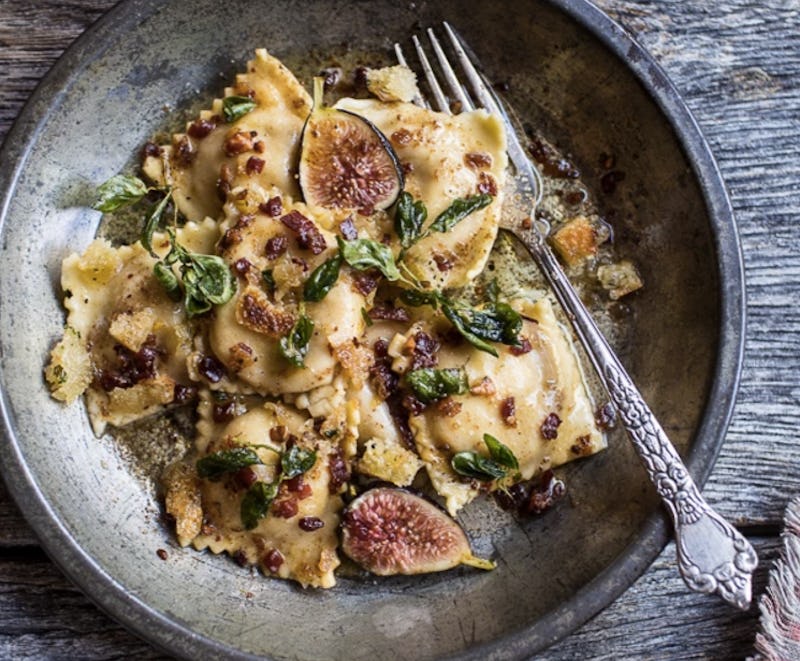 If there's anything you can take away from Aziz Ansari in Master of None, it's that making your own pasta from scratch can be a therapeutic and even life-changing experience. There is really no reason why you shouldn't try it out yourself — so why not start off with these homemade ravioli recipes? It's a culinary challenge, but not one that beginners can't attempt, so give it a go and you may just end up with something great.
Although everyone has their own fair share of incredible pasta recipes, sometimes ravioli gets left to the side when really, it deserves its glory. What could possibly be better than pasta filled with cheese or vegetables or anything else you could imagine? Top it off with plenty of sauce (and more cheese), or bake it to perfection, and you've got one comforting dinner. If you're going to make homemade pasta, you should seriously consider trying out these pasta pillows.
Whether you're craving something a little more creative (like a pierogi/ravioli hybrid) or you're looking for ways to amp up your frozen ravioli, these 15 recipes will not let you down. Serve them while they're hot, and take pride in your newfound pasta-making skills.
1. Crab And Goat Cheese Ravioli
Looking for a nice dinner option? Mel's Kitchen Cafe's crab and goat cheese ravioli feels both fancy and cozy.
2. Butternut Squash and Goat Cheese Ravioli
Goat cheese and butternut squash were simply meant to be. Trust Half Baked Harvest on this one.
3. Brussels Sprout, Fig, And Feta Ravioli
For something that tastes positively fresh, Naturally Ella's Brussels sprout ravioli packs in plenty of tasty greens.
4. Nacho Chicken Ravioli
This ravioli by Inside BruCrew Life tastes like something you'd eat on game day, but looks a whole lot more presentable. Now that's a win.
5. Raviogies
Filled with cheesy, cheesy potatoes, Five and Spice's ravioli are basically Polish pierogies, without the hard-to-make dough.
6. Minty Sweet Pea & Arugula Ravioli
Go for the green. The Kitchn uses wontons to make these ravioli as simple as can be.
7. Roasted Vegetable Ravioli With Crispy Pancetta
Mushrooms, carrots, zucchini, and more somehow taste even better nestled inside pockets of pasta dough. Thanks, Steamy Kitchen!
8. Mantwo
Cara's Cravings' take on this traditional Afghan beef ravioli is the spicy ravioli dish you've been waiting for. Yogurt sauce makes a cool topping.
9. Taleggio Ravioli With Garlicky Kale And Mushroom Sauce
Cheese, mushrooms, and kale are the golden trio of Half Baked Harvest's incredibly savory ravioli dish, but toasted pine nuts add some extra oomph.
10. Butternut Squash And Blue Cheese Ravioli
Switch things up with some blue cheese. Naturally Ella's ravioli are simple to make, but their flavors don't lack in complexity.
11. Skillet Lasagna Ravioli
Why choose between lasagna or ravioli when you can have both? Inside BruCrew Life proves the whole is greater than the sum of its parts.
12. Sweet Potato Ravioli With Kale Pesto
A little pesto goes a long way in making sweet potato ravioli taste even more incredible, as The Kitchn shows.
13. Pea & Edamame Ravioli
Baked ricotta and toasted walnuts make Cara's Cravings' pea and edamame ravioli a standout dinner.
14. Baked Ravioli
Looking for a comforting meal you can make in 30 minutes or less? Damn Delicious has your back.
15. Tortilla Chip-Crusted Oven-Fried Ravioli
Spicy queso ravioli is a thing, and it should be a part of your life. Half Baked Harvest takes it to the next level.
For more ideas, check out Bustle on YouTube.
Images: Naturally Ella (3); Mel's Kitchen Cafe (2); Half Baked Harvest (3); Inside BruCrew Life (2); Five and Spice; The Kitchn (2); Damn Delicious