9 Things We're All Doing Wrong With Our Hair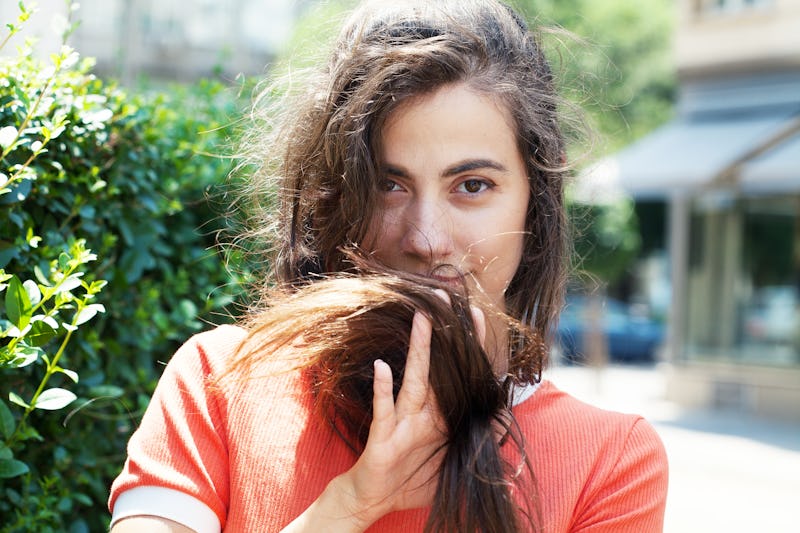 Elisaveta Ivanova/E+/Getty Images
With so many thousands of hair products out there (yes, thousands), you'd think it would be way easier to actually get the hair we want. The problem is, when it comes to hair, there are probably mistakes you don't even know you're making that are leading to damage and an overall sense of hair styling disappointment.
And while hair admittedly isn't the biggest deal in the world, studies have shown that bad hair days can have real and tangible effects on our self-confidence, which in turn can negatively affect our performances on everyday tasks. And according to psychologist Vivian Diller in a piece for The Huffington Post, simply feeling good about our hair when we leave the house can positively impact our mood for the whole day.
So loving our hair and wanting it to look good isn't all that crazy, and not liking the way it looks can legitimately negatively affect our lives. This being the case, it's all the more important that we don't unknowingly do things that might make us feel less good about our locks (and if you truly don't care either way — more power to you!).
But for those of us who do care and are continually frustrated by the state of our hair, here are nine mistakes you could be making without even realizing it.
1. Putting It Up When Wet
According to beauty expert Gretta Monahan in a piece for ABC News, putting up your hair when it's wet or roughly brushing it is one of the worst things you can do to it. "When your hair is wet, that's when it's at its weakest point," she said. This means that handling it too roughly or treating it as you would when it's dry will definitely lead to damaged-looking hair.
2. Using A Rough Brush
Detangle Brush, $9.99, MyBrushSet
Not only should you not be vigorously brushing your hair when it's wet, but according to the ladies from Naturally Curly in a piece for Refinery 29, the kind of brush you use is also extremely important for hair health. They noted that over-brushing and using a brush with harsh bristles causes friction and damage, and they instead recommended sticking to a wide-toothed comb or or a gentle detangler like the one pictured above.
Also consider: Tangle Teezer Elite, $10, Amazon
3. Washing It Every Day
According to dermatologist Jason Emer in a piece for Allure, "The more you shampoo, the more you potentially remove oils needed to protect hair shafts and keep the scalp healthy and moisturized." He said to try to wash hair every other day at a maximum, using dry shampoo between washes as necessary. And in the same piece, hairstylist Kerrie Urban said, "Use shampoo on the scalp only—not on the ends of your hair. The shampoo will rinse down in the shower, but you don't want to scrub the ends."
4. Not Using A Heat Protectant
Proclaim Strengthening Heat Protection Spray, $4.99, Amazon
If you blow dry or straighten your hair, a heat-protectant product is absolutely a must. In a piece for Allure, New York-based trichologist Elizabeth Cunnane Philips said, "Heat protectant spray is important to prevent damage to the hair shaft. It will help the shaft maintain moisture and prevent excess breakage by coating and moisturizing your strands." Seriously — none of us can get away with not using heat protectant without paying the price!
5. Using Too High A Heat Setting
ConAir Infinity Pro Dryer, $29.99, Amazon
And along with not using a heat protectant is setting the heat too high on our heat tools in general. Phillips recommended never turning the heat above medium, and to also test the heat level on your hand first — if it's too hot for your hand, then you should consider it too hot for your hair. And to minimize your hair's exposure to heat in general, you can actually wait until your hair is about 90 percent air dried to blow dry.
6. Blow Drying In The Wrong Direction
In terms of your hair looking it's best after an at-home blow out, Gregory Patterson of the New York blow dry bar Blow said to always blow dry in the direction of roots to ends in a piece for Harper's Bazaar. Frantically moving the dryer in an up and down motion will lead to a rough and frizzy look. And in a piece for POPSUGAR, Dry Bar founder Ali Webb said to always section your hair off while blowdrying instead of just drying it in one mass.
7. Sleeping On A Cotton Pillow Case
Blue Satin Pillowcase, $7.49, ShopBedding
According to hair stylist Natasha Sunshine-Antonioni in a piece for Makeup.com, sleeping on a satin, as opposed to a cotton pillow case, can greatly help with frizz control. So if frizz is a problem for your hair type, consider switching them out.
Also consider: SpaSilk 100% Pure Silk Facial Beauty Pillowcase, $19.60, Amazon
8. Using Misleading Products
According to cosmetic chemist Ni'Kita Wilson in a piece for Allure, certain products that smooth and soften our hair in the short-term actually may dry it out in the long-term. She said to specifically watch out for spray formulas that contain silicones that have the "cyclo" prefix, like cyclopentasiloxane. If you're trying to soften your hair, she instead recommended using pure oils, and to make sure that whatever oil brand you choose doesn't supplement the oil with other ingredients.
Try Agadir Argan Oil Treatment, $13.75, Amazon
9. Not Changing Your Routine After Dyeing
T3 Source Shower Filter In-Line, $70, Skinstore
And finally, the last big mistake you could be making is not adequately switching up your hair care routine after your hair has been treated or dyed. According to Allure you should invest in special shampoo for color treated hair and also purchase a deep conditioning treatment for weekly use. They also suggested getting a filter for your shower head — like the one pictured above — as the chlorine and minerals in most water can expedite the breakdown of your hair color.
Hair can be really frustrating — like really. Which is why we shouldn't have to worry about actively contributing to the problem. So be watchful of the common above mistakes, and you'll likely find yourself saying goodbye to at least some of your hair woes.
Image: Elisaveta Ivanova/E+/Getty Images; Giphy