ColourPop Releases 16 New Ultra Satin Lip Shades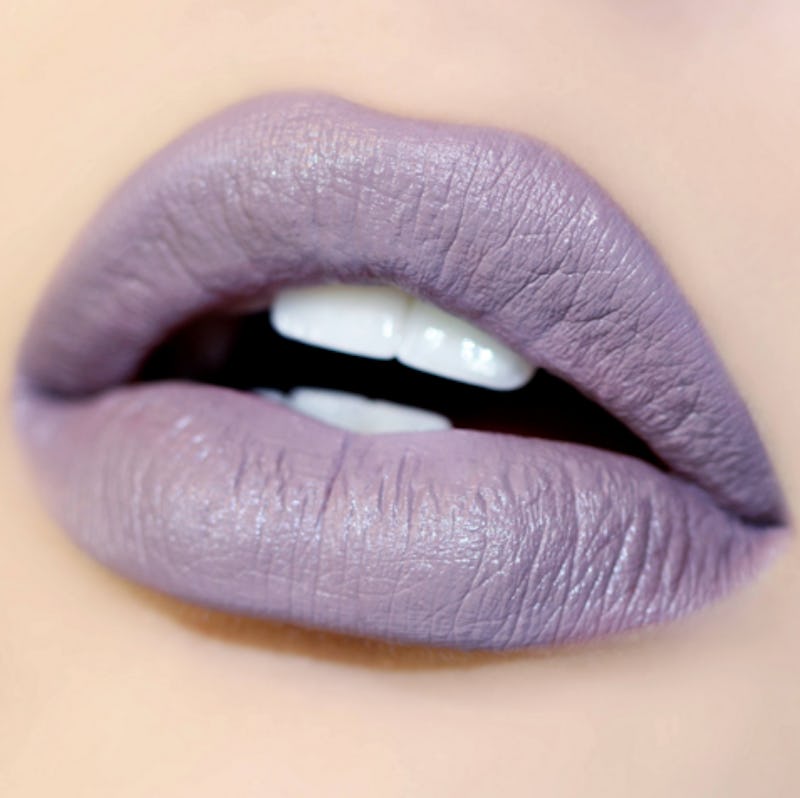 Every makeup junkie's favorite online retailer for scoring super sparkly shadows and matte lip shades has just released another covetable product. ColourPop's Ultra Satin Lip line contains 16 shades, and, in a word, they are all stunning. With a new super-pigmented, long-wearing formula, prepare to make these Ultra Satin lipsticks a new go-to in your makeup bag.
The Ultra Satin Lip line promises bold color, a lightweight feel, and super comfortable wear. On top of that, all the products in the line are 100 percent vegan, which is great news for anyone with makeup allergies or strong preferences about ingredients. They look a bit like lip glosses in the packaging, but rest — they dry down and pack a colorful punch. And, finally, they're only $6 a pop. You have my permission to run for your wallet now.
If you're unfamiliar with ColourPop, it's time to get acquainted with this L.A. based makeup brand. Known for statement making eye shadows, lip colors, and cheek products, ColourPop has gone from being an insider secret to a highly coveted cosmetics brands, in part thanks to collaborations with popular YouTubers and celebrities such as Kathleen Fuentes of KathleenLights, Raye Boyce of ItsMyRayeRaye, and most recently, Karrueche Tran.
A couple of the new Ultra Satin Lip shades are already sold out on the ColourPop website, which just goes to show how popular this collection will be. And once you get a glimpse at the shades, you'll totally understand why. The range has both neutrals and super bold choices, giving everyone an option regardless of taste.
So, let's check out each and every color, shall we? Try and hold back your gasps and your "OMGs," because they really are that pretty.
1. Magic Wand
A soft, taupe color that's perfect for every day.
2. Echo Park
Ever so slightly darker than the last shade, Echo Park has a peachier undertone.
3. Dopey
Dopey is a gray-ish berry color unlike any I've seen before — and that's probably why it's sold out on the website already!
4. Lyin' King
This gorgeous deep berry red is almost like the exact color of a raspberry.
5. London Fog
A perfect red with blue undertones, London Fog is a great date night color.
6. The Rabbit
Imagine wearing this bright fuchsia shade on a rainy day with an all-black outfit, and tell me you don't like the sound of that.
7. Panda
This deep violet shade speaks for itself. Absolutely stunning.
8. Marshmallow
You would think that a lip color named Marshmallow would be white, but this gray lavender shade is full of surprises.
9. Mess Around
A light grayish brown like Mess Around is perfect for channeling your inner '90s diva.
10. Petit Four
Petit Four is already sold out on the site and it's obvious why it's so popular. It's so unique!
11. Too Lips
You can't have a lipstick line without a perfect deep plum shade.
12. Frick N' Frack
Easily my personal favorite shade in the line, Frick N' Frack is a great balance of red and brown.
13. Tansy
At first glance, Tansy is a basic brown, but it's actually got a yellow undertone that makes it more dimensional.
14. Cozy
Dubbed a true orange red by the ColourPop website, I definitely think it would be easy to get, well, cozy with Cozy.
15. Lost
ColourPop combined brown and red to make this gorgeous dark shade, called Lost.
16. Prim
One of the darker shades in the line, Prim is definitely a bold color that would be perfect for a night out.
Clearly, the ColourPop Ultra Matte Lip line is beyond gorgeous. I love the darker shades, but the bright colors are also so pretty. Honestly, I couldn't pick one. But that's also a really good reason to get them all!
Want more beauty tips? Check out the video below, and be sure to subscribe to Bustle's YouTube page for more hacks and tricks!
Images: Courtesy of ColourPop