Why Exfoliating Too Much Before Tanning Is Bad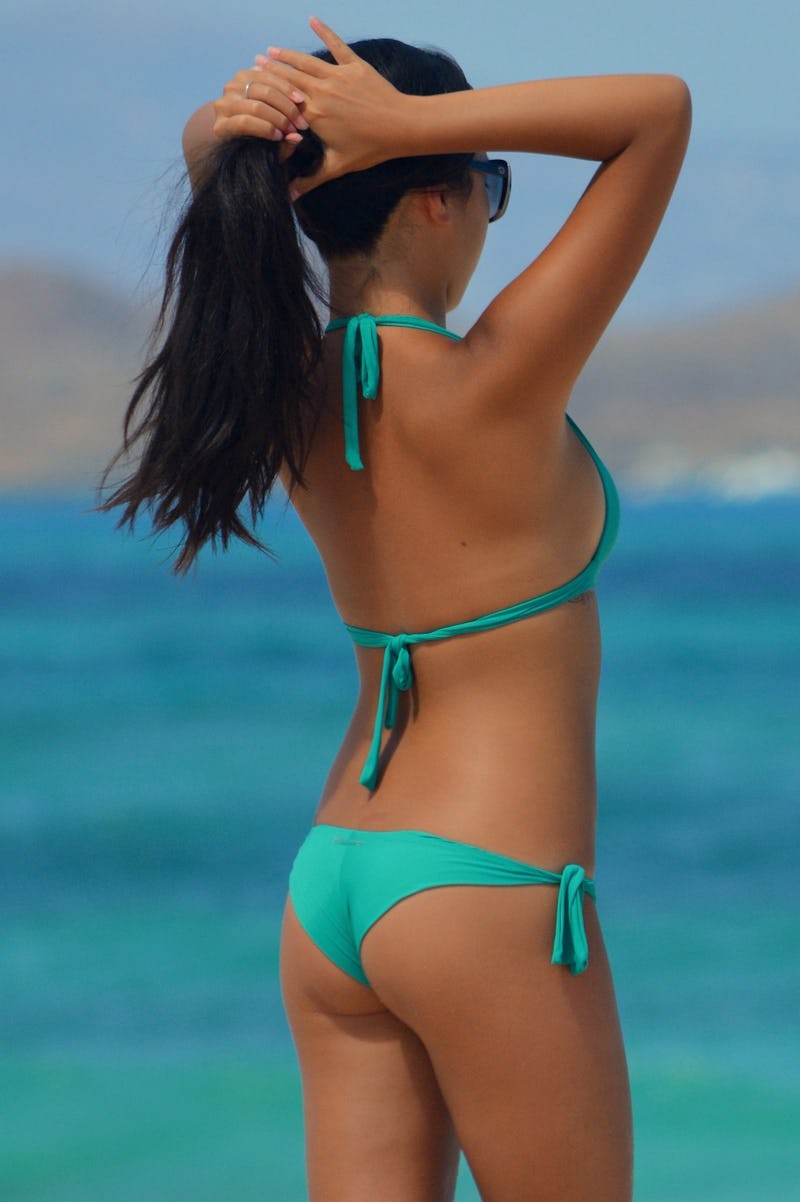 Whether you're applying a self-tanner or getting ready to lay out this spring or summer break, you absolutely should exfoliate your skin beforehand. Since exfoliators help strip dead skin from the surface, the result is a more even tan and healthier-looking skin overall. However, it's important not to go overboard with your scrubs. Read on to find out if exfoliating before tanning is bad for your skin and how you should properly prep before getting your bronze on.
According to Sun Tan City, exfoliating is definitely a must for a smooth and even tan, but don't over-exfoliate your skin either. "Deep exfoliation can irritate skin, and UV exposure or the application of sunless tanner can make things worse."
Veranda Sun Tanning agrees, suggesting you keep your exfoliating practices to no more than once a week. "This gives the baby-new skin cells a chance to grow, and your skin time to replenish and rehydrate." What's more, exfoliating too much can cause permanent damage to your skin. "Over-exfoliation can cause wrinkles, dry skin, and even scarring. If you over-exfoliate you may be scrubbing away skin cells that are trying to heal and grow right." You've been warned!
That said, exfoliating is important if you're using a self-tanner. Self-tanning products have a tendency to stick to both dead skin and dry skin, which can cause patchy looking spots due to a high concentration of pigment. For that reason, you may notice that sometimes your hands, feet, knees, and elbows tend to turn darker than the rest of your body. To avoid patches, be sure to remove all dead skin before applying your self-tanner and make sure that the skin is evenly moisturized.
Before you run to the drug store, it's important to note that not all exfoliators are created equal in the world of tanning prep. As Shape points out, products containing oil leave a residue behind on the surface of the skin that can block proper penetration of your self-tanner, which in turn leaves behind those seriously not cute orange streaks. This rule also applies before using facial self-tanners! You can take note from Jaclyn Hill, who suggests raw Turbinado sugar as a cost-friendly and natural exfoliator.
If you're not sure which exfoliating products to buy, here are a few bronzed-goddess-approved recommendations to help get you started:
For Your Face
Clarisonic Mia FIT, $219, Clarisonic
If you don't already own a Clarisonic, you should consider making the investment. In addition to preventing dead skin build-up, it also helps keep the pores blackhead-free.
Clean & Clear Deep Action Exfoliating Scrub, $5 Walmart
This Clean & Clear exfoliating scrub is one of my favorites because it leaves behind a fresh and minty-clean feeling.
For Your Body
St. Ives Fresh Skin Apricot Scrub (Pack Of 2), $12, Amazon
For those with sensitive skin, this hypo-allergenic product from St. Ives works wonders!
DERMAdoctor KP Duty Formulated Body Scrub,$46, Amazon
If you tend to have eczema or other allergy-related skin problems and prefer a brand developed by dermatologists, try this one. The combination of green tea and willow extracts in the ingredients will also help soothe the skin upon application.