Miles Teller & 9 Other 'Spectacular Now' Stars Whose Careers Have Never Been Better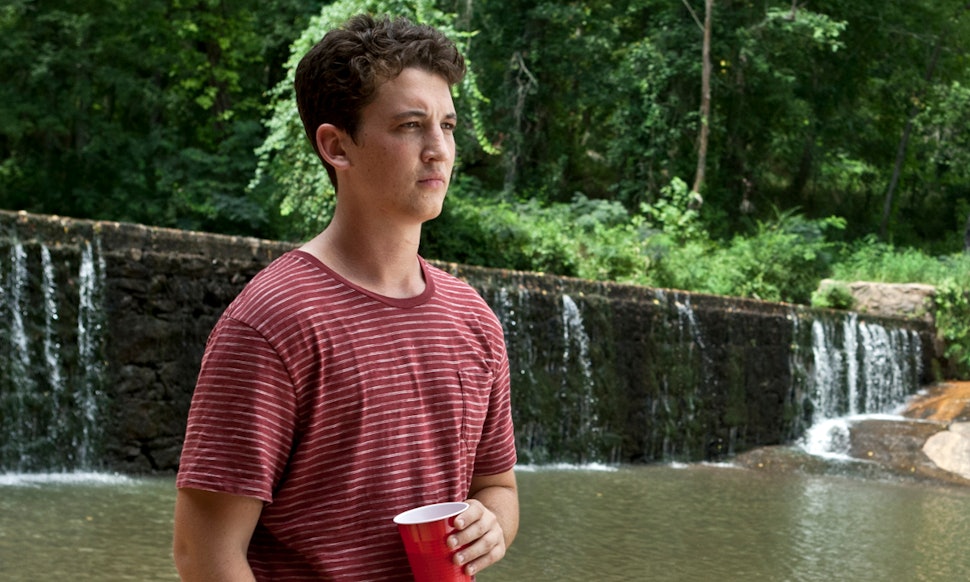 It's always nice when a good actor gets his/her due, and Miles Teller is no exception. Lately, The Awkward Moment star's career has never been better, with the actor getting cast in must-see movies practically every week. On Sunday, the latest career milestone came with the announcement that Teller would star in Bleed for This , a boxing biopic produced by Martin Scorsese.
For fans who've known Teller's talent for years, it's rewarding to see such a skilled actor finally get major notice. It does, however, prompt a question — why now?
The answer is The Spectacular Now, last summer's lovely little movie about a romance between high school seniors played by Teller and Shailene Woodley. The James Ponsoldt-directed film garnered huge acclaim upon its release, with critics raving that it was the best "teen" movie in years. All those who saw it know that it deserves the praise; smart, poignant, and perfectly acted, The Spectacular Now was a breath of fresh air in a summer when most movies had "2" or "3" at the end of their titles.
So while it certainly wasn't a surprise when the film picked up piles of awards and landed on a number of year-end "best-of" lists, even the movie's biggest fans couldn't have predicted one lasting effect of The Spectacular Now — the thriving careers of its cast.
Nearly every member of the movie's ensemble has had incredible job opportunities since the film's release, taking on roles that would've seemed impossible just one short year ago. From Miles Teller to Brie Larson, here's proof that The Spectacular Now cast's careers have never been better.
Image: A24
Miles Teller
Before The Spec Now: Teller was an up-and-coming actor whose biggest roles were supporting parts in a remake of Footloose and party epic Project X.
After The Spec Now: If there's a movie needing a 20-something actor, Teller's name is first on the list. His first post-Spec movie, That Awkward Moment, has gotten middling reviews but is a hit at the box office. Whiplash , an indie starring Teller as a jazz drummer, won the Grand Jury Prize at Sundance. Next up: blockbuster Divergent, a comedy with Bryan Cranston, a Fantastic Four reboot, and Bleed for This.
Image: A24
Shailene Woodley
Before The Spec Now: After a breakout role in The Descendants, Woodley completed the last few seasons of The Secret Life of the American Teenager.
After The Spec Now: Woodley is Hollywood's It Girl. She's kicking butt in Divergent (alongside Teller!), making people cry in The Fault in Our Stars , and winning raves for Sundance hit White Bird in a Blizzard .
Image: A24
Brie Larson
Before The Spec Now: A TV veteran, Larson's biggest film role was playing Jonah Hill's love interest in 21 Jump Street.
After The Spec Now: Larson was a serious Best Actress contender for her stunning turn in Short Term 12, an indie released soon after The Spectacular Now. She also had supporting turns in Don Jon and Community, and will get her first big movie lead headlining The Gambler alongside Mark Wahlberg.
Image: A24
Kyle Chandler
Before The Spec Now: On TV, he was a star, playing Coach Taylor, Friday Night Lights' leading man. In film, though, Chandler fared less well, only getting supporting roles.
After The Spec Now: Chandler, who made the most of a small role in The Wolf of Wall Street, will soon make a triumphant return to TV in a highly-anticipated Netflix family drama. The actor was also just cast in a major role in Carol, playing Cate Blanchett's husband in the upcoming drama.
Image: A24
Dayo Okeniyi
Before The Spec Now: Okeniyi broke out with The Hunger Games , playing tribute Thresh.
After The Spec Now: The actor has built up a pretty nice resume, with small roles in Runner Runner and Caveman as well as the upcoming Endless Love.
Image: A24
Jennifer Jason Leigh
Before The Spec Now: Leigh, a veteran actress, had just wrapped up recurring roles on Weeds and Revenge.
After The Spec Now: There's a thriller called The Moment and supporting parts in two Kristin Wiig films, Welcome to Me and Hateship Loveship , a highly anticipated drama with an A-list ensemble.
Image: A24
Mary Elizabeth Winstead
Before The Spec Now: Winstead, a longtime supporting actor, broke out with the indie drama Smashed.
After The Spec Now: The indies have been good to Winstead. After The Spectacular Now, she's had roles in A.C.O.D. and the upcoming Kill the Messenger, and is set to lead a number of films including a drama called Faults.
Bob Odenkirk
Before The Spec Now: A respected TV writer (Saturday Night Live) as well as actor, Odenkirk's biggest role was in a little show called Breaking Bad.
After The Spec Now: Odenkirk's career is on fire. He had a small role in Best Picture nominee Nebraska, is voicing a character alongside Mila Kunis in the animated Hell & Back, and is set to lead Better Call Saul , a Breaking Bad spin-off based on around his character.
Image: A24
Andre Royo
Before The Spec Now: After years starring on The Wire, Royo's career consisted mostly as guest spots in shows like Fringe and Party Down.
After The Spec Now: Royo had two films and one TV movie last year, along with one film currently in the works.
Image: A24
Kaitlyn Dever
Before The Spec Now: Dever is a regular on ABC's Last Man Standing, and had a recurring role on the FX show Justified.
After The Spec Now: Alongside Spectacular Now co-star Brie Larson, Dever broke out in Short Term 12 , playing a troubled teen. Recently, she returned to Justified, premiered Laggies at Sundance, filmed a movie called Grass Stains, and signed on to Jason Reitman's Men, Women, and Children.
Image: A24