Michelle's 'Fuller House' Absence Is Explained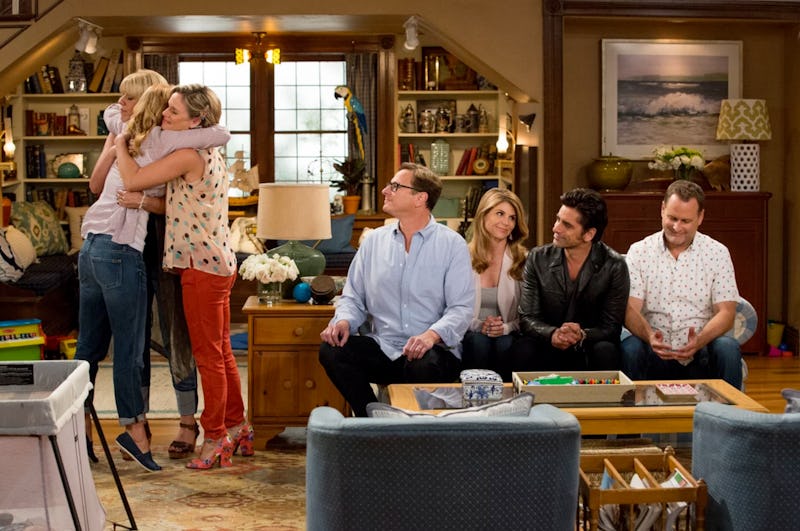 There are two types of people in this world: Those who wake up early on Feb. 26 to start watching Fuller House, and those who are just kidding themselves. Since the reboot of one of my favorite '90s sitcoms of all time was first announced last year, I've been so excited to welcome the Tanners back to my TV and now, after the longest wait ever, Fuller House has finally hit Netflix — and with most of the original cast in tact. However, there's one very noticeable absence. Although Stephanie and D.J. are back (and have aged phenomenally, TBH), the youngest Tanner, Michelle, is missing. But don't worry. That doesn't mean she's not acknowledged. In fact, the Fuller House premiere calls out Michelle in the perfect way, and if you're still bitter that Mary Kate and Ashley Olsen didn't sign on for the revival, it's a moment you're going to love.
It doesn't happen until Stephanie, who has grown up to basically become Calvin Harris, comes home to see her family and notices that her little sister isn't home. And when she asks where she is, Danny replies, "Well, Michelle sends her love, but she's busy in New York running her fashion empire." Cue the entire family looking straight into the camera with a very palpable level of sass.
This is actually exactly why Michelle isn't there — because the actual Olsens are busy running their fashion empire. And between their successful lines The Row and Elizabeth and James, it's not surprising to find out that they didn't have the time or desire to revisit their Full House pasts, especially since neither of them have acted in years. That doesn't mean it isn't disappointing for the fans or the cast not to have the whole gang back together again in its entirety, but what can you do? I'd be giving the camera that look, too.
And let's be real: Even though the show is missing an Olsen or two, the rest of the principal players and here and accounted for, and if the show gets a second season, there's always that chance that Michelle could resurface in the future. Either way, I'm three episodes in, and I'm not missing Michelle at all. After all, Mr. Woodchuck is there, and that's all that matters. Oh, Fuller House. I'm so thankful for Netflix.
Image: Netflix