11 Work-Related Pop Songs You Need To Hear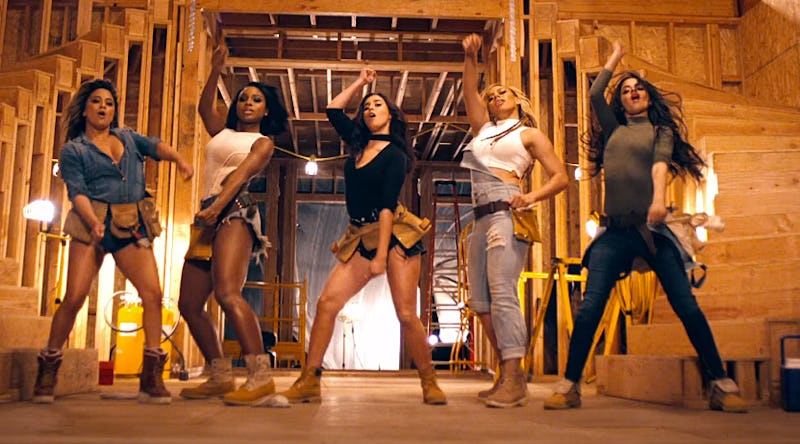 After months of anticipation, pop supergroup Fifth Harmony premiered their new single, "Work From Home," last Friday — and it's everything I wanted and more. The arrival of the slinky, bass-heavy track has made two things abundantly clear: Fifth Harmony's new album, 7/27 , is going to be awesome, and work-related pop songs are having a major moment right now. Case in point: Rihanna's latest single, "Work," is currently the No. 1 song in the country. (Fun fact: In a new interview with Billboard, 5H's Dinah Jane revealed that "Work From Home" was originally called "Work," but the group decided to change the title after Rih dropped her tune.) But, in truth, work-related records have been popular for quite some time. Why?
The way I see it, there are two key reasons. First of all, pretty much everybody has held down a job at some point, so work is a universally appealing topic for artists to write about. Second, the concept of working — staying late at the office, putting in extra hours, breaking a sweat, etc. — can be easily used as a metaphor for getting it on. And what are the vast majority of pop songs about? Love and/or sex — two other universally appealing topics. For the most part, I think this explains why pop stars can't seem to stop singing about work.
Below are 11 of the best work-related pop songs out there:
Fifth Harmony, "Work From Home" (feat. Ty Dolla $ign)
I cannot stop listening to "Work From Home"... it's a problem.
Ciara, "Work" (feat. Missy Elliott)
Ciara's "Work" is the first track I think of when it comes to work-related anthems.
Kelly Rowland, "Work" (Freemasons Radio Edit)
Kelly Rowland's solo music is seriously underrated. (Side note: I prefer the Freemasons edit of "Work," but the original version is pretty good, too.)
The Saturdays, "Work"
What can I say? I have a thing British girl groups.
WALK THE MOON, "Work This Body"
"Work This Body" is the current single from WALK THE MOON's latest album, Talking Is Hard — and I hope it becomes just as big as "Shut Up and Dance."
Britney Spears, "Work Bitch"
"Work Bitch" is hardly Britney Spears' best single — but I still get a kick out of its ridiculous lyrics. ("Go call the govenuh!")
Amerie, "Gotta Work"
Amerie's given us a number of bops over the years ("1 Thing," "Touch," "Take Control," etc.).
Morgan Page, "Body Work" (feat. Tegan & Sara)
Surprisingly, indie-pop duo Tegan & Sara sound right at home on an electro-house track.
Kelly Rowland, "Work It Man"
See what I mean? So underrated.
Katy Tiz, "Whistle (While You Work It)"
Lyrics about "working it" + whistling (another recent pop music trend) = gold.
Missy Elliott, "Work It"
Gotta end the list with a classic.
Image: FifthHarmonyVEVO/YouTube