What Is Jake Pavelka's Relationship Status Now?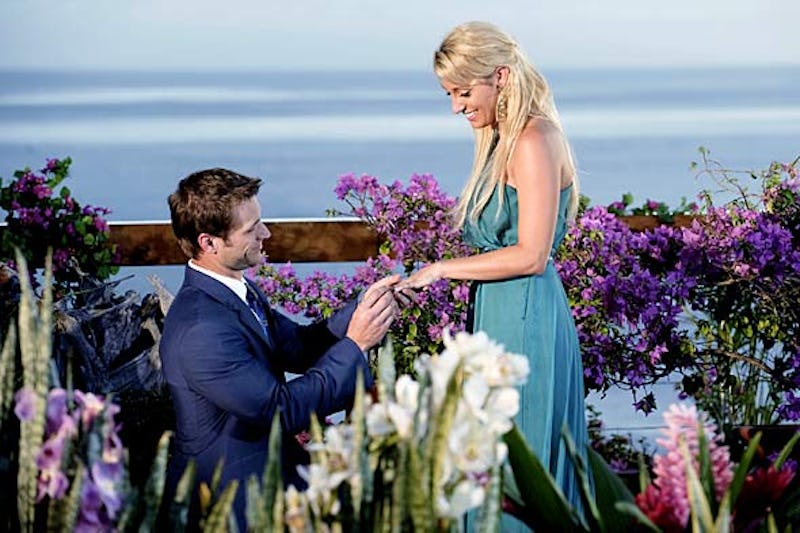 Just because all the eyes of the world are turned to Ben Higgins right now as he works his way up to the final decision on Season 20 of The Bachelor, that doesn't mean we should forget about the stars of previous seasons. They need love too. For example, what is Jake Pavelka's relationship status now? Is it possible that we haven't checked in with him since he soared in on his Wings of Love (get it?) in Season 14? I can't speak for you — maybe you've been dropping in on him once every two weeks with a basket of mini muffins to ask about his personal life — but Jake has really fallen off my radar since his season wrapped up.
Everyone's favorite commercial pilot got his first shot at love on Jillian Harris' 2009 season of The Bachelorette, where he was eliminated in Week 6, but got a second opportunity in 2010 with his own season of The Bachelor. He proposed to controversial contestant Vienna Girardi, but the two weren't a lasting match, and ended things in June 2010 — just three months after their season finished airing. But, unlike most Bachelors who leave the show without finding their perfect match, Jake actually stayed in the public eye for a while because of a stint on Dancing With The Stars, so we have a pretty good bead on his relationships post-show. The first person he dated was a woman named Meghan Jones, whom he met through friends, although that relationship doesn't seem to have lasted more than a year.
He next spent time with Ashley Ann Vickers, who should be familiar to anyone who watched CMT's Sweet Home Alabama . The two of them met on the set of a show called H8R, and were together from around November 2011 to sometime before December 2012, when he confirmed he was dating someone new... none other than Kristin Chenoweth. But sadly, even that pairing didn't work out, and the two parted ways around February 2013. Since then, it's been a lot of radio silence, as far as I can tell. Jake isn't super active on Instagram, which is usually where I get dirt on these former contestants, and his Twitter is devoid of mentions of some special someone. There is one photo of Jake with a mysterious blonde in a photo from June 2015, but he doesn't share her name or their connection.
So until we get more info from Jake himself, I'm calling it — Jake appears to still be on the lookout for that lucky lady to pin his flying wings onto. Could even be you.
Image: ABC/The Bachelor