Ben & Caila's 'Bachelor' Date Was Sooo Awkward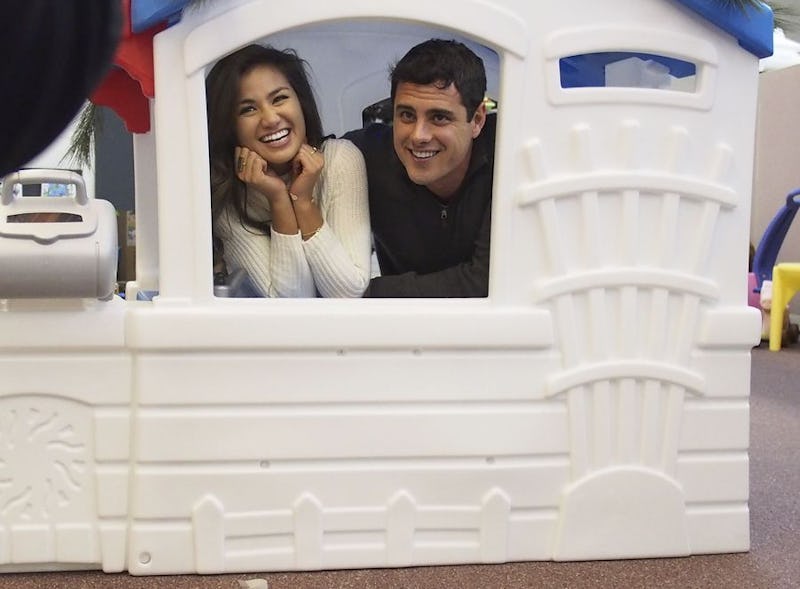 So, it's a big week on The Bachelor— Fantasy Suites. Because of that, there's a lot of pressure for the women, knowing that they're one of three women who could win Ben Higgins' heart. So, they might not always be "on." That was certainly the case for Caila on The Bachelor during her date with Ben. To use one of Jami's sayings from earlier in the season, Ben and Caila's date was "awko taco." And, I'm not the only one who thought so. Bachelor Nation on Twitter also thought that Ben and Caila's date was mega-awkward, then again, I think someone out in space could sense the awkwardness of the date, too.
It's understandable why there was some tension early in their date. Caila is feeling the pressure (and the stress) of the process the show presents and it's kind of getting to her. Props to her for not letting it get to her before this point. Plus, Caila has this itty-bitty thing she wants to say to Ben ("I love you"), so that's even more stressful.
The two started their date rafting down a river in Jamaica. Despite starting the date off by saying that Caila and his relationship is the deepest one, Ben and Caila literally sat on the raft in dead silence. I think everyone was feeling the tension, including the poor guy leading the raft. Ben described it as melancholy, I'd describe it as insufferable.
Twitter also felt the awkwardness, and was kind enough to point it out. Just in case that date wasn't awkward enough, leave it to the Internet to bring it to everyone's attention.
Fortunately for us and Caila, her date picked up at dinner. Caila seemed to get out of her head and was able to express her feelings for Ben (yes, she said those three magic words). Ben was very appreciative that she was able to open up, something he's been worried about for a bit, but did not reciprocate the phrase. Perhaps it will come in due time.
Images: Scott Evans/ABC