Caila Could Win Ben's Heart On 'The Bachelor'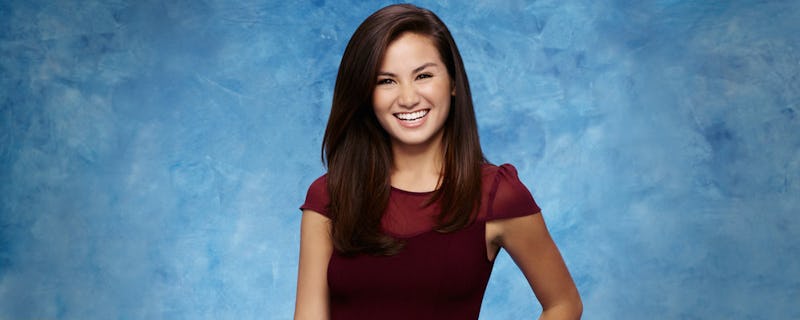 Meet Caila Quinn, an upcoming contestant on this season's The Bachelor. Along with 27 other woman, Quinn will compete to become the potential wife of resident Bachelor/dream boat/heart throb, Ben Higgins. Wipe away your tears now, because this 24-year-old software sales rep seems like the real deal, and it's quite possible she'll be the lucky lady taking home that final rose.
Earlier this month, when the new Bachelor contestants were released, I noticed a few unusual things. One being that the women skewed younger this year than they did in previous seasons — which makes sense, I suppose, considering Higgins is the youngest Bachelor to date. And two being that there were already some familiar faces in the mix. (I'm speaking of Amber James and Becca Tilley of course, both contestants on Chris Soules' season last year.)
Though Amber and Becca might have a leg up already (they know how this thing works!), I think it's fair to say that the two contenders — and frankly, the rest of the group — need to watch out for Caila Quinn. She seems smart, ambitious, well-rounded, and has a lot in common with Ben. Below are the reasons why Caila Quinn could totally win The Bachelor this season.
1. She's From A Small Town
I'm about to make a terribly broad over generalization, but being from Hudson, Ohio, might mean that Quinn has the kind of old school values that would compliment Ben's traditionalist viewpoints.
2. She Has A B.A. In Marketing
Wait! I know someone else who graduated with a B.A. in Marketing...
Ben. The answer is Ben.
3. She's A Software Sales Rep
Also, just like Ben. Soul mates?
4. She's The Right Age
She's 24 years old, which seems like the perfect fit for Ben's 26 years of age.
5. She Likes To Travel
Quinn told ABC that her greatest achievement was being able to travel abroad in Germany. I think it's fair to say that Ben's obviously into travel too. I mean, if you sign up to be the Bachelor, you kind of have to be.
6. She Seems Mild Mannered
Quinn also told ABC that she hates when her dates "curse," which probably means that she doesn't cures much either. This has the potential to work well with Ben's sweet nature.
7. She Just Got Out of A Relationship
According to OK! Here is the Situation, Caila ended a relationship right before joining the show. At first this might seem like a hindrance for Quinn, but recent heartbreak can lead to a contestant showing their emotions and vulnerabilities. And we all know how important that is in the world of The Bachelor/ette.
Could Caila Quinn take this home? I'm already putting all my roses — and bets — in her basket. (So to speak.)
For everything Bachelor Nation, check out Bustle's podcast, Will You Accept This Podcast? and follow our Bachelor fan page on Facebook.
Images: tvtymes/YouTube (2); Craig Sjodin/ABC