Ben Is Dropping L-Bombs On 'The Bachelor'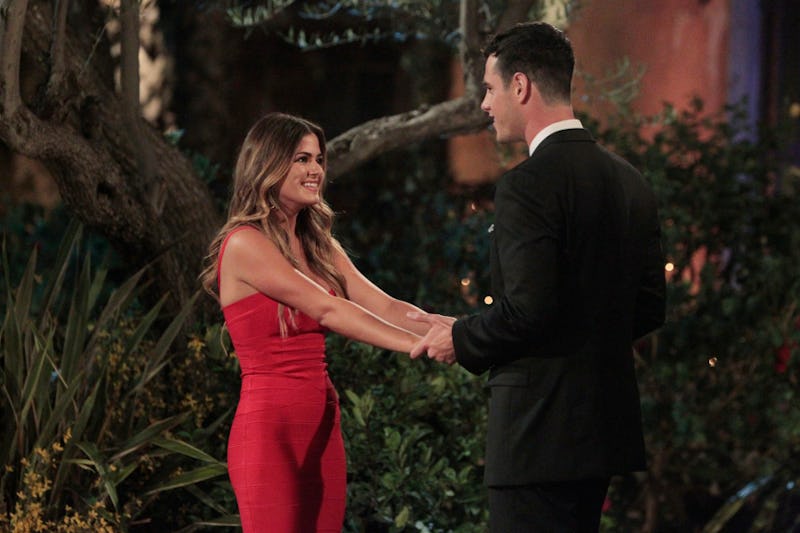 I've always had the feeling Ben Higgins is the kind of guy who wears his heart on his sleeve, and it looks like I was right — especially when it comes to JoJo Fletcher. They've had an insane chemistry since they met on the first night, but their hometown date last week was a disaster after her brothers essentially tried to scare him away. There's good news, though, because their Fantasy Suite date went way better. Because during their date, Bachelor Ben told JoJo he loves her, and even though she's been afraid of getting her heartbroken, she was finally able to admit that she's also in love with him, too.
Of course, JoJo offered up the sentiment to him first, after they'd spent the day playing in a waterfall that totally belongs on a postcard. It was obvious she was crazy nervous about telling him how she felt, especially since she's been open about how much she hates the idea of getting rejected, but as it turned out, her efforts didn't go unfounded. Without any hesitation at all, Ben dropped the L-bomb... not long after telling Lauren the same thing during their date. And later in the episode, he said it again — and that's just what we saw while the cameras were rolling.
Ben did admit to the cameras that, after telling JoJo how he feels, he still felt a little conflicted spending time with her when he just told Lauren the same thing. So, he decided his best course of action was to pretend like all that extra stuff wasn't going on and just enjoy his time with JoJo so he could figure out who he wanted to choose — both a smart and very stupid idea. Ignoring it won't make the problem go away, but without giving all his attention to JoJo on their date, how is he supposed to decide if he wants to spend his life with her or not?
Oh, Ben. You've dug yourself into quite a hole. No big, though. The rest of us will have fun watching him dig himself back out!
Image: Rick Rowell/ABC