Pharrell Wins Season 10's Biggest Coach Battle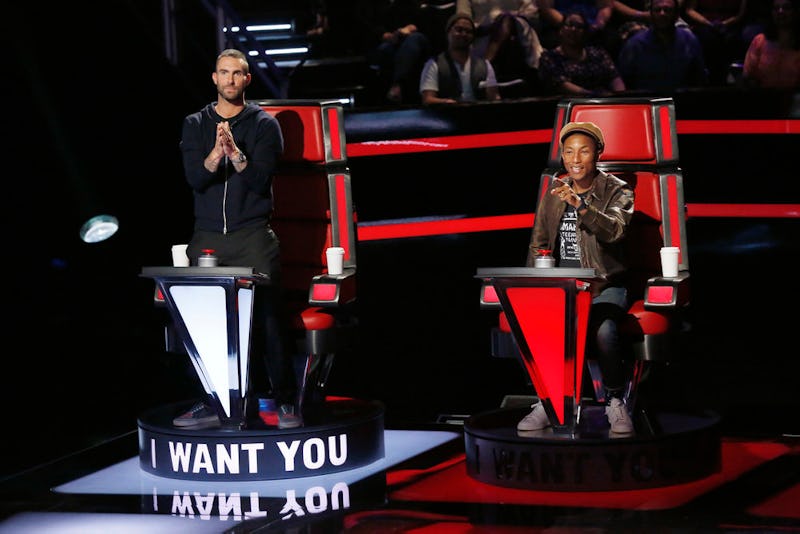 "Goodbye Yellow Brick Road," hello Emily Keener. The 16-year-old took The Voice stage by storm in the Season 10 Blind Auditions. Keener earned one of very few four chair-turns this season — and totally deserved it. The Ohio native sang Elton John's "Goodbye Yellow Brick Road and completely nailed it. It was unlike anything I've heard before — and the coaches agreed. After a long coaches battle, Keener finally made her decision and it was the best one possible. Keener chose to join Team Pharrell, and with a voice like hers, there really was no other choice.
Season 10 is already proving to be the most talented one yet and Keener is at the top of that pack. Her performance of "Goodbye Yellow Brick Road" was gritty, sweet, emotional, and altogether amazing. In one 90 second audition, she was able to show off so many different layers and levels of her talent. It's no wonder that the coaches were fighting hard to get her on their teams. Keener has a truly one-of-a-kind voice that deserves to be heard by millions. Any coach would be lucky to have her on her team.
Pharrell hit the jackpot by getting Keener on his team. She has talent for days and is guaranteed to be a force in this competition. With Pharrell as her coach, Keener absolutely will go far. She is already crazy talented, and Pharrell will help take her to the next level. Keener's unique talent will give her an edge over her more mainstream-sounding competition. As long as she is confident in herself and continues to deliver performances like she did tonight, there's no doubt Keener will make it beyond the Battle Rounds and probably even further in this game.
Image: Trae Patton/NBC