Your Guide To Every Type Of Skin Care Acid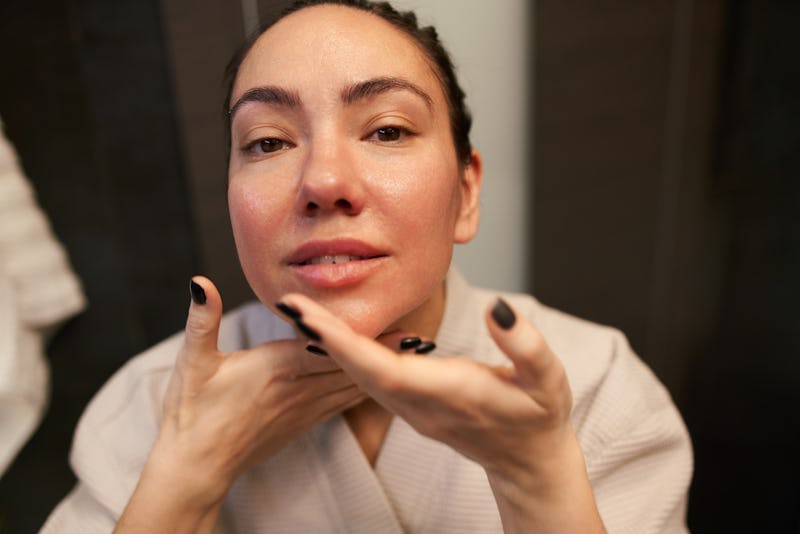 Sergey Mironov/Moment/Getty Images
If you're a skin care junkie like me, you know that there always seems to be a trendy new ingredient you simply *must* be trying. Most recently, I've been seeing a long list of varying acids I'm supposed to have lining my medicine cabinet. While facial acids may initially sound like some a torture device in a horror movie rather than a pathway to glowing skin, I promise they're the latter.
A lot of ingredients you see in skin care feel familiar and safe — like coconut oil or charcoal — while some of these more scientific sounding treatments can be a bit mysterious. Some acid ingredients are ones you probably recognize, like salicylic acid, but others are a little more elusive. Ever heard of mandelic acid? Yeah, me neither before I began this endeavor. All facial acids have their own benefits and there is an acid suited for everyone. However, they're not all created equal so it's important to know what's what before deciding which could be best for your skin. From oily skin to dry, acne-prone to sensitive, I'm here, with the much needed help of a few top notch skin experts, to help you find the right acid for your specific beauty needs. Let's begin.
The Main Players
These are the ingredients you're most likely to recognize from the front of packaging. They're very popular in skin care and easy to get your hands on.
Olay Fresh Effects Clear Skin Spot Zinger Acne Spot Treatment, $9, Amazon
This is probably the acid you're most familiar with, as it can be found in almost every lower end (and many higher end) acne treatment product. Petra Strand, founder of Pixi, tells me salicylic is derived from willow bark and is a beta hydroxy acid closely related to the alpha hydroxy acids (some of which we'll see in a moment). While there are other beta hydroxy acids in the chemistry world, the experts I spoke with say that in the cosmetics world beta hydroxy acid always means salicylic.
Dermatologist Dr. Julia Tzu tells me salicylic acid has many benefits including being anti-bacterial, anti-inflammatory, anti-acne, and exfoliating. She says it "loosens dead skin cells to relieve clogged pores and blackheads, reduces bacterial growth on skin surface and in oil glands." All good things in my book!
According to dermatologist Dr. Jessica Weiser, salicylic is best for people with oily and acne prone skin but can also be a great option for people with normal/dry skin who have the occasional break out. Salicylic acid can be effective in almost any form: spot gel, face wash, peels, creams, pads, etc. There are also foundations and concealers that contain salicylic acid which can reduce shine and treat acne throughout the day.
Pixi Glow Tonic, $15, Target
Glycolic acid seems to be everywhere these days — and I'm obsessed because it has pretty much transformed my skin care game. Glycolic acid is one of the aforementioned alpha hydroxy acids and is derived from sugarcane.
Petra Strand's company Pixi has a skin care line chock full of glycolic acid; she tells me glycolic, like salicylic, is great for people with oily or acne prone skin but its benefits can really be reaped by any user. Strand says "all skins can benefit from regular use of glycolic acid, as it is a very small molecule that gently dissolves dead skin. It is a more gentle option than an abrasive exfoliating scrub." Glycolic's exfoliating properties help with lightening dark spots, reducing fine lines, and smoothing skin's texture. It's effective in pretty much any form.
Neutrogena Hydro Boost Water Gel, $20, Amazon
Hyaluronic acid has starting popping up everywhere in the last year and it's time to get on the bandwagon if you haven't yet. When you hear "acid" you most likely imagine something that peels and exfoliates, but hyaluronic is in the moisturizing game.
Hyaluronic acid is humectant, meaning it helps skin attract and retain moisture. Arielle Panarello, a medical aesthetician at Union Square Laser Dermatology, tells me that it "helps to strengthen the barrier of the skin so that its softer, smoother and appears more plump. [Hyaluronic acid] boosts skin vitality and vibrance so it's the perfect anti-aging ingredient as well." Hyaluronic acid is also used as an injectable filler under brand names like Juvéderm and Restylane. Not into topical treatments or needles? Hyaluronic acid can also be effective when taken orally. Try out Olly's new Vibrant Skin gummy supplements which have 120 mg of hyaluronic acid proven to plump, smooth, and hydrate skin with regular usage.
I love moisturizers with hyaluronic acid (like the Neutrogena one above) but it can also be found in hydrating serums like the SkinMedica HA5 Rejuvenating Hydrator. Pro tip I learned backstage at New York Fashion Week from the SkinMedica reps: Spritz water on your face before using hyaluronic acid products to make them even more effective.
Sunday Riley Good Genes Treatment, $105, Amazon
Lactic acid is another exfoliating alpha hydroxy acid but it's even gentler than glycolic, according to Dr. Francesco Fusco of Wexler Dermatology. It's derived from milk so it has a moisturizing element that the other exfoliating acids lack, perfect for those with sensitive skin who are still looking to reduce hyperpigmentation and reducing fine lines.
While the Sunday Riley treatment pictured above is only lactic acid, you often seen lactic combined with other acids like in the First Aid Beauty Facial Radiance Pads that pairs glycolic and lactic acids.
Kiehl's Powerful-Strength Line-Reducing Concentrate, $60, Nordstrom
Don't get tripped up by the fancy name; ascorbic acid is actually just vitamin C! (Well, technically, vitamin C is L-ascorbic acid.) Vitamin C/ascorbic acid is a wonderful antioxidant that reduces fine lines and fights free-radicals as well as acting as a brightening agent that fades dark spots according to Dr. Tzu. Ascorbic acid is great for all skin types, so it's time to get yourself a vitamin C serum no matter who you are.
Other AHAs
As we've already learned, alpha hydroxy acids (AHAs) are exfoliants that slough off the upper layers of skin which can help with acne, hyperpigmentation, fine lines, and skin texture. Here are some other examples of AHAs you might see pop up in the ingredients section on your skin care less frequently than the ones above.
Ole Henriksen Grease Relief Cleansing Cloths, $15, Sephora
Citric acid is derived from citrus fruits (quelle surpise!) and is also an antioxidant, according to Dr. Weiser. She says it's best for those showing early signs of aging or with sun damage.
Philosophy The Microdelivery Triple-Acid Brightening Peel, $52, Amazon
Dr. Weiser tells me mandelic acid has the largest molecule of all the AHAs which allows it to penetrate skin slower and gentler than the others, making it perfect for those with sensitive skin.
Drunk Elephant T.L.C. Framboos Glycolic Night Serum, $90, Amazon
Tartaric acid is found naturally in many plants and fruits, including grapes. It is one of the acids that helps give wine its tart taste so you're probably already a fan. It's great for people trying to smooth out the texture of their skin.
Peter Thomas Roth Mega Rich Intensive Anti-Aging Cellular Crème, $85, Nordstrom
Malic acid, aside from being a gentle AHA, is also used in some dental products as it can reduce the number of harmful bacteria in your mouth. As far as skin care goes though it's perfect for people with acne prone skin as it can help open pores and clear out sebum.
Assorted Other Acids
This next section features acids that are not super common and also not AHAs. They have a variety of cool properties and might be a secondary ingredient in a treatment — so they're even more important to keep a sharp eye out for.
DERMAdoctor Picture Porefect Pore Minimizer, $42, Amazon
Azelaic acid is most commonly found in prescription products for acne and rosacea treatments, but you can also find lower dosages of it available for purchase over the counter. Azelaic acid's game is decreasing inflammation and redness as well as being an acne fighting anti-bacterial.
Josie Maran 100% Pure Argan Oil, $45, Amazon
Oleic acid is a fatty acid found in oils. High-oleic oils include almond oil and olive oil among others; they create an extremely moisturizing seal on your skin but aren't right for most non-dry skinned people.
Tarte Maracuja Oil, $48, Sephora
Linoleic acid is sort of oleic acid lite. It's also a fatty acid in oils but it creates a much lighter consistency, so it's better for people with oily or acne prone skin. These oils include passion fruit (maracuja), grapeseed, and seabuckthorn oil.
Perricone MD Intensive Pore Minimizer, $56, Amazon
Lipoic acid, or more specifically alpha lipoic acid, is said to be "the universal antioxidant" because it is fat and water soluble. It works as an anti-aging ingredient that is anti-inflammatory and fights free-radicals.
SkinCeuticals Phyto +, $62, Amazon
Kojic acid was discovered in mushrooms native to Japan and remains mostly popular in Asia as a skin lightening agent. Kojic acid works to decrease melanin production in the skin (the stuff that makes dark spots) but is found to be irritating by some.
Algenist Genius Ultimate Anti-Aging Bi-Phase Peel, $64, Amazon
Alguronic acid is actually patented by skin care company Algenist whose scientists discovered this acid in algae. It has powerful anti-aging properties and works to keeps skin looking youthful and glowy.
Dr. Dennis Gross Ferulic + Retinol Triple Correction Eye Serum, $68, Amazon
Ferulic acid is another one of those anti-aging, free-radical fighting gems. It starting to get pretty popular so expect to see a lot of ferulic products popping up on the shelves. Ferulic acid is great for anyone who's wanting to reduce fine lines and sun damage.
Now you can all go out into the Sephora aisles feeling confident enough to snag a new acid (or two) for yourself.
Images: Sergey Mironov/Moment/Getty Images; Courtesy Brands (16)