When Can We Expect Season 5 Of 'House Of Cards'?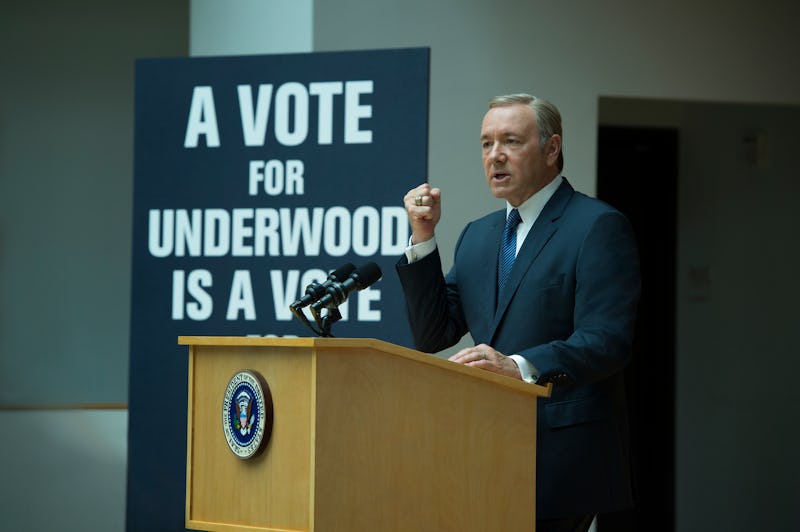 House of Cards is returning, and Frank Underwood is joining the in-progress 2016 presidential primaries, which means the fourth season is lining up rather nicely with the real-life events occurring in American Politics. While Frank Underwood's presidential campaign isn't threatened by the frightening worldviews of a Donald Trump-type candidate or a grassroots underdog becoming a frontrunner á la Bernie Sanders, Underwood still has a mountain to climb if he wishes to be elected for a second term as president. It won't be clear until the new season premieres just how much of the story will be told – whether it ends with Frank winning the democratic nomination, the presidency, or not winning anything at all – but what is clear is that Season 5 is going to be a very important season for House of Cards. But obviously, fans will have to wait a while for the House of Cards Season 5 premiere? UPDATE: Netflix has announced that HoC will return for Season 5 on May 30, 2017.
Earlier: While the popular Netflix drama has already been renewed for a fifth season, it is going to be a slightly different show when it returns. Showrunner and creator Beau Willimon left the series, which laid the foundation for Netflix's original content, upon finishing Season 4. How Willimon's departure will affect the series won't be known until the fifth season premieres in 2017 – likely a little over an exact year from Season 4's March 4 premiere date.
House of Cards has established an interesting pattern with its premiere dates. First, it always premieres on a Friday, which isn't all that unusual. What is fairly unusual, however, is that it most of its seasons debuted a year and two weeks after the season before it. The first season premiered on Feb. 1, 2013. One year and 13 days later, Season 2 premiered on Feb. 14, 2014. Another year and thirteen days later, on Feb. 27, fans were treated to Season 3 of House of Cards. Season 4 seems to buck that trend, premiering a year and six days after Season 3. If House of Cards continues to follow the pattern it has set in the past, expect House of Cards to debut either March 10 or March 17 in 2017.
While it may be easy to predict the premiere date based on pattern, there's another very important Friday coming up in 2017 that House of Cards may want to capitalize on: The next presidential inauguration on Jan. 20, 2017 which happens to fall on a Friday. If Netflix wanted to capitalize Frank Underwood's (possible) inauguration, there's no better date to debut a season than the actual presidential inauguration.
While the wait for new season of House of Cards feels longer than it does for most shows — likely because those who watch the show can finish a season in a couple of weekends (or even a single weekend) — the fifth season promises some big changes both onscreen and behind the scenes. While an official date hasn't been confirmed yet, just know you've got about a year of agony after the credits roll on that final episode.
Image: David Giesbrecht/Netflix