Women Rule New Marvel Adult Coloring Book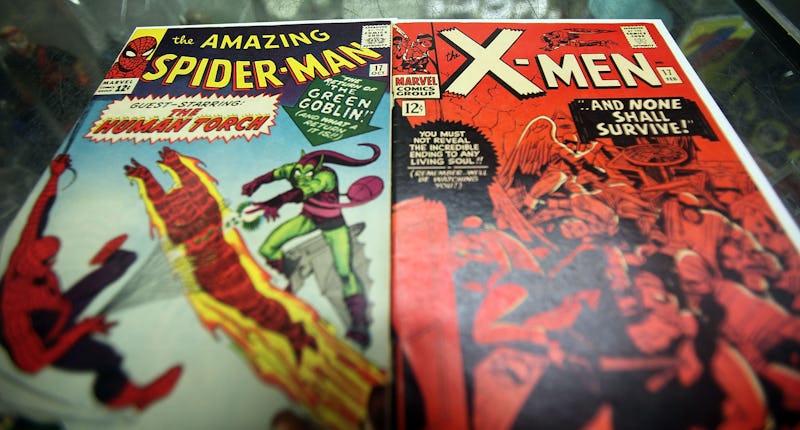 Mario Tama/Getty Images News/Getty Images
One comic book publisher's dalliance with coloring books for adults is more than just a fling. A fresh batch of Marvel Comics adult coloring books are on their way. Beginning this fall, the publisher plans to release three new "Color Your Own" books for your self-therapeutic consumption.
Marvel revealed its next generation of adult coloring books before the first round finished publishing. Last summer, the comic book giant announced the first three Color Your Own books: Age of Ultron, Civil War, and Little Marvel. Only Color Your Own: Age of Ultron and the formerly unannounced Color Your Own: Deadpool are available now.
The first adult coloring book in Marvel's new batch is Color Your Own: Women of Power, which focuses on the publisher's badass ladies. "Showcasing images of the might and majesty of Marvel's leading heroines," the press release states, "these images feature artwork from Marvel's female led titles, variant covers and more!" The cover, which you can view at Comic Book Resources, features She-Hulk, Wasp, Jubilee, Spider-Gwen, and Medusa, among others.
Next up, just in time for the movie starring Benedict Cumberbatch, is Color Your Own: Doctor Strange. Marvel calls this offering "a tome of classic and contemporary depictions of the master of the mystic arts." Doctor Strange's cosmically weird enemies will be loads of fun to color, I promise.
The third and final installment of Marvel's next adult coloring book batch is Color Your Own: Star Wars. Although the cover features only the franchise's most iconic cast members, Marvel's press release notes that the images inside will include "a whole new cast of characters presented from Marvel Comics." Whether that includes Rey, Poe, Finn, BB-8, and Kylo Ren remains to be seen.
Keep your eyes peeled for the latest Color Your Own books, out from Marvel later this year. Here are the release dates you want to watch for:
Color Your Own: Civil War, April 5
Color Your Own: Little Marvel, June 21
Color Your Own: Women of Power, September 2016
Color Your Own: Doctor Strange, October 2016
Color Your Own: Star Wars, October 2016
Happy coloring!
Image: Mario Tama/Getty Images