Catch Up With Peter Russo From 'House of Cards'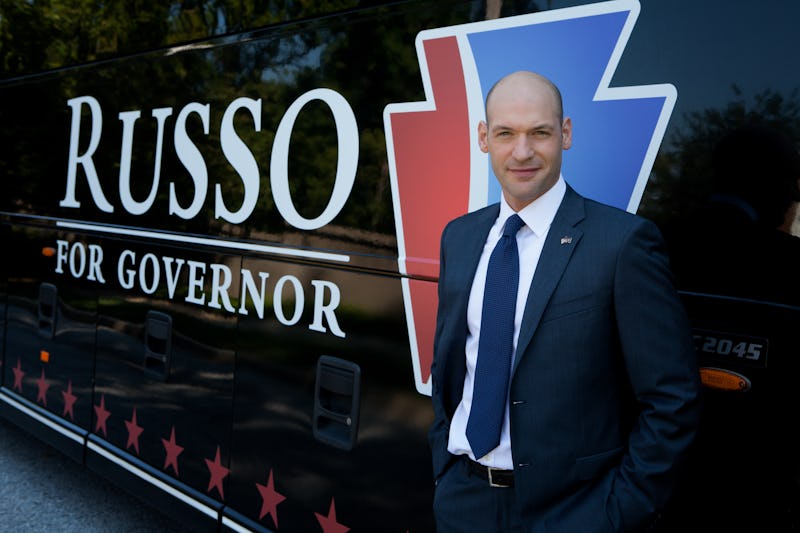 So much can happen over the course of one television show. Relationships begin and end, people who used to have hair stop having hair, and major characters that die early are forgotten about — like Season 1's Peter Russo from House of Cards . Despite having some deep flaws and struggling with an alcohol problem, Peter Russo was the most likable person on screen. In a world populated by dark, conniving characters trying to manipulate events to give them more power, Russo was a man who just wanted to do better for himself and his country. Unfortunately, Russo never got the chance to do good, as he was killed during his campaign for Governor of Pennsylvania by Frank Underwood.
At first Frank was #TeamRusso for Pennsylvania Governor because he wanted a puppet in the game. Russo owed him after Frank got him off for a DUI and soliciting a prostitute, and Frank would have had the Governor in his pocket. But, Frank's ultimate goal was to get the V.P. job, and, since the current V.P. was from Pennsylvania, Frank's larger plan was to prop Russo up for the job, take him down, and then basically the V.P. would have no choice but to step in and run to save his home state from having a Republican leader.
So, Frank planned a way to sabotage Russo. He and Doug brought Rachel, the OG call girl, to an event with Russo and had her convince Russo to fall off the wagon. Then he drunkenly messed up a big radio interview the next morning and he was done. One snag in Frank's plan? With his chances at winning gone, Russo decided to atone for his past sins and wanted to tell the police about all the things he'd done wrong. Since Frank was wrapped up in many of those things, he intercepted Russo before he could spill his guts and helped him drink even more until he passed out in his car. Then Frank left the car running, closed Russo's garage door, and left him for dead.
Peter Russo is now a ghost of House of Cards past, barely getting mentioned in the show anymore. Fortunately, the actor who plays Peter Russo is still busy working in television and movies for those that still want a dose of Russo. Corey Stoll, whose HoC performance earned him a Golden Globe nomination, continues to bring his unique brand of seething anger and vulnerability to other roles that can help you imagine a world where Peter Russo is still alive and switches careers, or perhaps fights vampires.
Sandy Bachman in Homeland
Spoilers for Season 4 of Homeland: It sounded like great news when it was announced that Stoll was going to be coming on Homeland! Here was a great actor, fresh off his juicy career-making role in House of Cards being introduced as a character in another prestigious drama about those who wish to do what they believe is right for America. What was surely going to end up being a fantastic role ended up being a very short one, and it seems the producers sought to fake-out fans who are trained to expect that a high-profile actor won't be killed in the same episode that they're introduced in. Stoll just cannot seem to catch a break.
Darren Cross/Yellowjacket in Ant-Man
Stoll pulled out his most villainous tendencies to portray Darren Cross in Ant-Man. While some Marvel villains have re-appeared in different movies, don't hold your breath for a re-appearance from Cross anytime soon who got shrunk to death. At this rate, Stoll is going to become the American Sean Bean in terms of not being able to make it out of a movie or TV show alive.
Dr. Ephraim Goodweather in The Strain
Finally! A post-House Of Cards role that Stoll doesn't die in — yet. Stoll plays the lead role of Dr. Ephraim Goodweather in FX's vampire-horror series The Strain. The role has some details in common with Peter Russo (they're both recovering alcoholics), but what Russo lacked the heroism he wanted so dearly, Goodweather is prime hero-material. Goodweather's heroism, however, is more "killing vampires" than it is "trying to get legislation through a gridlocked state senate."
When Stoll wasn't busy fighting terrorists, vampires, or Paul Rudd, he also found time to make appearances in Girls, true-crime drama Black Mass, and indie dramedy This Is Where I Leave You. While it's great that a talented actor is finding continued success, it's a shame that we'll likely never get to see Peter Russo again. Unless, of course, House of Cards decides to do a Christmas Carol special with ghosts of campaigns past — but they would probably find a way to make sure that Russo died all over again.
Images: Patrick Harbron/Netflix, Netflix