Julie Chen Calls Out Aaryn Gries for Racist Comments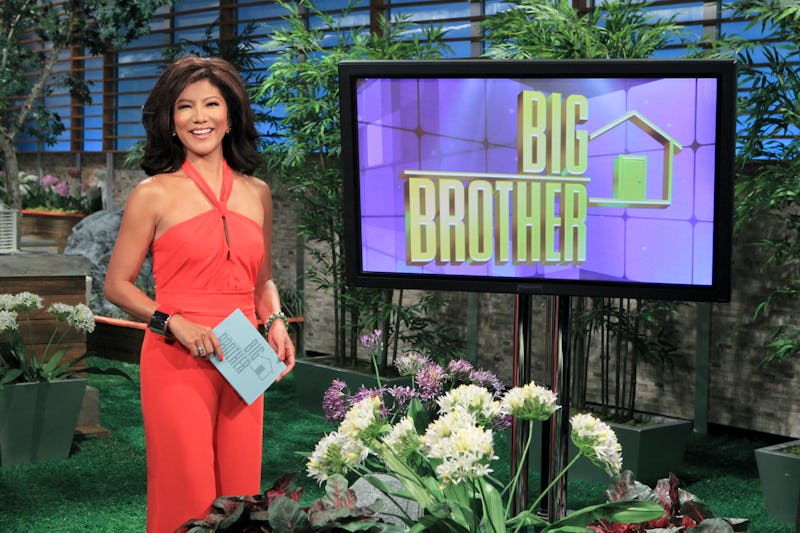 Over the past 15 seasons of Big Brother, host Julie Chen has carved out a robotic reputation for herself. In fact, her interviewing style is so stilted and softball, she's earned the nickname "Chenbot." (Check out this video for proof that the Big Brother host is made up of metal and wires.) Not that we expected anything different from her — after all, we are talking about a series that gets dramatic satisfaction from putting its contestants in elf costumes. Not quite investigative journalism.
But Big Brother 15 is different. Mostly because the season has been at the center of controversy after its contestants were heard on CBS's live feed making derogatory comments. And, after a week of outcry, CBS finally copped to the fact that one of its houseguests, Aaryn Gries, was the worst offender at all, saying that one Asian-American contestant should "go make some rice," and imitating Asian employees at nail salons.
It was refreshing, coming from a show that shielded viewers to likable contestant Jeff Schroeder's homophobic comments about Harry Potter's gay character, Dumbledore. And it paid off for CBS — the episode won Sunday night at the ratings, attracting over 6 million viewers. So how exciting is it to know that there's a possibility that Chen will actually confront Gries about her words during her inevitable eviction interview?
Lest you think Chen will withhold questions about Gries' prejudice, just see Monday's new episode of The Talk , in which she spoke about how she, as an Asian-American, felt watching Gries sound off. "When I first found out that Aaryn, who is a 22-year-old girl, made anti-gay, anti-black and anti-Asian comments, I have to be honest, the Asian ones hit me the most. It stung ... I took it personally. I'm a human being."
Continued Chen, "The year is 2013. I felt ignorant, there are still people in the country who feel and act that way? ... It made me sad."
It's a great indication of things to come — Big Brother's emotionless figurehead feels emotion? Passion is what Chen had been lacking during the last 15 seasons of Big Brother — bringing passion to an eviction interview with Gries would not only lead to great TV, but also an important discussion of race during a summer that has proven to be unbelievably racist.
And it seems the interview will happen within weeks. Sunday's episode proved that Gries is not only reviled outside the house (something, mind you, she's still not aware of), but inside it as well. The pressure cooker that is the Big Brother house should burst soon — but the pressure should only increase as soon as Gries steps outside to greet Chen. And let's just hope that, at that moment, Chenbot finally powers up.
Image: CBS