Remy & Jackie Need To Reunite In 'HoC' Season 4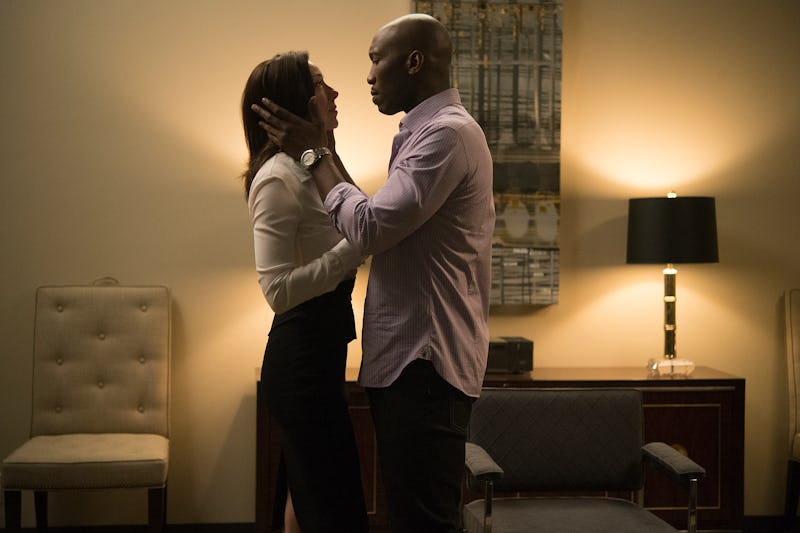 On Netflix's House of Cards, there's more political maneuvering and strategy than love and romance, but some couples have found — and lost — each other. Frank and Claire Underwood are kaput for now, but could Remy Danton and Jackie Sharp reunite for good? It's been more than a year since we've seen them, so I think it's a good time to recap what happened between Remy and Jackie on House of Cards , because these two Washington, D.C. lovers deserve to go the distance. But, just like elections, true love doesn't always go the way you want it to.
In my opinion, Remy and Jackie's relationship was one of the highlights of Season 2 and it was so sad to see them apart in Season 3 — until they seemed to rekindle their flame at the end of the season. But, was that a one-time thing or something more? Last year, Remy actor Mahershala Ali told Bustle that he doesn't quite see a long-term future for the lovers. "As passionate as they obviously feel for one another, Jackie has made certain choices that make it impossible for Remy to have some of the things he really wants for himself," he says.
But, they belong together! And, if you take a look at their relationship history on House of Cards, you'll see it, too.
Working Together In Season 2
Jackie and Remy began working together on lobbying and legislation related to Raymond Tusk. Naturally, all those long hours together led to a flirtation — and that led to them sleeping together. "This doesn't happen again unless it's leading somewhere," Remy said at one point about their hotel room trysts.
Getting To Know Each Other
During one of their hotel love-making sessions, Jackie explained her poppy tattoo to Remy: The pain helps from her time at war. "I killed a lot of people," she told him. "In the army. The pain. It helped." While they'd like to keep work and personal pleasure separate, their secrets and respective agendas start to bleed into their relationship. What information can they tell each other and what should remain secret? Can they trust each other? Those were questions they were not quite sure how to answer. "I care about you more than I should," Remy told Jackie. "But I'm getting tired of having to say it."
The Break Up
And then it all reached a fever pitch: Remy threatened to reveal incriminating information about Jackie's rise to Majority Whip in Congress if she didn't help link Frank to President Walker's scandal. Jackie refused and the affair was capital-O over — for then.
Apart In Season 3
Remy stepped into President Underwood's Chief of Staff position. One order of business was getting information from Jackie about who would be running for president on the Democrats' side. She told Remy that in exchange for information she wanted to be Frank's V.P. Well, that's what they said with words, but there was a lot of longing for each other in their eyes. Frank also convinced Jackie to run for president, which could lead to her becoming his vice president.
Jackie Got Married — Not To Remy
Jackie got engaged and married to Alan Cooke, a perfectly nice cardiovascular surgeon, because she feared that her lack of husband or family would turn off election voters. This is the kind of society we live in, apparently. Anyway, Remy was not cool with this at all.
Just Being Friends
Jackie and Remy tried to just be friends. They had late-night talks and confided in each other. Jackie told him what marriage was like while Remy's heart metaphorically shattered into a billion pieces. One night, Remy was shaken after a racist encounter with a police officer and he rushed to seek comfort from Jackie. He kissed her and she didn't stop him. But, she did friend-zone him with this line: "You still mean a lot to me. I am there for you, as your friend."
But, Remy had Jackie's back no matter what. When Frank humiliated Jackie during a debate, Jackie dropped out of the race and Remy resigned as Chief of Staff.
Remy & Jackie Reunited?
Jackie offered Remy a job with Heather Dunbar's campaign, but he turned it down to retire from politics. They slept together once more, but was it just good-bye or for real this time?
We shall see in House of Cards Season 4 on Friday.
Images: David Giesbrecht (5)/Netflix; Netflix (2)