Remy May Not Come Back For 'Cards' Season 4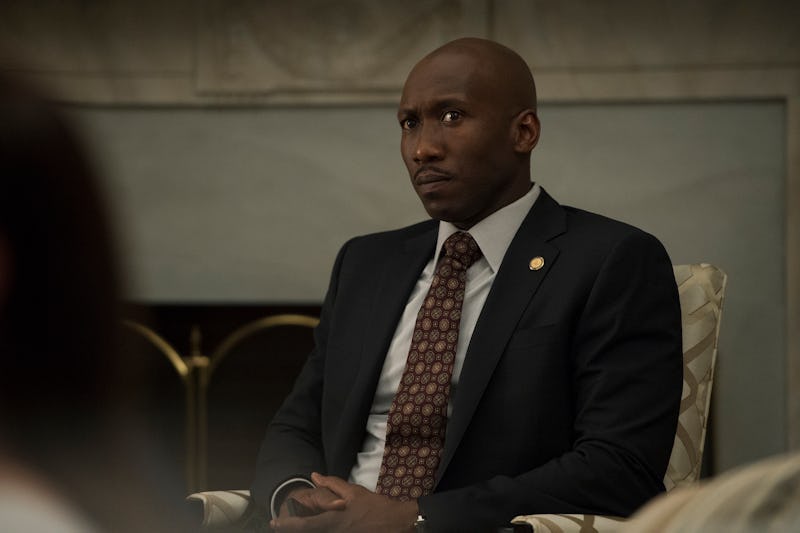 By now, most of you have probably binge-watched your way through Netflix's third season of House of Cards (and if you haven't, what the heck are you waiting for?). This means you're well aware of the many different balls that were still left up in the air, but does this necessarily guarantee that House of Cards will reach Season 4? Though nothing has been officially confirmed yet, I recently spoke with actor Mahershala Ali, who plays Remy Danton, about his character's fate and whether or not fans can expect that widely anticipated season renewal.
"I would assume so," Ali teases. "It's been widely successful for Netflix and people have really responded to it and obviously love the show. I haven't gotten any official word, but I couldn't imagine them not coming back for a fourth season." And truer words have never been spoken. Given the widespread obsession the series has become, there's just no way the writers or Netflix in general would be so cruel as to leave us hanging — especially since Frank seems to have lost some very important allies.
But where does Remy fit into all this? Last we saw, he'd made plans to get out of politics and leave Washington D.C. for good. Does this mean we won't see much of him when or if Season 4 starts streaming? As it turns out, even Ali is unsure of his character's fate.
"It just depends if it's necessary for him to come back in all honesty," Ali says. "I think this show is about Frank and Claire. I love what I've been able to do and the story I've had and being able to contribute, but it's gotta be something good and interesting and engaging and something that helps push the story along. It would just have to be something that was purposeful. And if they feel like Remy/I can come back and help elevate and heighten the story and bring something special to it, then I'm sure it'll be something good and juicy."
But, I mean, he has to come back, doesn't he? Just the thought of a Remy-less House of Cards makes me want to curl up in a ball and weep into a gallon of cookie dough ice cream. There's just so much more of his story to tell (let's not forget his recent nighttime tryst with Jackie Sharp), not to mention how interesting things could get if he stays and transitions from Frank's friend to his latest foe. After all, he does know about quite a few skeletons in President Underwood's closet — a concept Ali seems totally down for. "I would love to see him working with or against Frank in a very motivated way."
And while Ali is also aware of some of the negative feedback Season 3 has received — with viewers claiming that the series has lost its magic touch — he thinks change is necessary for a show like this to grow. So if a Season 4 does, in fact, come to pass (which it better, Netflix), you should expect it to have a completely different feel from prior seasons. "These characters have to feel like people who are alive and growing and shifting," Ali says. "Every season has to feel somewhat different than the one before. It's just the nature of the beast." So as long as Remy continues to be part of that story, you'll hear no complaints from me.
Images: David Giesbrecht/Netflix (2); houseofcardsnetflix/Tumblr