Wait, Is The 2016 'Ghostbusters' Film A Sequel?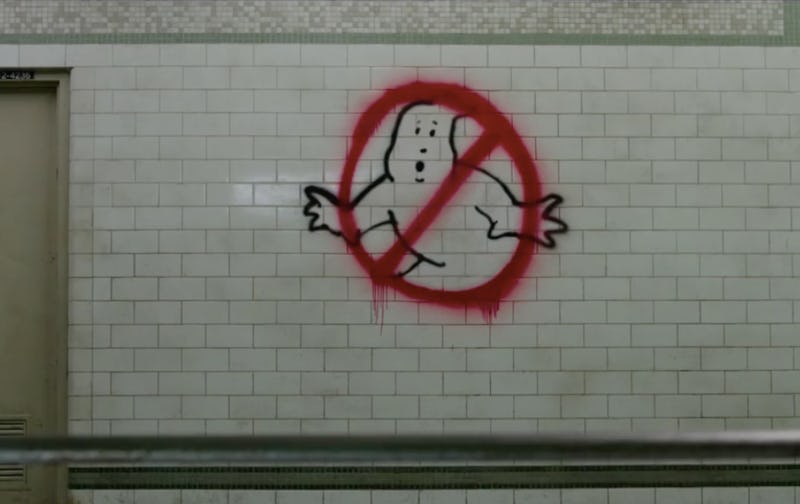 On Thursday, Sony debuted the first trailer for the Ghostbusters reboot, and fans might have been a little bit confused. The film franchise, which stars Melissa McCarhy, Kristin Wiig, Leslie Jones, and Kate McKninnon as the new team of Ghostbusters, saving New York with the help of their sidekick Chris Hemsworth, has long been touted as a reboot of the original franchise. However, the opening of the trailer reminded fans that 30 years prior to the events of this film, the city was saved by a different team. So is the 2016 Ghostbusters movie a sequel and not a reboot? Or is it a reboot and the trailer was just being, like, super ambiguous?
The trailer opens with a black screen that reminds fans "30 Years Ago, Four Scientists Saved New York." It then goes on to say that "This Summer, A New Team Will Answer The Call." Now, on the one hand, that could have just been a framing device for the fans, since the first Ghostbusters movie did, in fact, come out in 1984, which was 32 years ago. On the other hand, a reboot means to renew the mythos for a new generation, re-establishing a new universe that doesn't adhere to previous canon. So, you know, the 2016 Ghostbusters movie should be independent of the previous one. Unless it's a sequel, in which case the framing device for the trailer would make a lot more sense.
Did the original Ghostbusters save New York 30 years prior to this new team? Or are fans just supposed to take the opening as their sweet reminder that 30 years ago we were introduced to the world of Ghostbusters and now we had a new team to adore? The trailer leaves that pretty ambiguous in favor of trending right into introducing us to these amazing women, the humungous challenge they are about to face, and the action and gags that we've come to expect from any film that has the word "Ghostbusters" in the title.
Honestly, whether the new team is connected to the old team, and whether the new movie is connected to the old movies, doesn't really matter. The trailer makes the film look amazing, and old fans and new fans alike should flood out to theaters to see it on that basis alone. There's been a lot of talk and a lot of sexist controversy surrounding the 2016 Ghostbusters movie, but, if this is what we have to expect when we head into theaters, then I am so here for this reboot-sequel-revival-whatever. Check out the trailer below.
Image: SonyPicturesEntertainment/YouTube (2)