Will Kirk Be Back For The 'Gilmore Girls' Revival?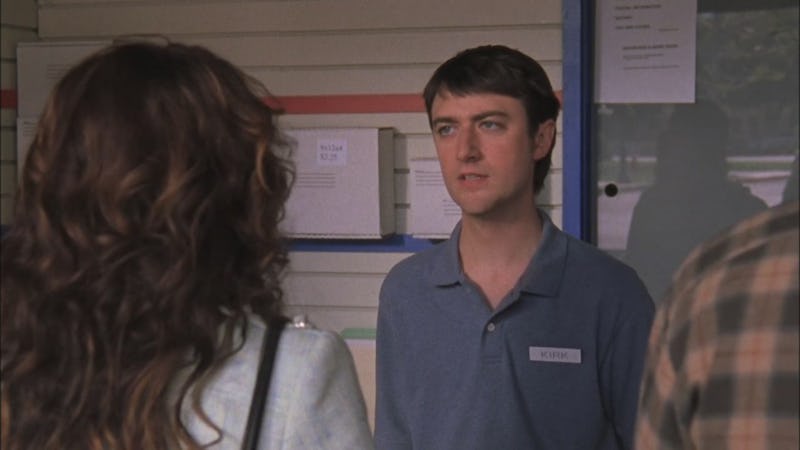 One of the most memorable characters from the original Gilmore Girls series — apart from the Gilmore girls themselves, of course — was without a doubt Kirk. So, with filming of Netflix's four-part revival series officially underway, I have to wonder as a dedicated fan (and also just, like, a person who likes well-written characters): Is Kirk going to be back for the Gilmore Girls revival?
Well, luckily, that question is extremely easy to answer — and the answer is a good one. Turns out, everyone's beloved Sean Gunn is indeed returning to Stars Hollow to reprise his role as the quirky Kirk Gleason on Gilmore Girls. After months of spectulation and negotiations, Gunn tweeted in January that he will be returning to his favorite home in Connecticut to reprise his role as town film director, pedicab driver, actor in elementary school productions, hot dog wearer, and various other things (yes, Kirk has always been a man of many talents).
While we all waited anxiously for this news to drop and Gunn has not stopped teasing us since then with various tweets and Instagram posts, it's only made me wonder where Kirk will end up during the four-episode Netflix reboot. When we last saw Kirk in Season 7, he was driving Taylor's car into Luke's Diner — completely destroying everyone's favorite breakfast hub — opening his own diner complete with Luke-like attire, becoming the official town sash presenter, and continuing to date the equally crazy Lulu. While I am more than certain Kirk's largest contribution to the revival series will likely be having another 43 jobs and continuing to make us all laugh with his odd humor, I have to wonder: What else does Gunn's return mean for Kirk in the upcoming series? Are he and Lulu in a more serious relationship now? Do they have kids? If Kirk did get married, was his mother around to witness the matrimony? What about Kirk, the cat? And, does this mean Kirk finally had someone to make a basket for him at the charity picnic basket auction? How is his banter with Luke these days? Besides spending his time at home, Kirk was always at Luke's — so did he annoy Luke into becoming partner at his diner after how successful Kirk's was?
No matter the answer to any of those questions, one thing is for sure: I am so excited Gunn has still found the time to be a part of the GG reunion. Since Gilmore Girls wrapped, Gunn has remained extremely busy what with appearing in both TV and in movies: Most impressively, Gunn was in the 2014 Marvel film Guardians of the Galaxy, playing Yondu's first mate Kraglin — a role he is set to reprise in the film's sequel. Lulu would be so proud!
Now that Kirk is back, prepare yourself for some serious confused laughter and major feels.
Images: Warner Bros. Television; Giphy (1)