Tom Yates Is Back On 'House of Cards'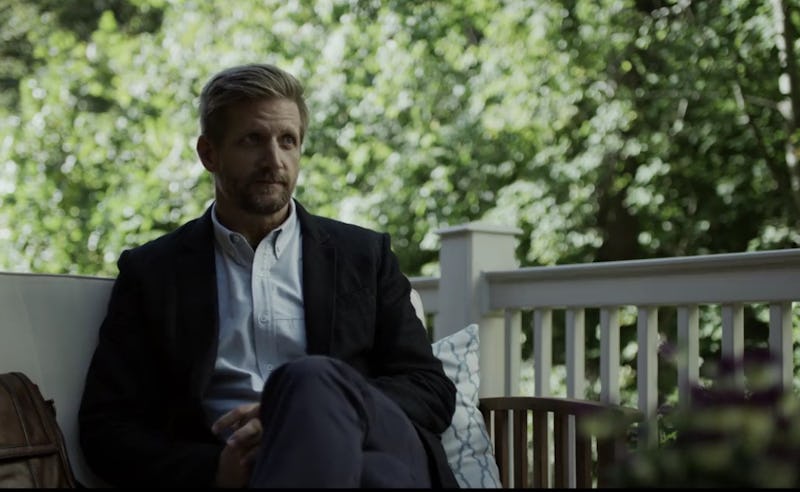 Claire and Frank Underwood's seemingly open marriage is what has drawn many fans to House of Cards, and in Season 4 a new player entered the mix. There are spoilers for Season 4 Episode 10 and beyond ahead. Who is Tom Yates on House of Cards ? The novelist returned to the Underwoods after being fired in Season 3 in a big way.
Towards the end of Season 4, Claire and Tom sleep together — which has probably been a long time coming. His fascination with Claire was born last season, though he had a better relationship with Frank (and and had a relationship with Kate Baldwin) while writing what boiled down to propaganda. However, it is a scene between them in the Season 3 finale that motivates Claire to walk out on Frank in that big confrontation. In Season 4, he is hired as a speechwriter after a Republican candidate put him back in the spotlight while attempting to get that damning book published. The fact that they finally "connect" over Claire's mother dying is such classic Underwood too. They are a dark and disturbing couple.
Tom Yates was hired to write a book that championed President Underwood's failing America Works project. He interviewed Frank at length. He got to see the first couple in private. We also learned that he worked as a male prostitute, and the stories he learned from older men who hired him are what motivated him to write his best-selling novel Scorpio. He collects stories from people. It's possible that this is all he is doing with Claire in order to finish his book. Sex is about power on House of Cards, so who's using who?
As Claire joins Frank's campaign as his running mate, she and Tom prove to be a good strategical and rhetorical team. It doesn't hurt that Tom looks a lot like the photographer Claire was having an affair with in Season 1 — though pretty much everyone is identical on House of Cards. The Netflix series has a very strong aesthetic. I'm fascinated by where this season is going. Everything is a bit too smooth and unsettling. Claire's relationship with Tom is just another piece in that puzzle.
Images: Netflix; Giphy