What To Know About The Next Big Superhero Movie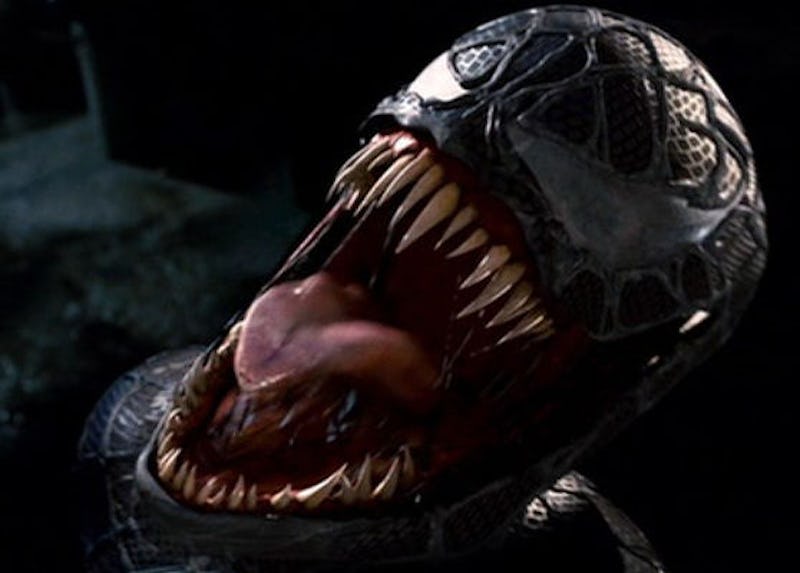 Big news, comic book fans: Sony has announced that yet another Spiderman movie is in the works — and this one this one aims to be different. While previous Spiderman films (the Tobey Maguire, Andrew Garfield, and now the upcoming Tom Holland-starring ones) focused on the red and blue masked crusader we know as Peter Parker, this latest film, according to The Hollywood Reporter, will follow villain turned anti-hero — and sometimes good guy but mostly bad guy — Venom. And, based off the things we know about the Venom film so far, this is a lot of reason to get excited.
If Venom sounds familiar, that is most likely because a version of the character was played by Topher Grace in Spiderman 3. But, that's not all there is to know about the character. See, in the comics, Venom is sometimes known as evil Spiderman. That's because Venom is alien symbiote with a goo-like form that takes on human hosts. Venom's most famous host is Eddie Brock (the character Grace portrayed), but its first host was Peter Parker — hence the "Evil Spiderman" connotation.
Since Venom was introduced in 1988, he has been a fan favorite. Venom is considered one of the greatest comic book villains and recent storylines have made him more of an anti-hero (a la Deadpool). During his relatively short comic book history, Venom has seen many incarnations, including a turn as she-Venom. And one thing is for certain, whatever this direction this movie takes there's a lot of material to work with.
This Is A Long Time Coming
A Venom film has been in development since 2014 — according to Screenrant, Alex Kurtzman, and Roberto Orci (aka, the guys behind The Amazing Spiderman and Star Trek) were attached to write the film. But, according to NME, the film was put on hold after The Amazing Spiderman 2. Rumor has it, the recent success of Deadpool spurned the project's revival.
Great Behind-The-Scenes Talent
It seems that Sony is pulling out the big guns for this film. Avi Arad (producer of Iron Man, Spiderman, and X-Men) and Matt Tolmach (producer of The Amazing Spiderman) are overseeing the film, and Dante Harper, who wrote the original screenplay for Edge of Tomorrow, has been tasked with writing the screenplay. With talent like this, it's easy to get excited for this new film.
A Stand-Alone Film
Venom will be a stand-alone film completely unrelated to the new Tom Holland Spiderman which will be released in 2017 — but the door is open for more Spidey v. Venom action.
The Start Of Something Big
And no surprise here, Sony execs have indicated that this first Venom film will be the beginning of a new franchise for the movie studio. So there is a lot more Venom headed our way.
The director and star of the film remain unknown, but it looks like the project is off to a great start.
Images: Sony Pictures; Giphy (4)