This Photo Of Nancy Reagan Is So Powerful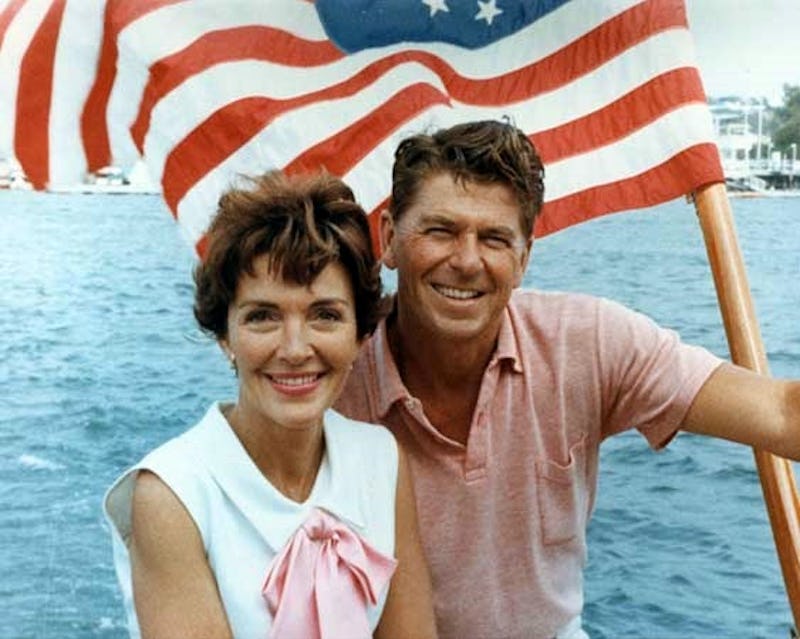 On Sunday morning, it was announced that Nancy Reagan died at the age of 94 due to congestive heart failure. As the wife of Ronald Reagan and a former actress before her marriage, the former First Lady was a well-known figure in the public eye; although she rarely influenced policy outright in the way of Hillary Clinton or Eleanor Roosevelt, she was known for her anti-drug campaign "Just Say No," her work in raising awareness of breast cancer after her own diagnosis, and most publicly, her steadfast devotion to her husband.
Nancy was something of a controversial figure among feminists during the 1980s and continued to be so as she aged; in an era in which women began placing increasing emphasis on their careers, she represented a throwback to traditional values, giving up her own career as a Broadway and film actress in favor of raising a family and supporting her husband's political ambitions. Much of her time in the White House was spent projecting the traditional image of a devoted housewife and mother. "My life really began when I married my husband," she once said.
Needless to say, this raised the hackles of many feminists, who criticized her traditional values and choice of family over career — but Nancy was perfectly capable of defending herself, reportedly responding, "Feminism is the ability to choose what you want to do... I've really enjoyed the best of two worlds."
In the wake of her death, a powerful photo has resurfaced of Ronald's funeral in 2004, capturing the moment when Nancy knelt beside her husband's casket.
The photo epitomizes the couple's close relationship as well as Nancy's role as a caregiver in their later years. After an assassination attempt on her husband and especially as he struggled with Alzheimer's disease in later years, Nancy cared for her husband to the end.
"[It's] not to say that other first ladies weren't devoted to their husbands, but few can match Nancy Reagan," historian and Rider University professor Myra Gutin told USA Today.
Despite being known for her support of her husband, Nancy had some measure of political influence. As NPR points out, she supported abortion rights and stem cell research, and her anti-drug campaign grew so influential that she addressed the United Nations General Assembly on the subject in 1988.
However, much of her legacy is dominated by her relationship with her husband, from the devoted "Nancy gaze" to her role as caregiver after his presidency ended in 1989. "Nancy Reagan is first and foremost remembered for how she fiercely protected her husband," Eleanor Clift wrote for the Daily Beast in honor of Nancy's 90th birthday. Somehow, one gets the feeling she would be content with that.
Image: Wikimedia Commons