ColourPop's Brow Products Are Coming So, So Soon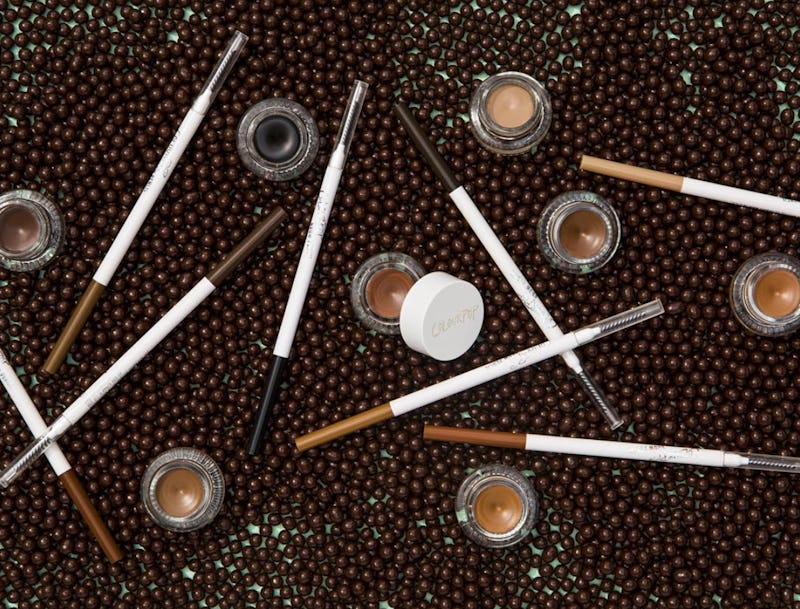 ColourPop Cosmetics, which is based in downtown L.A., has exploded onto the makeup scene in the past year. The brand is on trend, inexpensive, cool, and has partnered with models Jaime King and Karrueche Tran for their own collections. Now, ColourPop is launching brow products, which is great news, since up until now, the brand has largely focused on lipsticks and eye shadows with major color payoff. You can't mess with their richly pigmented offerings. But makeupistas have been patiently waiting for ColourPop to officially enter the brow game and it's doing so in a big way. When are ColourPop brow products be available to shop and what, exactly, can you expect from the collection?
I am glad you asked.
ColourPop's brow products launch on March 10 — that's this Friday. So go ahead and make an alarm in your iPhone and a note in your printed calendar. This is a launch on which you do not want to snooze. While ColourPop products aren't crazy pricy, they are amazing quality and totally trendy. The fact that ColourPop has added brow products to its family of offerings means the brand is continuing to grow and evolve so this is an important phase in its overall history.
There will be eight Brow Colour shades at $6 a (colour)pop and eight shades of Brow Pencil at $5 a piece.
All told, there are 16 items and ColourPop is offering something for every shade of brow out there. You can count on having shaped, filled, coordinated, and perfectly pretty brows with assists from these items.
Even makeup vlogger Kathleen Fuentes of KathleenLights is stoked that ColourPop has added brows to its repertoire. The good thing is that makeup mavens and ColourPop lovers only have to wait a few days before shopping these babies.
You can shop the Brow Colours and Pencils via the Colourpop site. Big ups to ColourPop for making trendy makeup fun, easy to shop for, and completely affordable and for branching out. These brow products aren't about loud, "look at me" colors but about shaping and framing. And that's a beautiful thing.
Images: Colourpop Cosmetics/Instagram (1); Kathleen Lights/Instagram (1)