8 Easy Hairstyles For Easter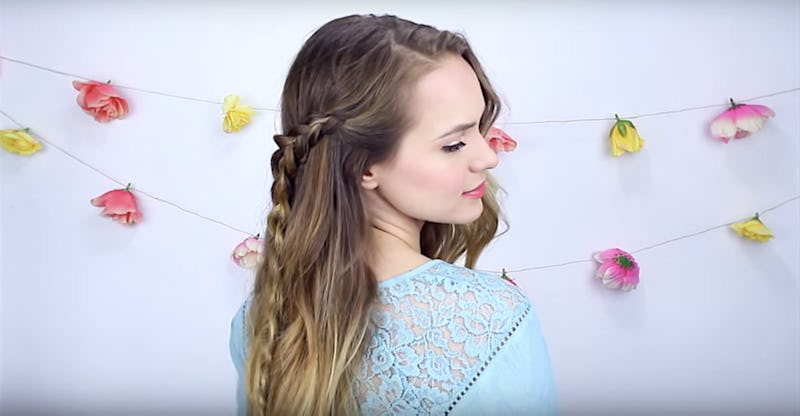 Easter is only a couple weeks away (whoa — when did that happen!?), and even though it's not as hyped up as Christmas or Thanksgiving, it's one of my favorite holidays to dress up for. You're so eager for spring, that you're more than ready to bust out all those pastels and florals (even if it's still cold out), so it makes it a little more exciting. If you've already got your outfit nailed and are needing a hairstyle for Easter, I've got you covered with plenty of options, whether you're staying in or going out.
Easter is generally a laid back holiday. The sun is finally shining (or, well, we hope it is), you don't have the stress of major entertaining, like some of the other holidays, and you get to spend the day outdoors doing Easter egg hunts and eating candy. What could be better?
If you're going out to church or brunch, you're probably more inclined to dress up and style your hair, but just because you're hanging out at home in your PJ's eating chocolate eggs doesn't mean you can't put a little spring in your hair. It is a holiday, after all, and you never know who's snapping pictures that could end up on social media. Truth. If you need a hairstyle for Easter, try these tutorials to give you some inspiration.
1. Braided Updo
Pulling your hair back at the nape of your neck is a little more relaxed than a high updo, but still feels elegant for a formal event.
2. Weaved Ponytail
If you want your hair back, but want it to look more special than your basic ponytail, try a weaved pony.
3. Crochet Loop Braid
Hunting for eggs all morning? This braid is the perfect blend of glam and relaxed. And you have to secure it with a flower, because spring.
4. Loose Braid
The messier, the better, so this is totally PJ appropriate.
5. Angel Wings
This polished half-up do would be perfect for church or brunch.
6. Bow Braid Headband
You don't need to buy a headband. Your hair's got this.
7. French Braid With A Bun
Just because your lounging around doesn't mean you have to wear your standard messy bun. Switch it up with a polished french braid bun for the holiday.
8. Accent Braids
If you want to wear your hair down and curled, but want a little something extra, try an accent braid.
Want more fashion and beauty tips? Check out the video below and subscribe to Bustle on YouTube!
Images: YouTube