Gal Gadot Totally Gets Wonder Woman Right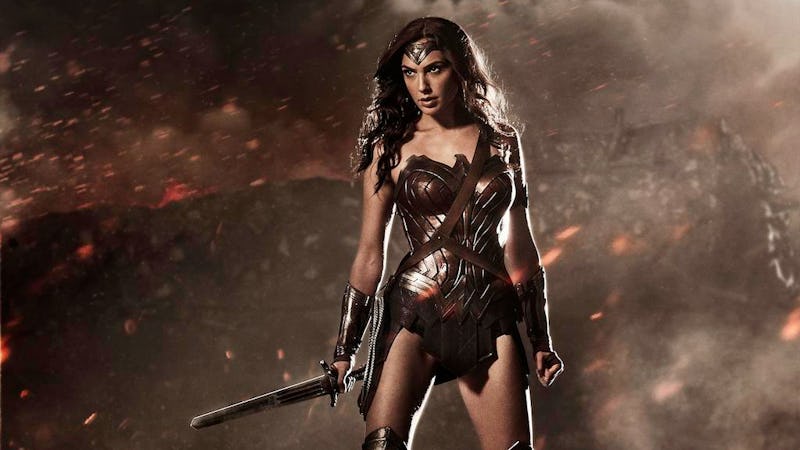 When it was first announced that Israeli actor and model Gal Gadot was cast as Wonder Woman in the upcoming, and much anticipated, superhero film Batman v Superman: Dawn of Justice, I, like many fans of the character, was skeptical. Other than a part in the Fast and Furious series, Gadot was pretty unknown, and for those who had been waiting practically forever for Wonder Woman to be in a major comic book film, the fact that her portrayer was a relative newcomer was a tad worrisome. Yet in the time since, Gadot, in a string of interviews, has proven why she's the perfect choice for Wonder Woman, and she's given me a newfound faith in her portrayal of the iconic character.
In a recent cover story for Glamour , Gadot described her own high expectations for the role, and it's clear she takes the part as seriously as fans do; even better, it seems that she understands the importance of having a Wonder Woman who's self-reliant and essential to the story. Said Gadot, "For BvS, it was important for me that we show how independent [Wonder Woman] is. She is not relying on a man, and she's not there because of a love story. She's not there to serve someone else." Despite how male-centric the trailer (and the title) for Batman v Superman make the film look, it's great to hear from Wonder Woman herself that the character's presence in the film isn't about accompanying the men, but being her own hero.
When Gadot was first cast in the role, some, including myself, were concerned that she was too lithe and delicate-looking to play a strong Amazonian warrior — but quickly, the actor proved us wrong, adding 17 pounds of muscle onto her Israeli Army-aided frame. And talking to Glamour, Gadot reminded many of us that Wonder Woman's physical strength is only one part of her character. "She has so many strengths and powers, but at the end of the day she's a woman with a lot of emotional intelligence," the actor said. "She's loving. I think women are amazing for being able to show what they feel. I admire women who do. I think it's a mistake when women cover their emotions to look tough. I say let's own who we are and use it as a strength."
Even better? Gadot also told Glamour that she intends to continue pursuing those kinds of complex characters throughout her acting career, in addition to the ones she's already portrayed. "Whenever I met with producers, writers, or directors, I said I wanted to portray a strong, independent woman," she recalled. Strong female characters have come to mean a lot of different things in recent years, but it's refreshing to hear from someone so new to the business that playing complicated women is important to her. And it's clearly a view she's held for awhile; in 2015, talking about taking on Wonder Woman, Gadot told Interview that when choosing roles, she "wanted to be able to show the stronger side of women. I didn't want to do the obvious role that you see in Hollywood most of the time, which is the heartbroken girl who's waiting to be rescued by the guy, blah, blah, blah. I wanted to do something different. Little did I know that I would land Wonder Woman not long after."
Since her star will most definitely rise after Batman v Superman opens, it's great to see that Gadot already cares so deeply about choosing feminist characters, and it's easy to see why it's important to her; the actor is mother to a three-year-old daughter, and, as she told Interview, she wants to set a strong example for her. "At the end of the day, I always tell myself that it is very, very important for me to be a good role model for Alma, my daughter," she said. "As long as she's the first priority, which she is and always will be, it's okay if Mommy goes to work and has a busy period, as long as I balance everything." She elaborated on this with Glamour, saying that her busy life is worth it if it teaches her daughter that women can do anything. Said the actor, "It was my husband who told me: Gal, think about what kind of a role model you want to be. If you want to show Alma that she can follow her dreams, that's what you should do, and we will figure out the logistics."
So for people like myself who once held doubts that Gadot would make for one superb Wonder Woman, it's a relief to see that she not only fits the part well, but is becoming a role model for her female fans. "Feminism is about equality," she told Glamour. "I want all people to have the same opportunities and to get the same salaries for the same jobs. I realize I'm doing what I want to do because of the women before me who laid the groundwork. Without them I wouldn't be an educated working mother who is following her dreams; I wouldn't be here." It's incredibly inspiring to hear Gadot not only revere those who came before her, but to want to help those that come after her. As she told Interview, "I feel like I've been given a huge opportunity to inspire people, not only women. And not because of me, but because of who Wonder Woman is and what she stands for."
Fans have been waiting a long time for Wonder Woman to appear on-screen, and I, for one, am so grateful that Gadot totally understands what it means to play her.
Images: Warner Bros., Giphy