9 Tips For What To Wear Come Photoshoot Time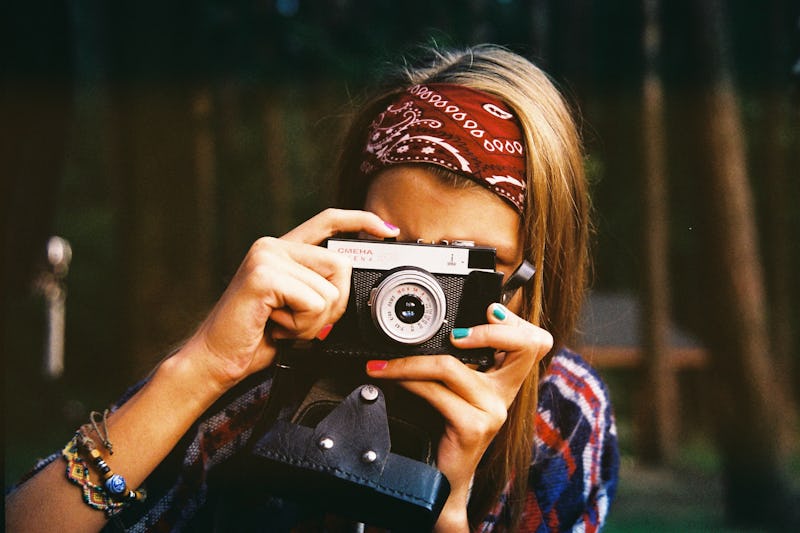 For some folks, photoshoots can be incredibly fun. For others, they can incite minor panic attacks, particularly when considering what to wear for a photo shoot. But from family portraits to engagement shots to maternity snaps to just-for-the-fun-of-it personal pictures, we often celebrate important occasions in our lives through the art of photography. We then preserve those images on our living room walls, in save-the-date announcements, on our fashion blogs, and in our Instagram feeds. This means making sure we sport an outfit we love is crucial.
Clothing can play a major role in capturing these memories, and it can be one of the most fun aspects of putting together a great shoot, whether indoors or out. Displaying your personality and — if you're shooting with people — your relationship with others is usually the most important thing to convey. Most of the time, that's what you want to be able to see once you look back on these images in the future.
What you decide to put on your body during your shoot can really make or break your pictures, so I asked five professional lifestyle photographers for their best tips and tricks and the lessons they've learned from behind the camera. What you want out of your shoot is totally up to you, but here are nine suggested ways to dress for your best photos yet.
1. Wear Clothes You Love
All of the people I spoke to emphasized being comfortable with what you're wearing. Jordan Mary, a London-based photographer, tells me via email, "I always recommend clients to wear clothes they love and feel great in. When you feel great about what you're wearing, it makes a huge difference on camera. If you're wearing something you feel slightly unsure about, it will definitely show [...] I would much prefer you to be confident."
Even if you're making a point of wearing something out of the ordinary, try to make sure you're ready to rock it before you step in front of the camera.
2. Wear Something Bold Instead Of Blending In
If you're planning on wearing neutrals and your shoot is located outside, you might actually fall into the background instead of standing out. Kelley Deal, a photographer who shoots between Durham, North Carolina and Cleveland, Ohio, tells me, "Even a bright scarf or hat can make all the difference in the world.
Evan Hampton, based in Jacksonville, Florida echoes this idea. He tells me, "Be bold, but at the same time, still be you. Avoid earthy tones unless you're going to have an accessory that is bold to help make you stand out."
Since it's such a trend for seaside photo sessions, I was surprised to find out that white shirts and khaki pants at the beach are something to avoid, since blending into the scenery can apparently wash you out. "Your wardrobe is a part of your personality, so stand out a little," recommends Leanna Ward Frazier, based in Conover, North Carolina. She adds that neon colors won't help you stand out. They'll likely just make you seem out of place.
3. Coordinate Outfits Instead Of Matching Them
If you're shooting with other people, matching outfits is not necessarily the best idea for a dynamic picture. "I tell people to pick three colors and mix them up as much as possible," says Deal. Unless it's your thing, most families don't wear matching outfits in their everyday lives, so that may not be the kind of memory you want to preserve.
When it comes to colors, Paul Sherar, a photographer based in Boone, North Carolina, thinks of it like a painting. "Colors that complement each other on a canvas complement each other on your body," he tells me.
4. Consider The Season
Leanna Ward Frazier of Freckled Red Photography loves to shoot outfits that coordinate with the particular season being shot in. She suggests going for dark and bold colors like dark red, gold, and hunter green in winter. Autumn and winter are both seasons that work well with plaid as well.
For spring, she recommends baby blue, blush pink, cream, pastel yellow, and floral prints.
As for summer, 'tis the season for other fun prints like stripes and chevron.
5. Wear Clothing That Flows
One tip for unique photos is to wear something that flows. Sherar tells me, "Sometimes clothes that are flowing help inside the composition of the photo by providing leading lines." If you're outdoors and it's a little windy, let that play to your advantage with your clothing to achieve a different effect.
6. Go With What Suits Your Family
Chances are there will be someone in your family or the group you are shooting with who won't let go of a certain piece of clothing and even refuses to wear anything else. Don't worry about it too much.
Deal recounted a story about a family she was photographing whose son refused to wear any shoes that weren't red. "Instead of forcing him into brown shoes to match his dad, they just went with it. I loved that the photos of their son and his red shoes forever captured that memory — a day in their life — instead of hiding it," she tells me.
7. Remember Less Is More
In terms of makeup, Frazier suggests a light and simple look. Makeup often photographs heavier than it actually is, so unless you're going for an extreme look, you might not love what you end up with.
8. Consider That Hair Can Also Add Dimension
Much like clothing that flows, letting your hair be free for a photo can help the image look more natural. When asked about hairstyles, Deal says, "I don't think there's any perfect style. Because I try to capture authentic moments versus too much posing, it helps to see some movement, so I think keeping hair down and a little bit free helps a lot."
9. Don't Be Afraid To Go All Out
Photoshoots are a great opportunity to wear something fun and snazzy. In regards to couples shoots, Deal tells me, "This is usually the first time they've been photographed professionally, especially as a couple, and they can wear anything they want. Big tulle dress and sequin top? Why not? Plaid and plaid and more plaid? 'Tis the season. It's an excuse to go shopping, and the outfits typically follow the location or the season."
She also adds that if you're going to wear high heels, you should consider bringing some comfortable shoes to change into for walking around.
No matter the occasion, the important thing to remember when preparing for a shoot is to bring your personality in front of the camera. Let your clothes be an extension of that idea, rather than the sole focus. Above all, just have fun with it.
Want more fashion and beauty tips? Check out the playlist below, and be sure to subscribe to Bustle's YouTube page for more hacks and tricks!
Images: Kit Junglish/Unsplash; Courtesy Jordan Mary; Evan Hampton; Kelley Deal; Leanna Ward Frazier; Paul Sherar