Huw Collins Wants A Parent To Be The Big Bad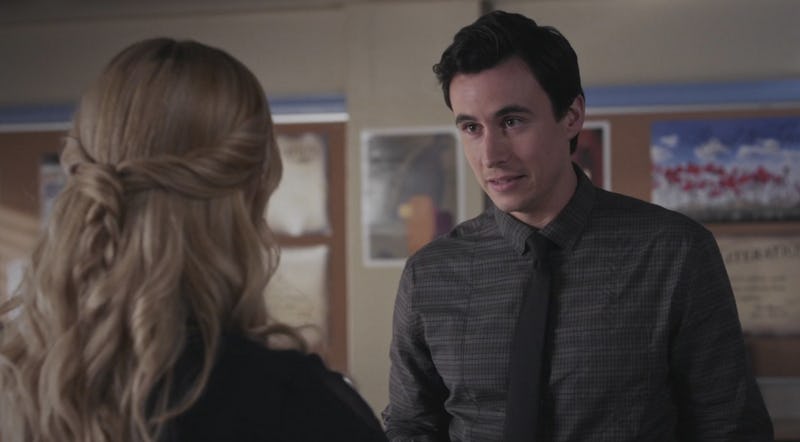 If you told me that, this point in PLL, you don't have any theories about who Uber A is on Pretty Little Liars , you're a bigger liar than Melissa Hastings — even if you're star Huw Collins. There are only a few episodes left of Season 6 and, with I. Marlene King promising major reveals, everyone is a suspect. And there's probably no one better to ask about their theories than someone we've all been accusing of being shady since the beginning of Season 6b. Right? Collins knows you think Rollins is creepy — but he's got his theories centered around another Rosewood guy we've pointed our fingers at in the past — Ezra Fitz. "He's all like away and lost himself — I think people are taking that story very easily," Collins tells Bustle, "I think there's more to it." So, can we trust Ezra on Pretty Little Liars ?
"I always say — I know Ian Harding pretty well, I knew him before I was on the show and he's the sweetest, loveliest guy — but I don't know, man," Collins says about Aria's former love interest. And, honestly, who can blame him? Ezra's been EXTRA sketchy this season. "I don't think he's someone that should be taken at face value all the time," the actor says, "He's had the finger pointed at him a couple times and, you know, you never can tell." But Collins hasn't limited his list of suspects to just Ezra. "I think there are a couple of characters that are a bit shady — and not just the guys either, some of the girls as well," he says. For someone who just got to Rosewood, he's got a handle on the fact that you can't trust anyone in that damn place.
It's also not lost on Collins that his character, Dr. Rollins, is at the center of many fans' theories as well. "I hear a lot of theories — and a lot of them involve me. But, you know, everyone just thinks I'm a creepy doctor so what can I do?" the actor says. "No matter what you do, you come in as a new character — especially as a doctor, doctors have the worst track record on this show — but coming in as a doctor and being romantically involved with Ali and getting married to Ali, who is obviously a character who started the whole mystery, I think that it would be surprising if people didn't think I was creepy," Collins says, "So, I really have to take it with a pinch of salt — or a whole mountain of salt."
But, if Collins and his character had their way, it'd be a parent that turned out to be PLL's new Big Bad. Well, one parent in particular — Kenneth DiLaurentis. "He's pretty much the devil," Collins says about the DiLaurentis patriarch that's been absent since the 6b finale. "I think if he popped up and turned out to be the baddie, I think people would say 'That's brilliant, let's tie him up,'" the actor says, "It'd be great to have Kenneth DiLaurentis burned at the stake — I think everyone would go home happy after that." Hey, I. Marlene King, if you're reading this, this idea isn't half bad.
For more Uber A theories, subscribe to Bustle's Pretty Little Liars podcast Taking This One To The Grave:
Images: screengrab/Freeform; infinatemistake/Tumblr