I Wore Workout Clothes For A Week & This Happened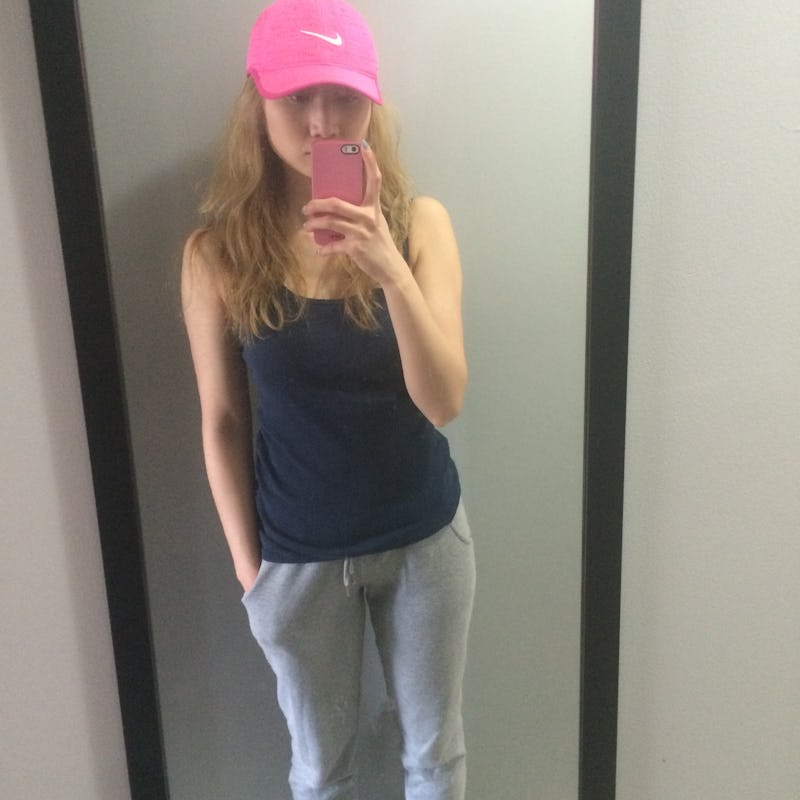 I am at a point in my life when, nine times out of 10, I would rather be comfortably dressed than anything else. Adulting, am I right? While everyone has their own opinion of what being comfortably dressed means, I've regularly been sporting workout clothes mixed in with my day-to-day items. I mean, what's more comfy than that? Wearing workout clothes in your day-to-day is basically like having a standard uniform and not needing to put any real thought into how your outfit looks. So when the opportunity to wear workout clothes for an experiment came onto my radar, I obviously jumped at the chance. All the comfort of exercise apparel without the intention of actually working out? It sounded like a dream. I'll admit that my gym attendance has been declining as of late, so at the time of this experiment, I actually didn't end up going there once. But at least I was dressed the part, right?
As someone who would rather wear workout leggings than jeans, I knew this experiment was going to be interesting. However, I usually don't wear sweatpants out of the house unless I'm actually headed to the gym or not getting out of the car. Intrigued by how I'd feel in lazy girl-friendly garments all week, I dove in. Here's what happened.
Day 1
I started out this experiment by wearing workout clothes to a bar slash lounge. You have to kick things off with a bang, right? So I put together a sports bra and leggings combo, and threw on a flannel on top. You know, like a post-workout type of outfit.
I instantly got a reaction from my friends, who felt that I'd chosen this ensemble strictly for male attention. Perhaps it was because I was sporting a lot of exposed skin, but that just goes to show that we still often correlate certain styles with certain gender- or sexuality-based stereotypes. If only they knew that I was wearing this for the sake of comfort and journalism. The experiment was off to a very interesting start.
Day 2
I spent this day with a friend. We had no real plans as to what we were actually going to do, but we ended up being pretty active all day. My outfit turned out to be pretty appropriate for all the walking around. I was repeatedly asked if I was heading out to the gym. I wasn't, but I can understand why some might think otherwise. Day 2 was quiet, for the most part.
Day 3
Could wearing sweats for a meeting with your boss be considered a power move? I used Day 3 to figure this out. Before meeting with my boss, however, I took a Snapchat mirror selfie of my outfit. Interestingly enough, I got a few reactions from folks saying that the outfit looked nice, or asking whether the "meeting" I'd mentioned in my caption was at the gym.
During the face-to-face with my boss, I didn't notice any particular reaction. Unfortunately, I wouldn't say this aesthetic was considered a power move at all. I ended up getting together with a friend later on for dessert. And just to push my efforts further, I mentioned that I would be in sweats. Since I've known this person for pretty much my entire life, they didn't really care.
Day 4
By the time Day 4 rolled around, I felt like I could live in my gym clothes forever. Comfortable, not flashy, and, best of all, a statement of their own. I just didn't mind if people thought I was being super lazy. I spent the day with a friend who exclaimed that I looked like I had just come from the gym as soon as I got in the car. I couldn't help but wonder why dressing comfortably is so often associated with working out. Is it so strange to imagine that someone would just want to forego tight bodycons and denim in exchange for flexible leggings?
Day 5
On Day 5, I actually had to participate in a pop-up shop, but I took a brief detour beforehand and walked around a few stores. Interestingly enough, there were a lot of other people also dressed in workout clothes, so walking around in such attire felt like the norm. Then again, there was a gym right across the street, so that could explain the sudden spike in fitness apparel. I didn't receive any further reactions throughout the day.
Day 6
For Day 6, I ended up wearing workout leggings with a tank top to a media event come the evening. To tell you the truth, I ended up feeling a bit self-conscious, since this outfit was so not appropriate in the sea of business-wear. It's interesting to note just how little it sometimes takes to stretch us out of our comfort zones. But funnily enough, I actually received a compliment about my outfit. Perhaps sometimes breaking the rules is met with positivity.
Day 7
I ended this ultra-comfortable week with an early breakfast with a friend. Wearing nothing but sweats was a necessity. But by the time Day 7 rolled around, I was actually pretty much over the experiment. I was beginning to feel underdressed for every occasion, and kept contemplating whether too much of a good thing can actually be bad. I started to grow so comfortable that I truly was beginning to feel borderline lazy in my day-to-day activities. Netflix and chill just seemed more fitting for my look than fancy media parties and brunches.
So What Did I Learn From All This?
After thinking that this experiment was going to be a breeze and that I would absolutely love every moment, I ended up resenting my apparel. By the time the seven days were up, I felt like I wasn't putting any effort into how I presented myself, and my frumpiness was causing me to want to lounge at home far more often than not. I also felt like there was no point in applying makeup — something I generally love to do — since gym gear just didn't seem to call for it.
The reactions I received consisted mainly of inquiries about my gym routine and the accusation that I was trying to impress men — the latter truly revealing something about how people perceive women's choice of clothing. The question of why a woman still can't dress the way she wants without being told she's doing so for male attention popped up repeatedly in my head all week.
I realized that while I love being comfortable, I don't actually enjoy wearing sweats all the time. Constantly looking like I came from a workout or was heading to one just wasn't as cool as celebrities often make it seem. Moving forward, I think I'll have to limit these little workout-wear adventures. Maybe there really is something to dressing up beyond wanting to look good. Maybe it's more conducive to productivity.
Want more fashion and beauty tips? Check out the playlist below, and be sure to subscribe to Bustle's YouTube page for more hacks and tricks!
Images: Francesca Castor