Here's What Makes Kylie's Lip Kit Different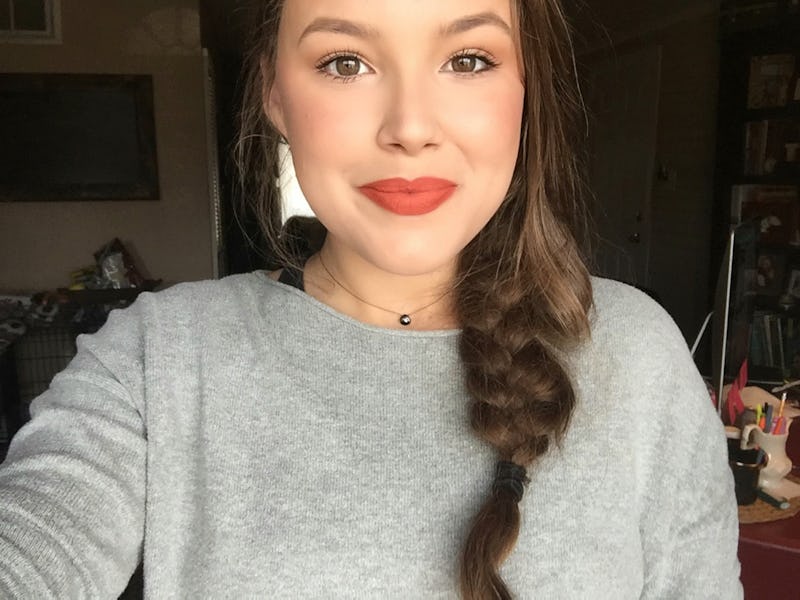 Kylie Jenner is the princess of perfect pouts. Her lipstick style has changed the makeup game for everyone, and although the bare-faced, nude lip look has been all the rage, we're embracing lipstick again after years of frosty gloss obsessions. Still, I've been wondering if the hype surrounding her lip kits have only been because of her name. As a result, I had to figure out how the Kylie Lip Kit is different from other liquid lipsticks. Here's the rundown.
I'll admit it: I was a little suspicious of the Lip Kit quality. Would it be a great liquid lipstick or just a so-so formula with a high price tag and designer name? After all, the Lip Kit by Kylie, now Kylie Cosmetics, was her first solo business adventure. Everything else, from clothes to shoes has been done in partnership with her famous family, supermodel sister, or under a brand contract. The Lip Kits are 100 percent her creation. I'm sure the baby of the family has been desperate to prove herself in a line-up of uber famous siblings, so it makes sense that she would shoot for the moon. And with precision. As it turns out, I should have given Ms. Jenner a little more credit.
The Lip Kits come with one lip liner and a matching matte liquid lipstick. She has seven shades: Koko K, Posie K, Mary Jo K, Candy K, Dolce K, True Brown K, and the latest, and orange-red named 22. They vary greatly in color and tone, but the reviews say they're consistent in formulation. I had to try it for myself to see how it differed from other liquid lipsticks.
1. It's Very Thin
The formulation is much thinner in comparison to other liquid lipsticks. The goal of a liquid lipstick is to dry matte, and some common formulations to achieve that look are thick, mousey, or whipped. Rarely are liquid lipsticks this thin and liquid-y. Most glosses are not this thin, so it definitely surprised me.
2. It Dries Quickly
I barely had time to apply the Posie K lipstick, open my phone, and snap a picture before it was completely dried and matte on my lips. This was a wonderful surprise to me — I've waited as long as five minutes for a liquid lipstick to completely dry. You can see a little bit of sheen here, but this is within 30 seconds of applying. It's completely matte within a minute. Amazing.
3. It's Completely Matte
Even the most expensive liquid lipsticks can tend to have a tiny bit of tackiness or slightly wet residue. This formula dries 100 percent matte without any wetness remaining, which is impressive. It's absolutely kiss-proof. You can wear it all day without losing the color, and eat and drink with confidence.
Also, shout out to 22 for making my teeth look white! That's not an easy feat, and usually reserved for cool-toned reds, not orange-reds. I was shocked and excited to see this shade paired nicely with a big, toothy smile.
4. It Feels Comfortable
This is the most comfortable liquid lipstick I've ever worn. Matte liquid lipsticks have a reputation for drying like concrete on your lips, and you can almost feel the formula sucking the moisture right out of your pout. Alternatively, this formula feels like you aren't wearing lipstick. Instead, it's like a thin, velvety layer of your own skin. Weird, I know, but just trust me on this one: It feels amazing.
5. It Only Takes One Application
Very pale and very dark colors can go on patchy, requiring a couple applications. This formula takes only one swipe of color and looks great. I haven't tried to apply more than one layer because I don't need to. I have naturally bright red lips, so the pigmentation of this formula is really impressive.
My verdict? The Kylie Lip Kits are totally worth it, especially if you are a liquid lipstick lover. As far as when she'll be restocking it so you can get your hands on them, I'm not sure, but good things come to those who wait! My now-perfect pout is proof of that.
Want more fashion and beauty tips? Check out the video below and subscribe to Bustle on YouTube!
Images: Jessica Willingham