17 Plus Size Swimwear Styles To Consider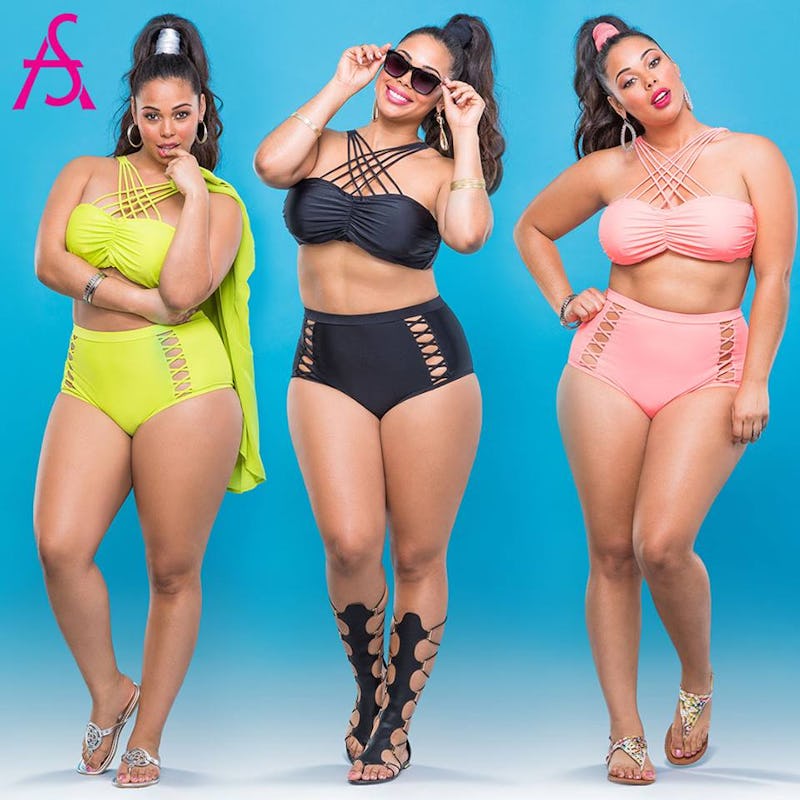 It's only March, but I'm already seeing some of the plus size swimsuits on my wish list marked as "sold out." To be fair, my swimwear wish list is pretty long. Why, you might ask? Because there are a ton of options for plus size suits these days.
For years, plus size swimwear consisted primarily of frumpy tankinis, floral swim skirts, and big tags that read something like "drop 10 pounds in this slimming suit." These options still exist, but luckily so do a range of styles that don't assume I'm ashamed of my fat body and in desperate need to cover it up.
There are a lot of deep, societal messages tied to swimwear and acceptability. When you're bombarded with "beach body" mentalities and a lack of options in the swim department, it can start to feel like you somehow aren't deserving of them. So understandably, much of the plus size fashion community has been rejoicing in the diverse range of swimwear now available.
If we want to wear a plus size low-rise bikini, we can. If we want a cute version of a swim skirt, that's not too hard to find. Do we have parity to straight size options? Of course not. But things have vastly improved, and I am setting out to celebrate the variety that — as a plus size person — I'm proud to finally have. Here are 17 styles to consider sporting for a fatshionable swim season.
Criss Cross Bra Bikini Top, $14, Ashley StewartCriss Cross Bikini Bottoms, $10, Ashley Stewart
There are a lot of cool, strappy, criss-cross, lattice-style plus size swimsuits out this season. But the bright yellow color and intricate neckline detail of this bikini make it a personal favorite of mine.
Be Pacific One-Piece, $90, Modcloth
This suit is subtly ruched — something particularly delightful considering ruching in plus size swimsuits is usually coupled with the word "slimming." That certainly doesn't seem to be the focus of this fun, printed suit that is available up to a 4X.
Plus Size Stripe Bikini Top, $20, Plus Size Stripe Bottoms, $18, Forever 21
This rainbow striped halter-style suit hits me right in the '90s feels and reminds me of all the halter bikinis I missed out on being able to wear in the '90s because of my size.
Bandage Plus Size Swimsuit, $118, Monif C
I know that I can always count on Monif C. to innovate in the realm of plus size swim, and this print combined with the cut-outs is truly out of this world.
Plus Size Swimwear Top, $50, Plus Size Bold High Waist Bottom, $35, Target
Color-blocking a solid hue with a bright print is a great way of adding visual interest to a suit.
Flounce Bikini Top, $36, Ruched High Waist Skirt Bottom, $27, Torrid
I used to think that flounce tops were just glorified ruffles. But now I realize they are a totally cute swimwear option if you want to sport a top that isn't super fitted.
Custom Cage Harness Bikini Swim Top, $50, Origami Customs
This made-to-measure custom caged bikini top is one way to ensure that your plus size swimwear fits to a T.
Mix & Match Bandeau Bikini Top, $19, Asos
My fear with strapless swimwear is usually that a lack of support will result in my accidentally flashing the whole beach after catching a big wave. But this top offers the added support of molded cups and underwire.
Allie Bikini Top, $56, Allie Bikini Bottom, $52, This short sleeve wrap-style top is something I hadn't seen in straight or plus size before Rue107 did it last swim season, and I'm totally obsessed.
GabiFresh For SwimSexy The Baroness, $69, Swimsuits For All
This suit is the definition of sexy. When people hear "plus size one piece swimsuit," I want this to be the garment they think of.
Rumble Rita Underwire Swimsuit Top, $75, Rumble Rita High Waist Swimsuit Bottom, $48, Black Cat Bikinis
The high-waist suit has dominated the realm of fatkinis, but it was the pin-up style that rocked this trend first.
Halter Top, $84, Everything But WaterTab-Side Hipster Bikini, $58, Everything But Water
An actual belly-bottom bearing bikini was pretty hard to find in plus sizes last year. But there are more and more options in which to show your belly pride today.
Ruched Tankini Top, $54, Torrid
The word "tankini" doesn't usually have good connotations in my mind because this was the only style around in plus for so long. But there are stylish fashion-forward tankinis working on changing that association for the better.
Rashguard Plus Size Bikini Top, $78, Monif C
Long-sleeve swimwear tops that don't make you look like you're trying to shave off a few seconds of your 100-meter butterfly are a new style that I am proud to support. Mesh and swimwear is always a good combo in my eyes.
Women's Plus Size Vichy Black One Piece Swimsuit, $35, Target
A swimsuit covered in ruffles could easily fall into the "hide-your-body" category, but this one is still fitted and fashion-forward.
Curve Longline Bandeau Bikini Top, $38, Asos
Underwire support is great for plus size women who prefer their bikinis to fit like a bra.
Bright Delight Swimsuit, $130, Nakimuli
This swimsuit isn't just a fabulous rainbow of bright colors. It's also constructed in a manner that'll allow it to be worn in a number of ways.
Plus size swimwear is something that women can now have fun with and utilize as a reflection of their personal style. It's time to relish in the options.
Want more fashion and beauty tips? Check out the playlist below, and be sure to subscribe to Bustle's YouTube page for more hacks and tricks!
Image: ByAshleyStewart/Instagram